Jupiter Rising 2021: The Report
A rejuvenating weekend at Jupiter Rising gives us a glimpse of what Scotland's festivals should and could be like in terms of inclusivity and diversity
There's something in the air as we arrive on site at Jupiter Artland on the first evening of Jupiter Rising. For many in attendance it's the first music festival they'll have been to in close to two years – it's certainly the first The Skinny have been to since 2019 – and you can feel it. With not much space for tents on the more well-kept grass in the campsite, along with many others we opt to flatten the long grass nearby as best we can, and just go with the flow.
The festival is so compact that from our tents we can very clearly hear Sacred Paws soundchecking in the Blessed Lady Big Top, a last minute secret opening act – brought in for Romeo Taylor who tested positive for COVID – which co-curators Night School Records only slightly gave away on Twitter by describing them as a "Sacred Opener". *claps*
Sacred Paws' joyfully buoyant set perfectly sets up the weekend ahead, such is the impossibility to stand still when listening to their afrobeat, pop-punk stylings. In this moment any and all feelings of pandemic worry seem to dissipate, and followed by the early evening gabba/happy hardcore of Lady Neptune, the fuse is lit for an explosive weekend of fun. One minute we're dancing to the aforementioned gabba while being shot at with tequila-filled water pistols by neon balaclava-wearing individuals (YES!), the next we're running up Charles Jencks' Cells of Life landform toting a Bonnie Burrito.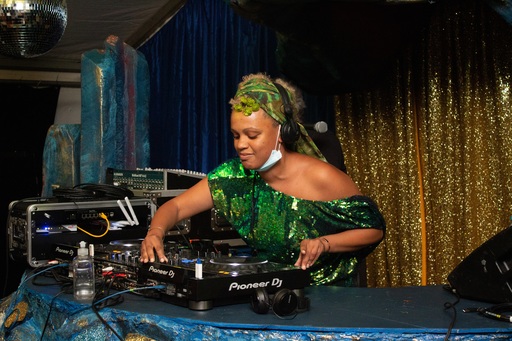 Image: Gemma Cairney @ Jupiter Rising by Marilena Vlachopoulou
DJ Gemma Cairney closes out the Last Judgement Bar later than billed – a recurring theme of the weekend – playing non-stop bangers, and we can't help but spend a good chunk of time here having a dance and singalong before the hop, skip and a jump over to Optimo back in the Big Top who, in true Optimo style, throw a curveball and end the night on Slayer at 3am.
While some choose to explore the Jupiter Artland sculpture trail, or take a dip in one of the many water features on the site, day two brings with it hangovers aplenty (we've clearly forgotten how to do this), scorching hot sunshine, burlesque and graffiti workshops. There's face painting, a packed Fountain of Life tent for comedian Josie Long, talks and discussions from the likes of Cairney and OH141 boss Sarra Wild, and a screening of Keyboard Fantasies: The Beverly Glenn-Copeland Story at the Outdoor Cinema.
The music kicks off sharpish with a midday set from Rachel Aggs on the Fountain of Life stage, before things get political with Kapil Seshasayee back in the Big Top as he takes on the Indian caste system, masterfully giving us a taste of his forthcoming album, Laal. Night School Records label boss Michael Kasparis then gives an impassioned performance as Apostille, seemingly channeling Robert Smith – albeit an electro screamo version of The Cure frontman. Later on, Johnny Lynch, aka Pictish Trail, tries to start a fight by claiming Jupiter Artland is in Edinburgh. "It's in West Lothian!" an anonymous voice in the crowd asserts, which is met with an "Anyone here from East Lothian?" rebuttal from Lynch.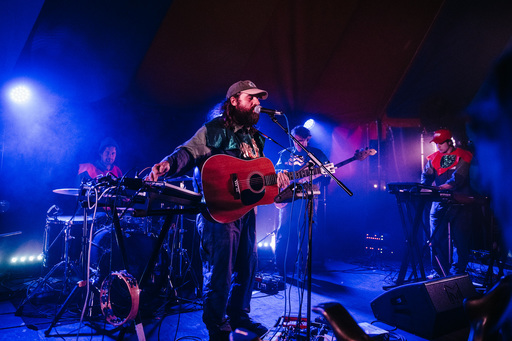 Image: Pictish Trail @ Jupiter Rising by Stephanie Gibson
Comedy chops aside, Lynch and co are a tight unit tonight, with a set made up of tracks from his pre-pandemic release Thumb World, and a few crowd favourites like Dead Connection from 2016's Future Echoes. Apart from not being quite loud enough, Free Love continue the party vibes in the Big Top, and it's freeing to learn that Suzanne Cook isn't letting the pandemic stop her from leaping off the stage and getting up in the crowd. You love to see it!
Later, OH141's stage has us gagging when we arrive at it tucked away in a clearing in the woods. Surrounded by reams of floaty white fabric, the stage structure itself, complete with its own suspended art installation by Furmaan Ahmed, reeks of cool and the bass coming from its soundsystem, courtesy of LYZZA, is internal organ-shaking. OH141's Sarra Wild closes out the night, ending on a trio of bangers from Britney Spears, Daniel Bedingfield and Underworld, before the police swiftly shut things down 15 minutes prematurely. Licensing issues, apparently.
Wild comes on the mic and very calmly explains the situation, thanks everyone and says goodnight. Such is the nature of the crowd, that everyone quite affably accepts the situation and heads back to their tents with no love lost.
Expertly co-curated by OH141, Lost Map Records and Night School Records, we end the weekend rejoicing, rejuvenated and reflective; happy to be back, albeit with sore calf muscles and not much of a voice left. In terms of inclusivity and diversity, for both the audience and programme alike, Jupiter Rising is a sign of how things could and should be in the future of Scotland's festivals, not just in West Lothian.