Jerkcurb @ The Hug & Pint, Glasgow, 15 Oct
Jerkcurb brings his dreamy debut album, Air Con Eden, to Glasgow
"I'm not gonna talk for the rest of the gig," Jacob 'Jerkcurb' Read forewarns the packed-in audience tonight at The Hug & Pint, after briefly introducing his band. Those familiar with the South Londoner's music wouldn't expect anything less. His debut album, Air Con Eden, is an insular, surreal throwback, equal parts ornate post-war Americana and Lynchian fever dream.
Support act Holy Loaf are terrific, warming up the crowd with driving basslines and creeping drumbeats. Their sound, in their own words, is a homage to American cult musician Papa M – although they're quick to point out that his guitars "are actually in tune". A hypnotic back-and-forth between crunchy and crisp tones, the band's brand of surfy slacker rock is reflected in their laid-back attitude. Between songs, they spend most of the time talking about their favourite places to eat in Glasgow.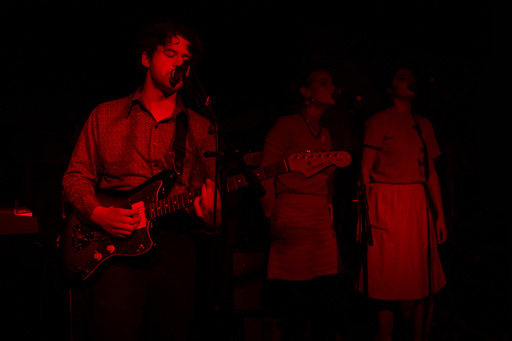 Image: Jerkcurb at The Hug & Pint, Glasgow, 15 Oct by Serena Milesi
Read is more restrained. Quick to note that this is his first full-band tour as Jerkcurb, the South Londoner is a softer, more detached presence when he takes the stage. As soon as the reverb-soaked chords of opener Shadowshow kick in though, he transforms. The unearthly Air Con Eden is populated by characters singing of longing and heartbreak, and portraying them live Read wears every emotion on his sleeve. Aquarena Springs and piano ballad Water are particular highlights, and just as quietly devastating as they are on the record. Vocally as well, he's more adventurous than on Air Con Eden, adding jagged twists to otherwise silky-smooth songs. Sometimes it works, sometimes it doesn't.
His band are all excellent, though surprisingly it's the two backup singers that stand out the most. The duo's soft, evocative vocals aren't an overwhelming presence, but they add so much colour to Read's music, fleshing out the idiosyncratic world that he created on his debut.