Hidden Door festival, Edinburgh, 1 June
Hidden Door has once again transformed an abandoned space in Edinburgh and turned it into a hive of art, music and creativity. We report back from a night at the festival with the likes of Flasher, Aku and the Hot 8 Brass Band on the bill
The organisers of Hidden Door festival don't like to make things easy for themselves. Putting together any festival is a technical and logistical nightmare. Bars have to be organised, cables have to run across the site and toilets have to work. For that reason, once a promoter gets established on a site, the impetus is to stay put.
Not so for the Hidden Door team. After stints at Leith Theatre, Granton Gasworks, the Old Royal High School, this year their travelling extravaganza is calling the squat and space-age hexagons of the former Scottish Widows building home. Now with tents on the lawn and portaloos in the courtyard, the ex-life insurance building and holy grail for urban explorers is open to punters and playing host to an eclectic array of musical talent.
From art installations in treatment rooms to an entire floor dedicated to mysterious Environments – more on these later – it's a curious mix of white-collar functionalism and Alice in Wonderland exploration. Wind your way to the sub-basement level and there's a stage in a loading dock, complete with industrial air conditioning units and a control booth for the parking gates.
This writer's first stop is Flasher, American indie rockers from Washington DC whose too-cool-for-school attitude and simple instrumentation lend them a lo-fi charm. The sound may be a little patchy in what is basically a parking garage but songs like Still Life and Pressure still retain their charm and their neat harmonies suggest that there's real craft here too.
Back in the main hall you can grab a pint from the Bellfield Brewery bar and check out the self-proclaimed "doom-jazz" trio Aku. If you're a fan of Shabaka Hutchings' work with The Comet is Coming or Sons of Kemet you'll probably like these guys. With his plaid shirt, beard and Evil Empire t-shirt, Sax player Harry Weir is a likeable presence and the group's energetic, heavy and soulful grooves get the audience dancing. Drummer Graham Costello floats like Buddy Rich and thunders like John Bonham until the dancefloor becomes a stew, while trombone player Liam Shortall lends heavy bassy grooves for Weir to flicker over. They introduce a cover of Dolly Parton's Jolene as being "not by a good friend of ours". I think she'd love it.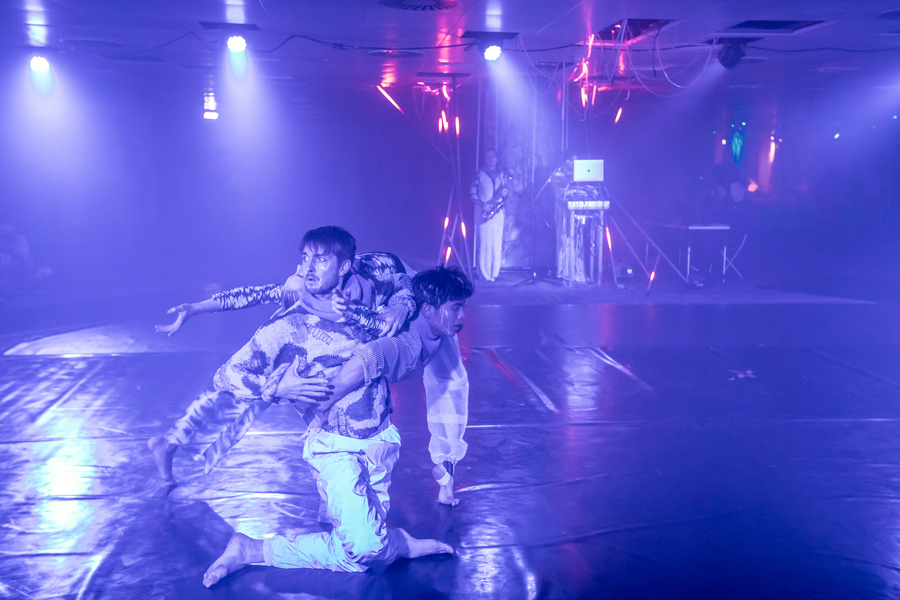 Dress Rehearsal: The Environment by Chris Scott
At last, it's time to venture up to The Environments, a sequence of immersive installations combining art, performance and music. In the first room, a triptych of videos outlines the concept of the experience in faux-business jargon, as an eerily lit typist batters away at a keyboard. Siren-like vocals lead you deeper into the depths of the building, through a sinister indoor forest inhabited by black-clad dancers to a balletic performance lit in blue and pink and soundtracked by a combination of electronics and live sax.
In another corner processed strings and percussion are layered with sampled bird song and ghostly soprano while a dancer strikes poses in a garden that bursts from the generic corporate carpets. Turn a corner and you might be in a model solar system or an abandoned biohazard lab.
Whispering "wanderers" lead you from one installation to the next, before bursting into a routine of their own as a guitarist shreds over a processing unit that would make Tom Morello blush.
Spiralling downwards into the basement you find yourself stumbling between sinister archaeological digs and blaring digicore courtesy of electronic performer Exteriors as skulls project across silver industrial piping. A grotesque root network protrudes from the ceiling like the earth is coming to reclaim the office block.
Thoroughly overstimulated I head for the surface, just in time to catch Hot 8 Brass Band. After the terrors of the basement, they're a bit of a culture shock but the crowd go wild, sweating their way through classics like Papa Was A Rollin' Stone and Sexual Healing.
The Hidden Door team haven't made life easy for themselves but everyone in attendance is glad that they're pushing at the limits of what a city festival can be.