Foo Fighters @ Bellahouston Park, Glasgow, 17 Aug
The veteran rockers make their long-awaited return to Glasgow with a collection of best hits across a very lengthy set
There aren't many bands that have the worldwide appeal of Foo Fighters, particularly when it comes to groups still making music in 2019. With the old-timers preparing for their mammoth return to Reading & Leeds this weekend, a nicely slotted Summer Sessions show in Glasgow provides a great warm-up, and Bellahouston Park is fully flooded with both bodies and even more mud.
Stacked Actors is the throwback opener as Dave Grohl, the official big daddy of dad-rock, struts onto the stage – his wild, long hair and beard combo like a rugged, rock'n'roll Severus Snape. The explosive The Pretender is a staple party starter, although Grohl struggles initially with the higher notes, avoiding the screams in the chorus. The band try to combat this by stretching the song out with instrumentals, giving him a rest, before chugging into fan favourite (and belter) Learn To Fly.
Run and The Sky Is a Neighbourhood sound pretty good, although not everyone here seems familiar with the band's newer material. The latter sees illuminated backing singers emerge, one of which looks so much like Billie Eilish, it makes you do a double take: "Shit, is that Billie Eilish?" It is not. Of the newer material, Walk is the standout – a simpler, more melodic track, but one the crowd connect with for a huge singalong.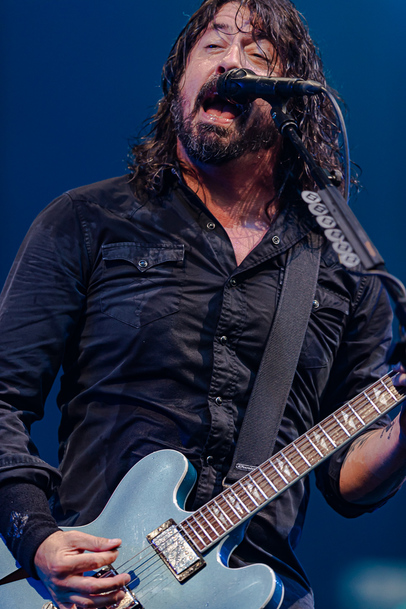 Image: Foo Fighters by Martin Ross
Following Times Like These, another timeless song perfected live over the years, Taylor Hawkins' kit is raised high in the air on mechanical stilts where he performs a hefty drum solo, before diving straight back into a stripped-back version of My Hero. Admittedly, there's filler aplenty in this set, which lasts a whopping two hours and forty minutes. There's the drum solo,  Grohl often stops to chat, alongside many extended cuts of tracks that build-up, cut to quiet, and then return for a final big chorus.
At one point, Hawkins swaps places with Grohl to perform a full cover of Queen's Under Pressure, and while not quite Freddie Mercury, he definitely wins over the crowd and breaks up the set well, as Grohl gets back behind a kit. All My Life and Monkey Wrench are stellar, with the bridges again dropped down to build back up. This trick becomes a bit tedious after two hours, but there's no denying the fun of seeing the band smash out their hits.
Update: Not Billie Eilish is actually Grohl's daughter Violet, who returns with the backing vocalists for Dirty Water. Papa Grohl attempts to lure his daughter to sing a duet with him, but looking a bit overwhelmed, she signals, "maybe next time."
"We don't do encores," Grohl announces, before tearing into a final few songs, including a lovely rendition of Best of You with an ocean of lungs at full voice. In an ode to AC/DC's Angus and Malcolm Young, there's a cover of Let There Be Rock, before their own – you guessed it – Everlong rounds off the night. 25 years worth of songs over a 24-track set is mahoosive, and they've definitely entertained the masses – even if there was perhaps a tad too much filler.