Fontaines D.C. @ O2 Academy Edinburgh, 22 Oct
The subtle, literary heft of Fontaines D.C.'s music is all but annihilated onstage, making for some gloriously chaotic catharsis
Though now rechristened as an O2 Academy, the venue formerly known as the Edinburgh Corn Exchange still has its issues. Its large, soulless main room now feels both too long and too cramped (low ceilings everywhere!), the sound quality is often gloopy in loud moments (and there are a lot of those tonight) and the decision to put a sort of carpet down is downright deranged (it's basically a swamp once a few of those £12 mega-beers get spilt in the pit). However, all of that and whatever else you want to level at the venue does little to dampen the spirit tonight – this is the true feeling of pent-up joy, rage and freedom after a long 18 months inside and the Fontaines provide the perfect soundtrack.
There's muted enthusiasm from the packed crowd (you can tell the keenness from the numbers that are in early) for The Altered Hours, especially their killer closer, Fuck the Police, but the anticipation for the main band is palpable throughout. Fontaines D.C. open with the title track from their latest, A Hero's Death, and things kick off. Beer is thrown, pits come to life, Irish flags wave and crowd surfers try to catch a bit of Grian Chatten's attention. But he doesn't have time for individuals tonight; he's focused squarely on the whole, and commands the weirdly proportioned room like the second coming of Liam Gallagher (the tambourine helps).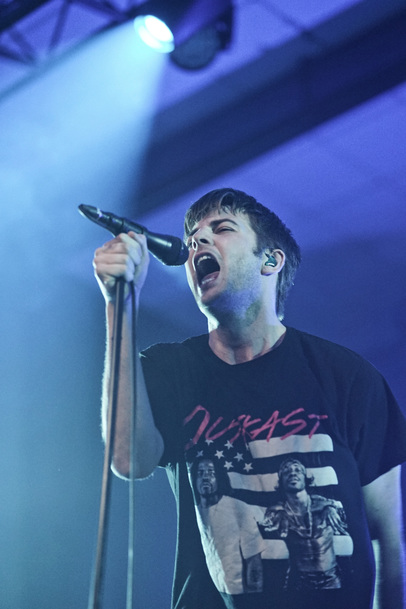 Image: Fontaines D.C. live at O2 Academy Edinburgh by Jack Wilson
And that reference isn't coming from nowhere – there is triumphant "guitar band" energy rampant through this performance, sometimes in Chatten's Gallagher-esque preening, but also in the early Arctic Monkeys' chord hammering, and the cultish fandom they've clearly inspired. Fontaines D.C. are a band in a rush to get somewhere... and it feels like the top. Sha Sha Sha and Hurricane Laughter hit like the latter, while Living in America and Too Real are much more deliriously threatening than on record. Big almost feels redundant at this stage, compared with its place as the band's mission statement just a couple of years ago, but still gets one of the night's best shout-a-longs.
Boys in the Better Land closes the main set, before Liberty Belle and Roy's Tune for the encore. It's only been a scant hour and 15, but the crowd are sweaty, spent and reeling from the sheer power of one of the best up-and-coming bands operating at present. Their music may be sprinkled with Yeats and Joyce, and they can do tasteful and sweet (that video of Sunny by a brook), but tonight is nothing but raw power, the adrenaline never letting up for a second and all the better for it.