Florence and the Machine @ Princes St Gardens, Edinburgh, 8 Aug
Florence Welch owns every last part of the stage during a performance which includes a marriage proposal as well as a slew of massive hits
Arriving at Princes Street Gardens tonight it's clear the threat of another downpour to match yesterday's stormy conditions hasn't affected public morale as a substantial crowd have already gathered for the opening act. Rebecca Taylor, former member of Slow Club who now performs under the name Self Esteem, released her debut solo album Compliments Please earlier this year to critical acclaim. Judging by the excitement from the crowd it's clear her impressive 90s R'n'B style electro-pop has already made an impression on this audience.
She kicks off with Rollout, a vulnerable yet defiant track about time wasted trying to please others. Pushing out the hook 'I got one more in me' like a mantra while laying down impressive synchronised dance moves with her backing singers, Taylor embodies the image of a woman on a journey, unafraid to share the ups and downs of her experiences. This truthful yet empowering theme runs through most of her set, matching the soulful tone of her voice, especially on later songs like Favourite Problem and She Reigns (which we spy Florence Welch absolutely living for in the wings). Her performance is refreshing in delivery and her affinity with the audience gives us the impression she loves what she's doing.
After an intense 45 minutes, Florence and the Machine finally appear to an eruptive crowd, the screaming only getting louder when Welch graces the stage moments later. Barefooted and draped in a signature Gucci gown, she looks every part the mythical maiden. She basks in the spotlight as the band move slowly through their first song, June. As quickly as she soothes, however, Welch gets the audience riled back up with her 2017 hit, Hunger. Owning every last part of the stage with theatrical dance moves, often accented with a chorus girl style shimmy, she's alluring as she is fantastical. After Only If for a Night she mimics cutting out her heart and blowing it like a kiss into the audience. We cannot take our eyes off her.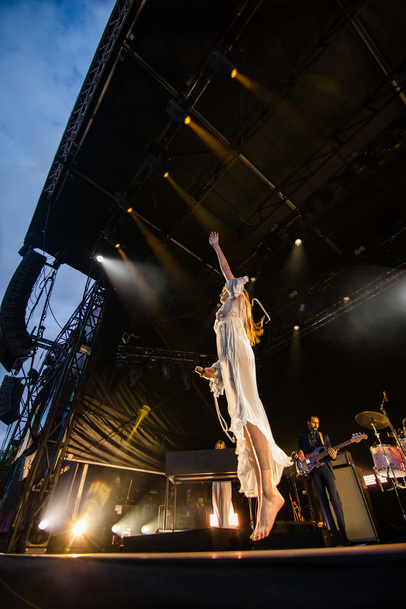 Florence and the Machine live at Princes St Gardens, 7 Aug by Martin Ross
The band continue on through a mix of hits and album tracks, including Ship to Wreck, Patricia and Dog Days Are Over, all of which are accompanied by mass singalongs from an enthusiastic crowd. After The End of Love Welch invites two young women to the stage, an exciting moment which culminates in a beautiful proposal from one fan to the other for which the rest of the audience goes wild (she said yes!). Welch dedicates Cosmic Love to the bride-to-be, asking the audience to put up their lights, creating a sea of stars over which she is the orchestrator. Alongside Jenny of Oldstones (dedicated to Arya Stark, of course) it's one of the standout vocal performances of the night.
Other memorable songs are Delilah and of course the infectious Shake It Out upon which the shows concludes; the perfect end to a transcendent performance, Edinburgh can't wait to have Florence and her machine back again soon.