End of the Road 2018: Review
St. Vincent, Feist, Stella Donnelly, Iceage, Vampire Weekend and more delight at the 2018 edition of Dorset's End of the Road festival
Everything about the ever-expanding indie fest, End of the Road is a delight. From the cheery fellow van driver who waved his ticket en route in the rearview mirror to the farm shop's flaky sausage rolls for an afternoon pick-me-up, these guys are also the only mainstream music event this summer that got the memo about women headliners this year. With a handful of must-sees in town, The Skinny head down to Dorset to tuck into everything from St. Vincent's PVC perfect headline slot to Feist's spellbinding Sunday session. And all whilst basking in the early autumn sunshine. Here are a handful of our festival field favourites.
Thursday
There's got to be something special about a band that can lure you to stay in a festival campsite for an extra night, but DIY trio Shopping are well-worth the schlep. Kicking off to the keen Thursday evening crowd, they "strongly advise dancing." It's the start of Dorset's ever-expanding indie fest, End of the Road after all and we need to warm up (that hot cider will help too). High-kicking through the jabbing bass and frenetic fretwork of Wind Up and new album, The Official Body, opener The Hype, it's pretty clear why the band have been making a name for themselves on the tour scene with hooks as tight as St. Vincent's stage outfits.
But not even the most ardent tour veterans can dodge the technicals as we find guitarist Rachel Aggs turning round a lightning string change – despite some numpty shouting for the band to "play a song." Thankfully, the Carry On Camping jokes from drummer Andrew Milk keep us entertained before we're back with the ominous synths of Discover to assure us we're 'fine, not lonely.' As the sun sets against the backdrop of The Woods stage, it rings true.
Named after the Dutch conceptual artist Bas Jan Ader who sailed out to sea, his future unknown, never to return, Bas Jan creates the kind of brazen wonky pop that similarly knows no bounds. Pulsing bass and choral harmonies sandwich vocalist and multi-instrumentalist Serafina Steer's monologues. Yes I Jan album highlights, King of the Holloway Road ('Don't stop me now I'm magic / Three-pound prawn crackers, full-length leather jacket') and Argument get an airing with a theatrical pomp. Fresher effort Experimental Beginnings is an ode to an insatiable Facebook newsfeed with the tinkering keys sounding off like likes to a recent post, while former single No Sign is the perfect send-off with violent violin for guitar riffs conjuring up hyperlapsed imagery of Steer pounding the streets in search of a lost soul. A triumph for the musical Bechdel test.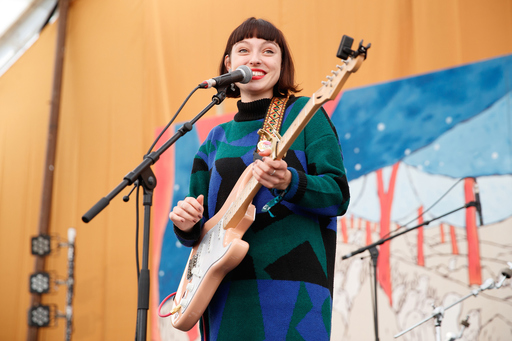 [Stella Donnelly live at End of the Road by Burak Cingi] 
Friday
Whipsmart and witty women abound for Friday's festival listings with Perth, Australia pop poet Stella Donnelly dishing out a strong dose of social responsibility with blissful vocal range and a dry wit. "I've played quite a few folk festivals in Australia and there have been families there," she tells us. "I've got some swearing in my songs, but honestly I haven't had a single kid come up to me and complain, so this is more of a warning for the parents really. The kids are fucking fine." The laughs continue with holiday humbug Season's Greetings, about that one family member we all have that rocks up to Christmas Day, says some pretty racist shit and you have to pretend you like them. Pointed political number Beware of the Dogs finds Donnelly cussing 'the pious few who take from the 99,' but it's her sound observations on sexual assault in Boys Will Be Boys that finds the audience hanging on her every carefully crafted line, only the till chinking in another round of pale ales rings out in the tent. She bows out to rapturous applause.
The amps are up to eleven over on the main stage as Beth Jeans Houghton's latest guise Du Blonde eeks wailing 70s lead refrains from her golden strat, laying low under a peaked cap and Star Trek tee. Peach Meat showcases her Anna Calvi bellow and there's a burst of The 5.6.7.8's to-and-fro fretboard in Take It Out On Me, but there's a whole lot of rambling Americana to contend with too. If it wasn't for the fuzz Fender guitars it would all be a little slow 80s power ballad. Where are the quirky eccentricities we've come to expect from Houghton's kooky psyche? Perhaps that's the point. Solid but not outstanding, Du Blonde sadly brushes up a touch Du Blande.
Geeking out to be playing on the same stage as her favourite band, Yo La Tengo, Virginia songwriter Lucy Dacus cuts something of a humble figure. She's quick to apologise for being American – "It's a heavy load to carry" – and admits she doesn't like to explain songs because even though she wrote it "doesn't mean I know more about it." But hers are songs that speak universal truths of small-town charm (Nonbeliever) and displacement (Yours & Mine) all with Dacus' Telecaster-clean delight. Timefighter is a real triumph, set in the blistering firing line of pinched harmonics and clattering cymbals. It's like Courtney Barnett's build-up in Small Poppies. Bowing out with burgeoning six minuter Night Shift, Dacus sings: 'In five years I hope the songs feel like covers / Dedicated to new lovers.' She's just bagged a bunch of new lovers from that heartfelt set.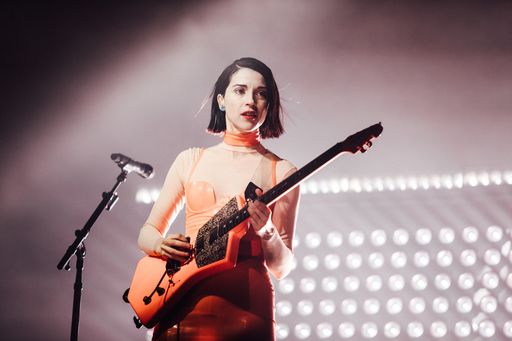 [St. Vincent live at End of the Road by Rachel Juarez Carr]
Since the release of her fifth studio album Masseduction, St. Vincent – the pop beacon creation of Annie Clark – has appeared in many guises. Her London headline show was one of the most divisive gigs of the year. Performing entirely solo, Clark toyed with the hidden curtain only to reveal gigantic screens of conceptual art direction would be her backline for the evening. It was a bold move and performing in the linear setup tonight against a lighting rig that wouldn't be out of place at a Kraftwerk show, she seems to have devised a whole new stage show since. But there's still some clever artistry here and the overwhelming sense of power that dwarfed Masseducation.
The guys in the band – synths and drums respectively – appear faceless in Boris blonde wigs and beige boiler suits while she and bassist Toko Yasuda dazzle in full PVC colour. The set is teeming with hits – Sugarboy is 80s swirling synths back to back with the poly-octave sass of Los Ageless – and while some performers might opt for costume changes, Clark's working a rack of custom guitars with a buzzsaw brilliance that Jack White would high-five at. We welcome back-catalogue bangers into the set too though. Cruel's ghostly gasps and the breathtaking brilliance of Cheerleader reimagined with some Silverchair-soaked guitar grunge. It feels fitting that Fear the Future finds Clark on her knees insatiably soloing like Slash outside that deserted white church in November Rain. All hail St. Vincent, the goddess that keeps on giving.
Saturday
New Jersey's Screaming Females have been slogging through the scene for some time now, stalwarts of rock city. But from their awkward shuffle onto the stage to guitarist Marissa Paternoster's timid thanks for joining them at the early lunchtime slot, you might not be limbered up for the storehouse of headbanging, fist-pumping, fretboard arresting majesty headed your way. There aren't many indie types who rock so hard their drummer's glasses fall off. You don't need a bifocal lens to see where this band shine though. It's in the insane wielding of I Don't Mind It over a seasoned leg-lunge on the monitor and the bludgeoning basslines that usher in singalong I'll Make You Sorry. You can tell these three have a lot of hazy practice days, just jamming out those sweet guitar licks, heads banging back and forth and a smug smile smeared across their faces. There's an operatic bombast to set closer Criminal Image as the chorus line boasts: 'You're the siren of everything I want / Everything I need,' and for that blissful moment under The Big Top, Paternoster really is.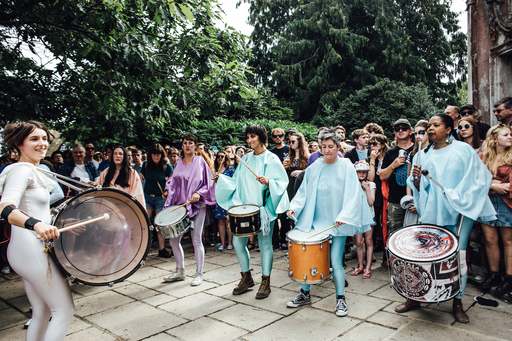 [Stealing Sheep live at End of the Road by Rachel Juarez Carr]
There's a lot of anticipation for the next act, not least because if the programme is anything to go by then there's zero turnaround time between bands and the next act are already setting up on stage. That'll be because Liverpool lot, Stealing Sheep aren't looking to perform this next one on stage. This is a Suffragette Tribute March, more immersive than some hi-riser and hi-hats. Part Pussy Riot performance piece, part new-wave Ghostbusters with Kate McKinnon and amps for cosmic backpacks, a legion of robed women glide into the Garden stage grounds led by Stealing Sheep drummer Lucy Mercer. Revealing their faces from beneath masks with hands stitched over their mouths (#symbolism) and the rhythms build with the 15-strong-women percussionists smashing cymbals. After much trepidation, the crowd begins to follow as we strive into a groove and make it out into the field. There was always some resistance to the movement, eh?
If the parted ways of everyone's favourite folk duo Slow Club left you feeling bereft, you'll be thankful that Lail Arad and JF Robitaille have got their signature quick wit and two-pronged storytelling down. It's a fun one to review as Arad admits that much of the tracks performed today are from the pairing's upcoming debut together. As a sample we're treated to season-changing, We Got It Coming as they rejoice in 'surviving the winter, more twists than Harold Pinter,' and a new song Heathrow which is also the name of the latest one from Insecure Men who are playing in the Big Top right about now. Theirs is more of an R.E.M. It's the End of the World tongue-twister which beckons in well the comedic character of Arad for a few solo tracks as she takes the guitar reins. She admits to still being nervous singing Brexit ballad The EU song, but the lyrics are poignant: 'Heartbroken borders / Borderline truth / I followed the fault lines / With superglue.' Robitaille returns and we're teased with news of an upcoming Christmas show. Get your festive fix with these two now that Slow Club is no more.
Like the Ford factory workers in Made in Dagenham, Manchester motley-crew DUDS enter the stage in their collective uniform of crisp M&S navy shirts. But there's nothing humdrum about this no-wave post-punk septet who excel in skronking guitars and relentless cowbell. Schooled in the abstract avant-garde of Beefheart, when the horns aren't blasting, these guys are just running on the spot. That's how insatiable their sound is – seven men all scattered about, stamping out the most creative cacophony you'll have heard in a long while. Signal, Sign is rambunctious, the beats jostling together like the bodies flailing in the pit. But for most of the songs, it's not the melody that will get you, it's somewhere between the chink of the cowbell, the toppling toms, and your right foot won't stop tapping. The man next to us leans into his friend and jokes, "Well, that's it. We can just go home now." And he's got a point; DUDS by name, but not by nature.
"This is it, this is the End of the Road," jokes Sunflower Bean guitarist Nick Kivlen bashfully. What would probably be more accurate, considering the New York trio's get up, is "This is the 70s," with Kivlen's silk PJs and Marc Bolan curls, while bassist Julie Cumming exudes Cherie Currie cool in full white boiler suit. Unsurprisingly, latest release Twentytwo in Blue – a record that's all Fleetwood and no filler – dominates the band's set. Live, Puppet Strings has an almost – dare we say it – Slade shuffle which should warm us up nicely for the "jumping jacks, sword swallowing and fire-breathing" bassist Julie Cumming is looking for in the trebly guitar licks of I Was a Fool. Former single, Crisis Fest is a defiant kick-in-the-teeth to anyone "whoever told you, you couldn't fucking do it," thrashing straight into the full-head bangs of Human For. "Rock music, eh?" Cumming gushes. "There's something about it" and Sunflower Bean have bags of it.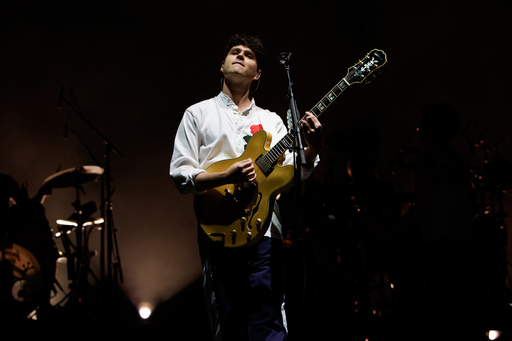 [Vampire Weekend live at End of the Road by Burak Cingi]
For an all American band, there's something quintessentially English about Vampire Weekend. It's something about that period perfect harpsichord or the fact you're immediately transported back to the British summer of 2008 with every indie disco pogoing to Oxford Comma. But what's less typical is for a band to glide through a string of singles so early on. Pitch-shifting pop number Diane Young goes head-to-head with the clattering hi-hats of Cousins and smacks into skanking singalong A Punk. But then Vampire Weekend always were contra, and as frontman Ezra Koenig admits: "You guys should know we don't play the singles last." Instead, we're treated to deep cuts like Ottoman and a little Peter Gabriel medley nestled amongst the jangling chords of Cape Cod Kwassa Kwassa. "We're aware that we're not in Salisbury, we googled it. It's not that close!" New Dorp. New York drops unexpectedly with a side of Horchata. Even with the promise of a new record just around the corner, we're content in the dreamy nostalgia of the NYC outfit's peppy pop show tonight. After all, there's a reason Vampire Weekend are a staple at an indie party and that's exactly what they conjure up in the fields of Larmer Tree Gardens.
Sunday
It was impossible to get into Haley Heynderickx's show at the Great Escape Festival earlier this year. Performing in a small renovated church, there was a strict one in/one out policy and a queue snaking down to the pavilion. It's easy to see now why no-one would be rushing to leave her as the Portland, Oregon singer-songwriter is a charming storyteller. As Heynderickx herself admits, she sings mostly about gardens but after a hectic tour schedule on the road it's all gone a bit meta in the small confines of the tour van and she's finding herself writing songs about writing songs. But there's a lot of humour and hope in Heynderickx's botanical blues. I Need to Start a Garden number, The Bug Collector carves out the conundrum of a praying mantis in your bathtub while Drinking Song dances with the decision between a child or a dog for couples everywhere. Standout Untitled God Song is special and not just because Heynderickx has forgotten her guitar slide and makes do with her glass vitamins bottle, but because of the humble objection and our single representation of God as white, male and geriatric. Earnest and effusive, Heynderickx's own divinity is bountiful.
The letters I and A blaze against the backdrop of the stage before Danish export Iceage have even made it onto the stage. In the bright lights of The Big Top, the shapes forge together to form the silhouette of a Y. Y for 'Yes to this sextet cacophony?' Y for a 'young person's mosh-pit dream realised' or Y for 'You kind of think there'd be more people here?' Album opener, Hurrah signals the start of the set as singer Elias Bender Rønnenfelt roams the stage. Recent single, Pain Killer is big band horns while blistering back-catalogue barn dance, The Lord's Favorite welcomes in that new violin score. There's a guy in the tent leaning into his girlfriend that he gets the warm and fuzzies listening to this band and he's not alone. As the discordant lament of Catch It saunters in, Rønnenfelt's vocal buckles under the lurching chord progression: 'You want it, you want it, you want it again,' he insists and as another body soars above the heads of the pit, it certainly seems like they do.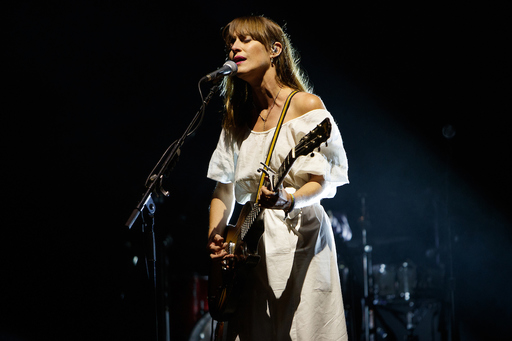 [Feist live at End of the Road by Burak Cingi]
If Haley Heynderickx was looking for a new God she could do worse than preaching allegiance to an artist like Leslie Feist. While Glastonbury 2017 spent an unprecedented amount of time swooning over Sheeran's lad loop layers, this festival headliner's fretwork is similarly deep. But instead of posh-boy pomp, there's an intimate ease much more akin to her honeyed vocals. Any Party finds our protagonist crowd matchmaking, encouraging us to make the move with our "dream tent hang." Ever the realist though, she's quick to joke that A Commotion is the follow up to that initial sweetheart phase a few years on. Her band leave for a few solo numbers – the jaunty jig of Mushaboom and a spine-tingling version of Limit To Your Love. There are well-positioned set covers in rootsy classic, Sea Lion Woman and a folk anthology number about dying from syphilis because "that's what people sang about it in the past." But it's the blissful fade out that Feist set up with a knowing grin: "On a scale of one to ten, how did you find it?" "So on a scale of none to all," she sets it up. "You felt it all". We feel it all and the pleasure is palpable.
---
End of the Road returns to Dorset from 29 Aug-1 Sep 2019; tickets on sale now at endoftheroadfestival.com