Edwyn Collins @ Assembly Rooms, Edinburgh, 23 Jan
The Scottish musical legend takes us on a tour of his impressive legacy, swooping from Orange Juice classics to underrated solo gems
This opening instalment of the Burns&Beyond programme falls firmly into the second half of category. There's no mention of the poet (besides the giant banners and projections flanking the stage) and little to connect him to tonight's performer, save a good ear for a melodic turn of phrase and an ability to tap into deep-set feelings through seemingly commonplace language.
Perched on a stool, surrounding by a five-piece band, Edwyn Collins greets the not-quite-capacity audience with a "Hello Assembly Rooms... I was born in Edinburgh! This one's called Losing Sleep." It becomes a common refrain as he provides a brief note before every song, usually along the lines of saying the title, followed by "...and I like it." Collins' movement and speech are still impaired (to varying degrees) since his severe brain haemorrhage in 2005, but his singing voice is still beautifully distinctive and unerringly powerful.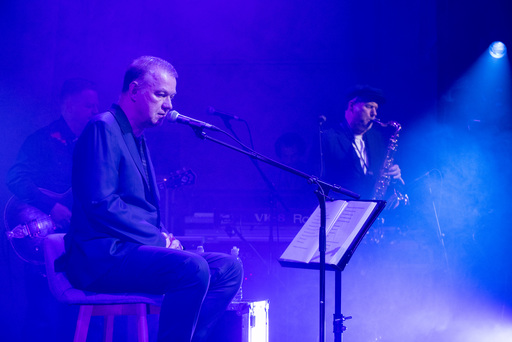 Image: Edwyn Collins @ Assembly Rooms, Edinburgh, 23 Jan by Allan Lewis
Early Orange Juice songs In a Nutshell and What Presence? roll back the years, but the first half of the show is more impressive in highlighting the range of Collins' solo output, taking in punk (Outside), jangle-pop (One Track Mind), plaintive balladering (It All Makes Sense To Me) and a gorgeous duet with his son William (In Your Eyes).
Rip It Up is the true standout of the night as the Chic-esque staccato guitars get the crowd moving for the first time. Collins then rises from his stool for Don't Shilly Shally, adding extra heft to his already weighty baritone. A Girl Like You closes out the main set, somewhat perfunctorily, though it allows the stellar band to let loose on an extended breakdown with wailing guitar theatrics.
A couple of gentler solo cuts open the encore before Falling and Laughing and Blue Boy end things on a high note of delectable Orange Juice flavour. The whole set is perfectly curated (despite the sad omission of Felicity), giving brief insights into the various musical cues that Collins has used over the last 40-plus years, and demonstrating why he's so rightly revered as a musical icon.
---
This show was part of the Burns&Beyond festival which runs at various venues across Edinburgh until 9 Feb