Damon Albarn @ Edinburgh Park, EIF, 24 Aug
Ex-Blur frontman Damon Albarn plays two shows at this year's EIF, treating the audience to a couple of classic singalongs in amongst his new material
Fresh from playing to 55,000 people with his cartoon supergroup Gorillaz, ex-Blur frontman and all-round musical explorer Damon Albarn arrives at the Edinburgh International Festival for a pair of shows in support of his forthcoming second solo album.
Tonight the stage is packed with instruments, giving the big white marquee the feel of a mad scientist's lab. Audience members chatter about the recent death of Rolling Stones drummer Charlie Watts and perhaps, uncharitably, wonder whether they should have brought a book in case Albarn chooses to play too much new stuff.
The opening act of the show tends towards lower tempos as Albarn's backing band, which includes long-time collaborator Simon Tong on guitar and a student of the late great Tony Allen on drums, settle into a loping groove. Their laidback feel is a sharp contrast to the energy of their frontman who invites the seated audience to sprint down the front and spends the opening tracks flirting and mugging for the front rows. He's in such a good mood that even someone shouting "Play Wonderwall" elicits a grin.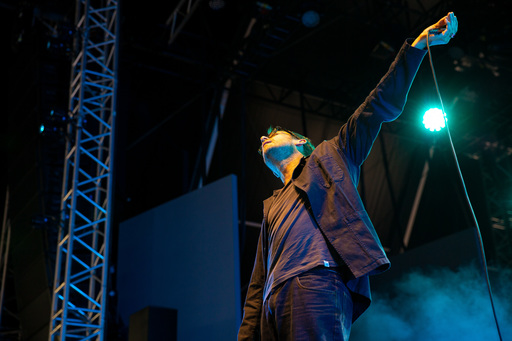 Image: Damon Albarn by Jess Shurte
The energy drops when he retreats to lead his band from behind a yellow Wurlitzer organ with Pac-Man decorations, squirreling him away behind a motley array of music stands rather than situating him front and centre. This is amplified by the fact that the microphone attached to his Wurlitzer is the least clear, but ultimately that's a small complaint in a show that is otherwise consummate in its professionalism.
Of the new songs the clear standout is Polaris, a soaring synth-powered monolith that's as catchy as anything Albarn has ever written. The rest of the new material tends towards slower tempos and more introspective lyrics, a reflection perhaps of the relative isolation imposed by the past 12 months as the singer retreated to Devon to see out the pandemic.
It's not all downtempo though as Albarn's loose and versatile band switch from sombre ballads to rude boy skank with a thumping backbeat with ease. The biggest cheers come when Albarn plays the piano riff of Gorillaz's melodic masterpiece On Melancholy Hill, building from a duet with his acoustic guitar player into a soaring singalong assisted by a string quartet before switching into Blur's Moroccan-inspired post-Graham Coxon triumph Out of Time.
Occasionally the songs can lack a bit of focus – as if Albarn's limited attention span cannot bear to let an idea alone, but by the time Blur's epic Beatles-esque This Is a Low fades away, the charismatic frontman has ensured that no one has their eye on a book.