Damien Jurado @ Oran Mor, Glasgow, 26 Feb
Seattle folkie Damien Jurado proves that less is more in a storytelling masterclass in Glasgow
Dana Gavanski starts the evening on a delicate note, delivering crisp, gentle songs with just guitar, bass and a small drum machine in the vein of Aldous Harding (or Weyes Blood when she hits the high notes). She caps off a stellar set with an a cappella rendition of a Macedonian folk song, adding a little intrigue to her generally straightforward psych-folk.
It turns out that Gavanski's set-up was practically an orchestra compared with the sparseness of tonight's main act. Just an acoustic guitar, chair, mic and music stand adorn the spacious stage as Damien Jurado quietly tunes up and arranges his colour-coded notebooks.
Jurado's music has become more peaceful and reflective over the years, but he offers little solace early on, laying his gorgeously intricate storytelling bare with some older cuts like Ohio and Medication. Both are around 20 years old and feature dark, rich imagery; the former achieving an ambiguous beauty while the latter is Jurado at his most morose.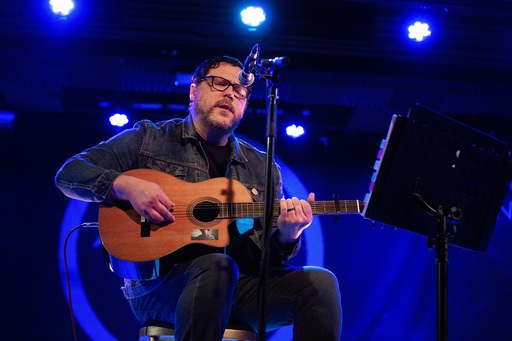 Image: Damien Jurado live at Oran Mor, Glasgow, 26 Feb by Amy Muir
It's a beguiling set, one that uses its quietness to its advantage, forcing the audience's hand when it comes to giving full attention and illuminating Jurado's soft, percussive strumming and plaintive whistles. It's about an hour before he really engages with the audience (the previous time spent in intense concentration), giving an unexpectedly long monologue that starts with his attempts at "being present" while performing and ends with his appreciation of a Leeds couple who conceived their child to his music ("I'm pleased I could be part of that... that fuck-fest").
What began as a detached, professional performance starts to warm up as Jurado sincerely expresses his love at being able to play music to people (despite its occasionally difficult days, as there are with any job). Over Rainbows and Rainier, followed by Allocate, are two of the night's highlights, reminding everyone of the underrated brilliance of 2018's The Horizon Just Laughed. A wonderful new song, Day After Day, ushers in the final stretch of a show that never panders to the crowd, and stays far away from the dumbest fallacy in rock music, that loud = good.
---