Indian Summer 001: Courtney Barnett @ SWG3, Glasgow, 29 Aug
Courtney Barnett brings wit, riffs and a stripped-back sensibility on her return to Glasgow for Indian Summer
Ostensibly billed as an end-of-summer, mini-festival extravaganza, the first of four Indian Summer nights is simply a two-room gig with a couple more support acts. There are mullets aplenty amidst a healthy smattering of scuzzy indie-punk, antipodeon deadpan, beery moshpits and... Baxter Dury.
White Reaper bring their earnest, endearing emo-punk to a crowd a little on the light side, while up in the Warehouse, Babe Rainbow try to get a loose, psychedelic jam party going with some gauzy textures and at least one too many maracas. No one quite knows where to be, what to watch or where to stand, but Hockey Dad bring the first semblance of structure with their urgent, no frills garage/surf-rock, despite vocalist Zach Stephenson's raging hangover. It's a blisteringly giddy performance in the mould of Japandroids, and the first to really capture the attention of the aimlessly wandering punters.
The most abrupt genre-switch of the night is a gregariously drunk Baxter Dury, shedding all pretence of being the thoughtful troubadour of his early records and going full-on geezer rock. In a loud, yellow shirt under a dapper, grey suit (and armed with a tumblerful of red wine), he seems content to dad-dance his way around the small Warehouse stage, delivering not-quite-audible life lessons to a mostly confused audience while a fantastic band pick up the slack. It's an enjoyable, but fairly incongruous detour on the road to Courtney Barnett, undoubtedly why 99% of the crowd have made the trek out on an appropriately dreich Glasgow summer night.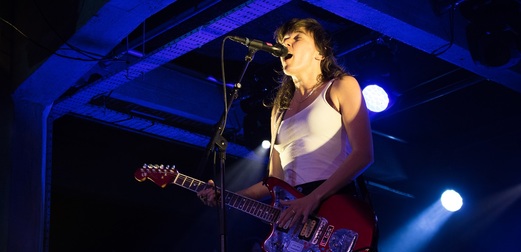 Image: Courtney Barnett by Jasmine Noble
Although the show is by no means sold out and there's a surprising amount of room in the TV Studio during the main attraction, that doesn't hold back a fiery, riff-heavy performance that manages to enthrall and delight at every turn. The band have been pared back since last November, but this three-piece arrangement seems a better fit; this is music that doesn't need any embellishment. The setlist is fairly similar to the last time Barnett was in town, providing a heady cocktail of old and new, with the likes of Avant Gardener sitting neatly amongst City Looks Pretty and Nameless, Faceless.
It's easy to please a well-oiled crowd with raucous guitar-hero shredding, but it's testament to Barnett's pull as an artist that everyone quietens down for a magnificent rendition of Depreston, the ruminative centrepiece of the whole show. The hush doesn't last long, however, as chugging modern classics like Elevator Operator and Pedestrian at Best soon follow. Barnett seems to be genuinely thrilled to be here, and the warmth and excitement is reciprocated by the audience, who hang on her every word and appear collectively crestfallen at her exit after a perfect, uplifting History Eraser. It's a sweet moment to end on, threading together the disparate strands of the night's entertainment with just a few power chords and a little self-effacing wit. Sometimes, less is more.