Connect Festival 2023: The Report
Now into its second year at Edinburgh's Royal Highland Showgrounds, Connect Festival still seems to be casting around for its defining identity, with a weekend's lineup that swerves from 90s survivors to contemporary chart toppers
Friday starts inauspiciously. Organisers have done their best to iron out transport kinks but a remarkably small crowd greet Franz Ferdinand, leading this reviewer to wonder whether anyone at all had arrived in time for Future Islands' set earlier in the evening. Elsewhere on site, there are a handful of food trucks, a quartet of stages and even a massage and wellness area but there is no denying that while it is nicely designed, relatively picturesque and mud free, it is all a little quiet.
Regardless, led by snake-hipped frontman Alex Kapranos, Franz Ferdinand play a sharp set, flirting with the crowd and delivering chant-along anthems like This Fire and Take Me Out. Despite a few lineup changes, they're still a lot of fun but the shrinking crowd does raise questions about whether a year or two away might make the heart grow fonder.
Over on the Guitars and Other Machines stage, there are in fact no guitars, but there is Confidence Man, an Aussie four-piece whose elaborate costumes and energetic performance make them easy festival faves. Last year, the stage suffered from sound bleed from the main arena but the technical problems seem to have been fixed this year. Thankfully, Con Man's two frontpeople – Sugar Bones and Janet Planet – face no such problems and are free to strut their stuff; him dressed like a fetish club Lothario, her, a goth Britney Spears. Bursting blood packs and ripping out cutely choreographed dance routines while their drummer and keyboard player hide behind elaborate black veils, it's quirky and compelling enough to make this reviewer immediately Google when they're coming back to Scotland (5 October supporting New Order at the OVO Hydro, in case you were wondering).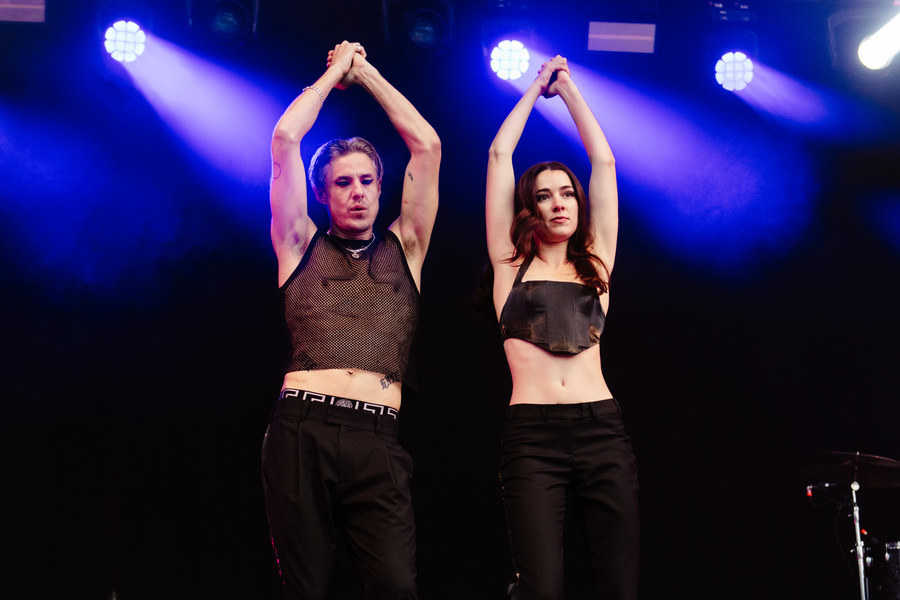 Image: Confidence Man @ Connect Festival by Ryan Johnston
Content to flog the hits are Primal Scream, once again reviving the admittedly brilliant Screamadelica for a Friday night headline slot. The early stretch seems to be a bit of a drag with a muddy mix and the two-way connection between frontman Bobby Gillespie and the audience seemingly running on low voltage. But things heat up towards the end as the band bring out a piper to play the iconic intro to Loaded then deliver a run through of their three best known Rolling Stones pastiches – Jailbird, Country Girl and Rocks. Gillespie even breaks into a shuffle; perhaps it's time to give him a break from Screamadelica.
On Saturday with almost-aristocrat and Ed Sheeran-cowriter-turned-monumentally successful DJ and producer Fred again.. topping the bill, the crowd are younger, sunnier and glitterier. They're also out in force, with early evening sets played to as many people as made it to the previous night's headliners. Even the food trucks seem overrun, with one festival-goer announcing that he just waited an hour-and-a-half for pizza.
Róisín Murphy may have been having a rough week after courting controversy with her views on puberty blockers, but onstage it doesn't show as she dons a sequinned blue outfit to deliver a dozen tracks of percussive electro-pop, while Olivia Dean is warm and likeable as she breezes through her tasteful contemporary soul. With songs about accepting your imperfections and generous shout-outs to birthday girls in the crowd, it could easily slip into the saccharine, and while it's true her music could perhaps benefit from an infusion of experimentation, there's also a rich tunefulness to songs like Ok Love You Bye – and a cover of Millionaire by Kelis never goes amiss.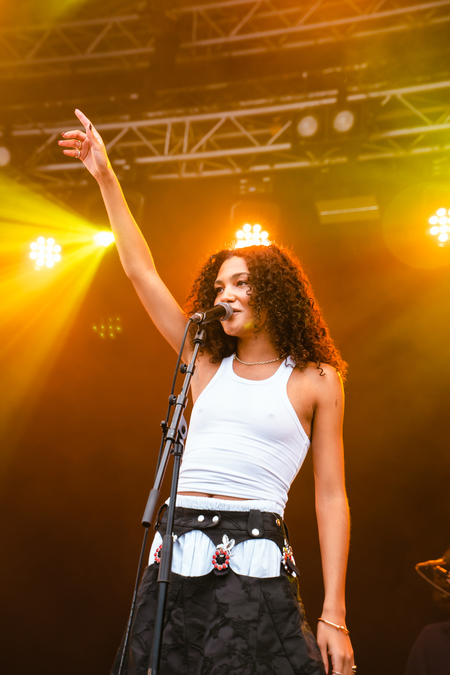 Image: Olivia Dean @ Connect Festival by Hope Holmes
Back on the main stage, Young Fathers have set out to provide more of everything good than any other band going. With seven bodies on stage, this is the most expansive version of the band yet; more engaging, more experimental and more physical. Tracks like Toy are anthems despite their inherent weirdness and Graham 'G' Hastings even cracks a smile as he leads the crowd in a chant of "Fuck the Tories". Bonus points too to Tilda Swinton who is out in the crowd and seems to be having a great time.
A similar physicality can also be found in Friendly Fires singer Ed Macfarlane, who raves his way through a short set on the Guitars and Other Machines stage. The St Albans trio were always a little out of place in the mid-aughts indie scene, owing a genuine debt to Balearic dance culture that would take years to filter through to their more traditionalist peers. The crowd may be thinning like their most loyal fans' hairlines by the end but that's not the band's fault as Macfarlane and co still play with the vitality of a band 15 years younger on tracks like Kiss of Life.
Sadly for them there is only one main event and it is the man born Frederick John Philip Gibson, aka Fred again... With almost 14 million monthly streams, the young DJ can credibly claim to be one of the breakout stars of British music in the past five years and the buzz around him is immense.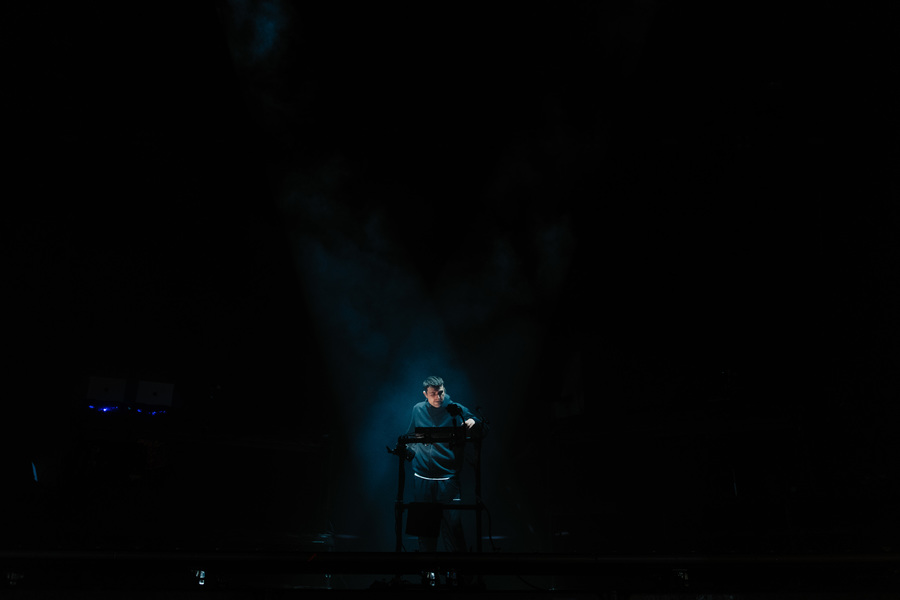 Image: Fred again.. @ Connect Festival by Ryan Johnston
On a big stage he's a consummate live performer, singing a little, blazing guest features across the big screens and working the crowd into a frenzy as tracks like Danielle (smile on my face) and Delilah (pull me out of this) trigger massive reactions across the park. For the older heads this might trigger wry smiles at your own youthful introductions to electronic music but the enthusiasm is genuinely infectious. The kids are gonna be alright.
Sadly there's a mild dampener in the form of the traffic chaos that unfolds afterwards, with queues collapsing into one another as people try to get on mobbed buses and trams. With the sheer volume of people it's briefly too much for the limited number of stewards on hand, but everyone keeps a good attitude and it's far from the dangerous crushes that have marred other festivals.
Finally Sunday rolls around and a gang of grungy-looking 16-year-olds race to the barrier for Christian Lee Hutson. Their wish is granted and the American singer-songwriter brings out their heroine Phoebe Bridgers for a closing run-through of Rubberneckers, before Billie Marten delivers a short set of lilting Laura Marling-esque folk-pop.
The Lightning Seeds from "down the road there in Liverpool" may have passed up the opportunity to unleash maximum antagonism by refusing to play a rendition of their football anthem Three Lions but the Scousers are still on strong form, with Riley Broudie now playing guitar as his dad serenades the crowd with their lovable skiffle anthem The Life of Riley.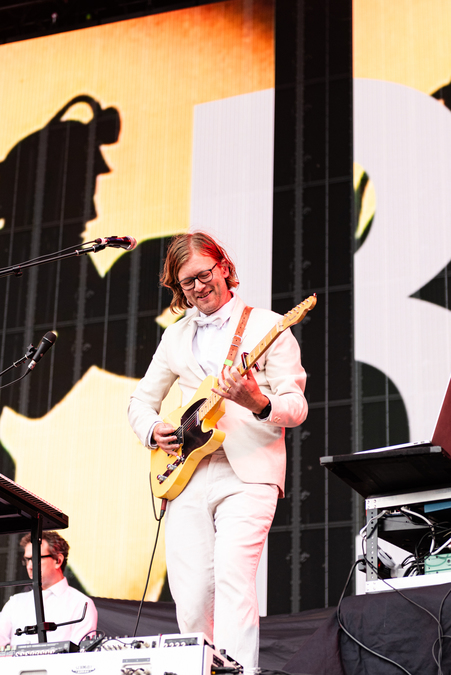 Image: Public Service Broadcasting @ Connect Festival by Kate Johnston
Public Service Broadcasting's cut and paste schtick is a little hard to replicate live but their combo of spirited alt-rock and samples from old radio broadcasts and public address messages works best on a rocking version of Spitfire from their 2012 EP The War Room. And they bring along a man in an astronaut suit playing saxophone – what's not to like?
Anything but a gimmick however is our next star, London neo-soul chart topper RAYE. Perhaps the most unfiltered British star since Amy Winehouse, she rabbits on about the perils of dating, her slipping nipple pasties and her scheming former record label with a fantastically no fucks given attitude, replicated on tracks like the inescapable Escapism. Her D-Block Europe and Cassö collaboration Prada has been unavoidable on TikTok but the variety and personality on show makes it almost certain that it won't be the last we hear of this Mercury Prize-shortlisted rising star.
boygenius may bounce on stage to The Boys Are Back In Town but the day's most anticipated set is heavier on the broken down ballads. The banter is appealing and the songcraft undeniable, but it's perhaps not the ecstatic set you might hope for as the sun goes down on a Sunday evening. Only the record single Not Strong Enough really gets feet shuffling, but the front row goes home happy as Phoebe Bridgers and Lucy Dacus leap down for a round of high fives while Julien Baker shreds on guitar.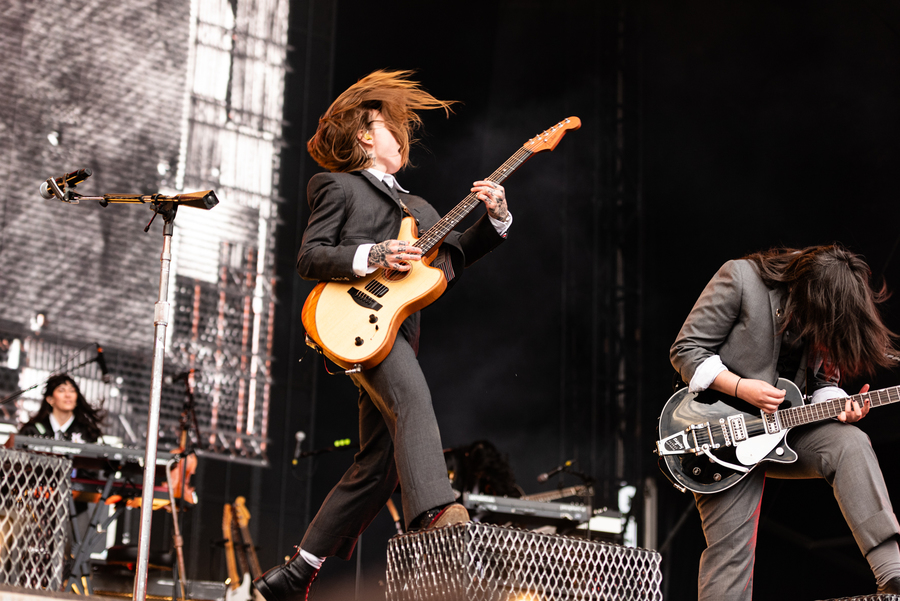 Image: boygenius @ Connect Festival by Kate Johnston
Back at the second stage, another undeniable raconteur is taking over. At an early afternoon acoustic set on the Tiny Changes stage at The Gardeners Cottage, Aidan Moffat promised that Arab Strap would play some upbeat ones tonight, but really everyone knows that Moffat's speciality is tales of bruised masculinity, crushed spirits and leeching perverts. Fable of the Urban Fox, their takedown of xenophobia and bigotry, gets a fiery reading but it's the evergreen The First Big Weekend which brings the house down. Shaking off some technical gremlins, Moffat declares: "If we were perfect, we wouldn't be Arab Strap." We love you just the way you are, gents.
Finally it's back to the main stage for confessional London rapper Loyle Carner. Cursed to go on after boygenius, he's faced by a notably smaller crowd but he rallies mightily, telling tales of ADHD and fatherhood and delivering singalong staples like Still to an energetic audience. And with that it's off into the night. It might not be a flawless set up, and the array of ages and wildly varying numbers of tickets sold suggests the organisers have not quite settled on what they want Connect Festival to be, but it's still a great place to see some bands and renew that human connection.
---