CHVRCHES @ Princes St Gardens, Edinburgh, 11 Aug
Another night of non-stop rain in Edinburgh fortunately doesn't dampen the spirits of those in attendance for CHVRCHES
Another Summer Sessions show in Princes Street Gardens brings another night of relentless, non-stop rain. The Ninth Wave kick off proceedings with their 80s-influenced sound and guitarist Haydn Park-Patterson exudes goth-pop realness, the Marc Almond tone of his voice a perfect match to his exuberantly emotional delivery. Paired with bassist Millie Kidd's softer yet still commanding vocals, the duo (plus very talented backing band) play songs from Part 1 of their debut album Infancy to an enthralled audience.
Main support comes from Edinburgh's own We Were Promised Jetpacks, who move steadily through their first few songs, including Someone Else's Problem, before stopping to announce this is guitarist Michael Palmer's last gig as he has retired from the band. Rounding things off with a few older tracks, they close on The More I Sleep the Less I Dream highlight Repeating Patterns which is met with a big singalong from the crowd. A performance worthy of the original line-up's last show.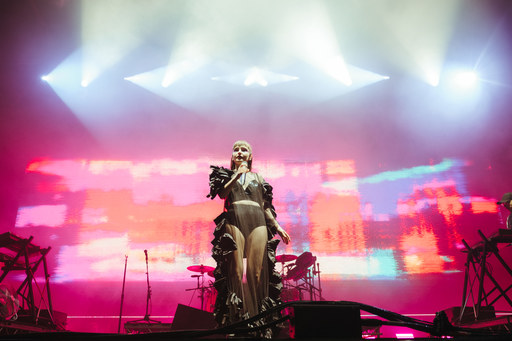 Image: CHVRCHES by Euan Robertson
Everyone is drenched by the time CHVRCHES take the stage, but thankfully they instantly give us a reason to perk up as they open with Get Out, the lead single from their latest album Love Is Dead. While other more recent songs like Miracle, Deliverance and Graffiti are performed to screams of excitement, it's the older tunes that get the biggest reactions. Bury It, Recover and Leave a Trace are expertly performed, the addition of a full drum kit bringing a bigger, deeper feel to the band's unique sound.
From the off the whole band have an animated presence: Lauren Mayberry jumps, twirls and headbangs with precision through some of their most danceworthy tunes. Iain Cook, eyes closed, seems wondrously lost in every note. It's Martin Doherty, however, that really draws attention as he takes up every part of his synth station with enthusiastic headbanging. He shines again later on during Under the Tide when he jumps and pivots across the stage, much to the delight of the crowd.
Mayberry's voice is exceptional as she explores variations on many of the original melodies, setting the band's live performance far apart from their records. Completely in her element, she strides around the stage pulling power poses at every turn, at one point lifting the mic stand high above her head. Strong and defiant – an icon of her generation.
However, she is still forced to exact her power when her sheer outfit garners a sexist comment from a male audience member, who she instantly tells to fuck off, stating: "It's not for you, it's for me." The rest of the crowd roar in agreement – bring that bullshit to a CHVRCHES show and you will get called out for it.
The rest of the show is fantastic and it's a heartwarming sight when the band lose themselves completely in the breakdown of Clearest Blue, the last song of their main set. Thanking us for our endurance, CHVRCHES end on The Mother We Share and Never Say Die, a brilliant and cyclical end to their last show in support of their latest album.