Chromatics @ SWG3, Glasgow, 24 Oct
Chromatics bring a stylish and atmospheric performance to Glasgow's SWG3 for their first ever Scottish date, alongside label mates Desire and Double Mixte
Italians Do It Better (IDIB), the label run by Chromatics' mastermind, Johnny Jewel, is an incestuous web of collaboration and musical osmosis. All three bands present tonight are on the label, while main support Desire features Jewel himself along with his partner (and president of the IDIB label) Megan Louise and Nat Walker (Chromatics' drummer).
The label has very distinct aesthetic touchstones; neon, 80s nostalgia, chic elegance and brooding, icy synths. Jewel is the puppeteer behind the whole affair, contributing to each band on the roster in some way. He's also curated the visual flow of this tour, keeping the lights and visuals on a consistently IDIB track, helping to create a seamless flow from the lithe techno of Double Mixte to the party-tronica of Desire (with the beautifully cinematic Under Your Spell), through to the main act.
This is the first ever (!) show in Scotland from Chromatics but, for the most part, it's a exercise in constancy – keeping to a clear setlist and establishing a clear mood. The band are all about atmosphere, beginning with the instrumental Tick of the Clock, through the moody Kill for Love, all the way to the mesmerising Cherry. Ruth Radelet delivers everything in a delectable coo, never seeming to rise above a whisper but still remaining audible amongst Jewel's wild synths and the metronomic thrust of both live and programmed percussion.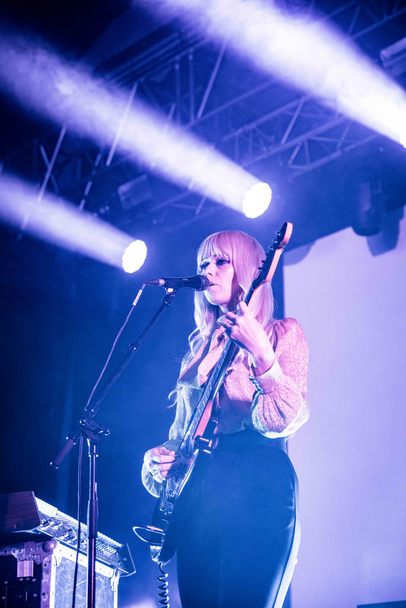 Image: Chromatics @ SWG3, Glasgow, 24 Oct by Gordon MacPherson
A selection of the band's wonderful covers close the night; Into the Black the main set, before a sparse, delicate I'm on Fire (just Radelet and guitar). Jewel takes a moment to warmly and sincerely thank the crowd, expressing a bit of love for Scotland, before Shadow, a song now forever entwined with the legacy of Twin Peaks (though the Galvanizers room is a little too colourful and cavernous to double as a convincing Roadhouse). Running Up That Hill finishes things off, the band bringing a hushed reverence to Kate Bush's beautiful, powerful lyrics.
A perfectly polished and enjoyable night, it's difficult to find fault in what Jewel and co provide, though there is the glaring omission of any material from the group's just-released Closer to Grey – their first album in seven years. Perhaps Jewel's perfectionist tendencies (this tour has been in the making for at least a year) didn't allow for inclusion of the seemingly spontaneous release, but however long we have to wait for whatever they have planned next, tonight shows that you can always count on Chromatics.