The Chemical Brothers @ The SSE Hydro, Glasgow, 23 Nov
The Chemical Brothers bring their grandest production to date to Glasgow, stacked with smoke machines, lasers, inflatable balls and blazing lights
Rowdy passengers spill out of trains in Queen Street station, drawn from Ayr and Aberdeen; cans of lager slosh from side to side, and from time to time a shout breaks out: "Hey boy, hey girl, superstar DJ, here we go". Despite being staples of festivals south of the border, electronic A-listers The Chemical Brothers have only ventured north a handful of times this decade, and tonight Glasgow is buzzing, dragging in excited punters from every corner of Scotland.
In the queue, eight Shetlanders tie down their bucket hats as a trio of teens in leopard print pass a bottle of Glen's Vodka between them. Sadly slow-moving security means that many miss out on 2manydjs's support slot, but by the time our headliners take to the stage the venue is packed and the air of anticipation is palpable.
The Manchester duo are now three decades into their career as one of the biggest electronic acts this side of the Atlantic and this arena tour might be their grandest production to date, stacked with smoke machines and lasers, inflatable balls and blazing lights. This is not just a nostalgia trip though, with half a dozen tracks from this year's impressive No Geography demonstrating that the duo are still capable of going toe-to-toe with the young pretenders coming up behind them.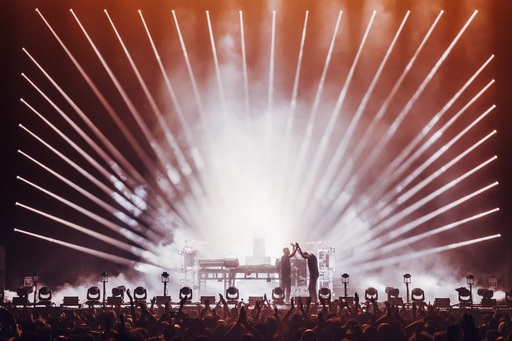 From the blaring opening chords of Go, lit in red, white and blue, through to the retro black and whites of C-h-e-m-i-c-a-l, via the acid glare of Elektrobank, this is an exercise in testing the sheer scale and variety that can be squeezed out of a lighting rig. At the same time, the nature of the pre-programmed effects does make you wonder how much the duo's knob-twiddling actually does.
So many of these songs are now staples of British electronic music but, despite the familiarity, it is still impressive how the duo can deploy them to make a crowd go off. The faintly Moroccan strains of Galvanize, in particular, build to a vast epic crescendo that sends drinks skittering from hands as every arm rises in the air.
And just when you think that couldn't be topped, they bring out robots shooting lasers from their eyes. It's not a subtle performance, but for foot-shifting, retina-frying, arms-aloft entertainment it's hard to beat.
---
Photo: Luke Dyson