Charli XCX @ O2 Academy, Glasgow, 15 May
If tonight's Charli XCX show is a closing party of sorts for Crash, then it's a hell of a way to go out
Following the unwritten rule of Charli XCX always going for left-field support acts, it's Yeule opening up at the Academy tonight. They're a powerful stage presence, often literally prowling the stage on all fours, which, combined with an outfit best described as warlord Yeti, is a wonderfully strange sight to behold. It's a shame then that the early, slower tunes don't quite hit. They're left to float about in a beatless melange, never quite enough to grasp on to, the glitchy textures that work so well on record failing to translate to a room of this size.
The set works better when there's something forceful in the mix. The almost post-rock dynamic changes that occur later into the set, in which the delicacy comes through their voice, while the instrumental is a blown-out wash of synth textures, are genuinely powerful. It's when there's something heavier to root it that they really shine, particularly on the house-y Too Dead Inside, which, with its throbbing, propulsive bass, gives a momentum sometimes lacking in the rest of their set.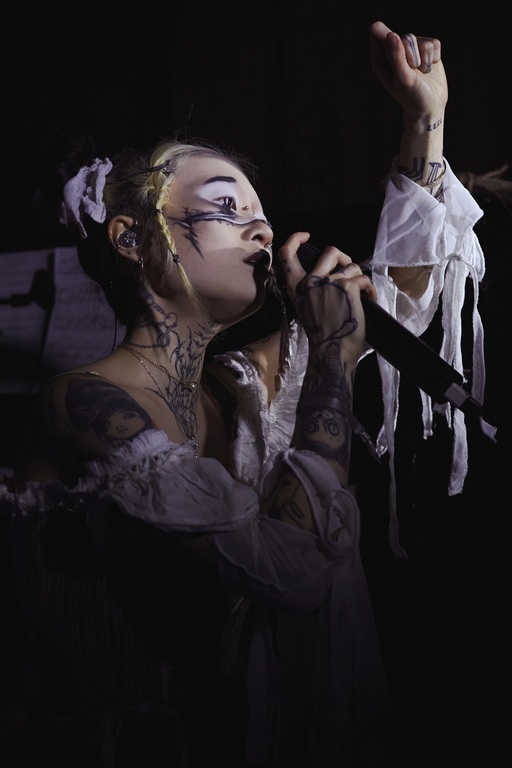 Image: Yeule by Daniel Mutton
When Charli XCX arrives, to a room already at a deranged frenzy from her off-handedly throwing some of her big tunes away as intro music, she opens with two of her finest songs. Right from the clanging jerkiness of Lightning fizzing off the stage, and Gone, all stuttering claustrophobic bass, it's a performance of ballistic, victory-lap greatness.
As the set is made up primarily of tunes off her latest album, it does mean that, when sandwiched between the recently released Crash and New Shapes, her forays into her older work, like Boom Clap and Boys, look a touch adolescent by comparison, a bit of a wonky fit in the future-facing experimentalism of her later work, the latter of which manages to scan, but the former ends up feeling like a misstep. But there's always another banger around the corner, like the undimming, weapons-grade perfection of Vroom Vroom, somehow Frankensteining three different brilliant songs into one pulsing slab of genius pop - which, with the full-on maelstrom of a light show that accompanies it, is tonight's momentous, sensory-overwhelming peak. 
As ever, her voice is superb. It manages to carry the wide emotional variety of her discography, but more than anything it's powerful, battering away a crowd belting every lyric back at her. She also takes the bold but unenviable route of covering all the features on the various tunes, handling ones from Caroline Polachek, Troye Sivan and Christine and the Queens throughout the show with real vocal dexterity. It's a good decision, the show's all the better for it, having none of the loss of momentum that usually comes with playback features, something that could have sunk a song like 1999 in the water, but instead it's an absolute head rush.  
There's been a lot of talk of Crash being an end to a certain period of Charli XCX's work. Who knows what that will ultimately mean, but if this is a closing party of some sort, then it's a hell of a way to go out.