CHAI @ Nice N Sleazy, Glasgow, 26 Oct
The unfiltered and infectious joy of CHAI is a delight in itself, but there is more to the Japanese quartet's bubblegum punk aesthetic than meets the eye
'You are so cute! Nice face! Oh yeah!' 
Thus opens N.E.O., a blazing pop-punk cocktail of a song by Japanese four-piece CHAI. The Nagoya quartet bounce onto Nice N Sleazy's stage tonight clad in bubblegum pink sweatshirts, velvet hot pants, and blindingly white ankle socks; a uniform that is almost cartoonishly sweet. But launching into their explosive opening track, it's clear that CHAI are a force to be reckoned with.
The band have had a mad time of it this year, releasing their second album PUNK in March, completing the summer festival circuit, and launching straight into an expansive European tour last month. But despite their relentless schedule, not a shadow of fatigue can be found on the faces of CHAI tonight, whose performance is so fresh it feels like they're discovering the joy of their own music for the first time. With every move made onstage, they exude a passion for what they do, zealously nodding along to every beat and beaming through moments of choreographed hand gestures.
CHAI's eclectic sound is partly owed to Japan's lineage of female punk groups who combine raw rock production with a hyper-cute aesthetic (think Shonen Knife, whose punk-rock anthems are offset by lyrics about cats and matcha lattes); but there's also something disarmingly unique about their music. This is perhaps down to their melding of 80s-infused synth riffs with punk-rock guitar – a telling sign of their wide range of influences – alongside punchy harmonised vocals advocating self-acceptance.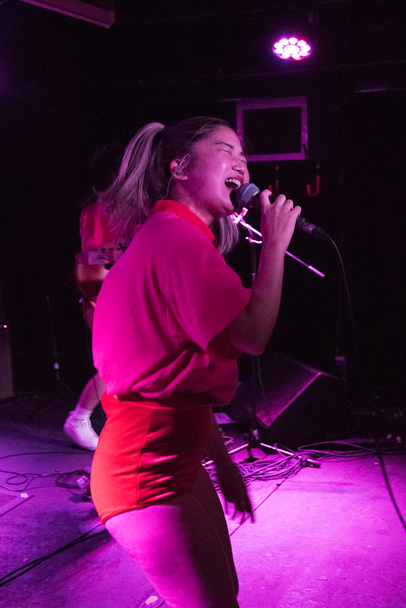 Image: CHAI live at Nice N Sleazy, Glasgow, 26 Oct by Allan Lewis
The set is full of surprises, including spontaneous bursts of choreography and a speech in broken english by keyboardist Mana calling for self-love. A particular highlight comes midway through the performance, where the members stand in green hooded cloaks adorned with multicoloured tassels and perform a dance routine reminiscent of a slowed down 80s aerobic video. It is ridiculously fun to watch. 
The unfiltered and infectious joy of their performance tonight is a delight in itself, but there is more to CHAI's bubblegum punk aesthetic than meets the eye. Pulling no punches in their idiosyncratic adorableness, they strive to redefine what it means to be 'cute' in Japanese culture, which the band see as creating oppressive standards (they call this idea 'Neo-Kawaii', or 'New Cute', and it's at the heart of CHAI's manifesto). This message sits well tonight with their fiery sound, eccentric lyrics and unapologetically adorable presence; it's an aesthetic that refuses to be easily defined. It's what makes CHAI an absolutely unmissable force of nature.