Cate Le Bon @ Summerhall, Edinburgh, 25 Aug
In the sauna-like heat of Summerhall's Dissection Room, Cate Le Bon hits all the right notes and her band are all business from the get-go
Grimm Grimm has the perfect attribute for an opening act: little apparent interest in whether he's playing to ten people or 1000. For the first 20 minutes of his set, he seems lost in his world of heavily textured electronics and electroacoustic balladeering. With simple introductions like "I wrote this song while I was waiting for my friend", and loose, stream-of-consciousness lyricism, there's a refreshing lack of pretension that endears him to the initially sceptical crowd.
Cate Le Bon and her band are all business from the get-go, leading with the three opening tracks from her fantastic Reward album. Le Bon hits every out of place note and guides the jaunty rhythms with her voice (and occasional tai chi-esque hand movements), with help from a well-oiled band playing up to three saxophones at once (two alto and one baritone), along with bass, keys and drums.
She first addresses the audience before a frenetic, punchy Wonderful, offering a plaintive "Welcome to the sauna." It is incredibly hot in the packed Dissection Room of Summerhall tonight and Le Bon's choice of long, black dress that doubles as a cassock was not a wise choice. "It doesn't really breathe," she laments later in the night.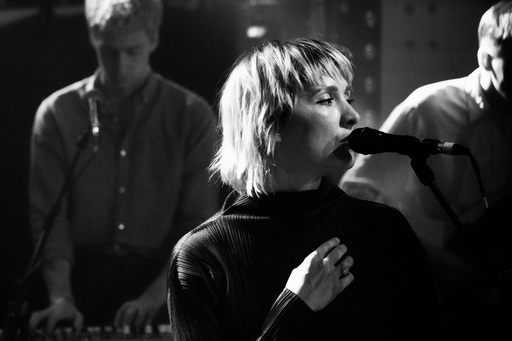 Image: Cate Le Bon by Jasmine Noble
Le Bon's music is so multifaceted to begin with that it doesn't really cry out for embellishment, and the band tonight are happy to run through the entirety of Reward (minus Here it Comes Again), adding a few older songs, without too much fanfare. A hefty guitar breakdown closes the main set at the end of What's Not Mine, nicely complementing the psychedelic flourishes that generally appear through surreal lyricism or saxophone skronk.
A one-song encore of Meet the Man brings one of Le Bon's finest vocal turns of the night, at once vulnerable and powerful, with just a hint of winking mischief beneath the steady veneer. It's a relatively slight show in all, at just over an hour, but each of her albums brings with it a fairly distinct character (judging by the band tonight, this could be the blonde iteration), and it is perhaps best to appreciate the songs that suit her current mood, rather than making stylistic jumps to shoehorn everything in. Plus – it's really fucking hot.