Callum Easter, under a bridge, Edinburgh
Callum Easter brings a little sunshine to Leith on an otherwise dreich summer day
Picture the scene: it's a drizzly Sunday afternoon in Edinburgh, you're walking down Great Junction Street and as you approach the Great Junction Street Bridge your ears prick up. The unmistakable croon of Callum Easter wafts over the Water of Leith below, finding its way through the greenery, up and over the bridge and into your ears, like the steam from a much-needed cup of coffee might tantalize your nostrils.
As we slowly ease out of lockdown, live gigs haven't yet been given the go ahead to return, and in Scotland bars and restaurants aren't even allowed to play background music, but Easter doesn't let that stop him. To celebrate the release of his majestic one-take, straight-to-tape Green Door Sessions album – released last Friday via Moshi Moshi Records – Easter has come over all troll as we find him under the bridge putting on a gig... of sorts.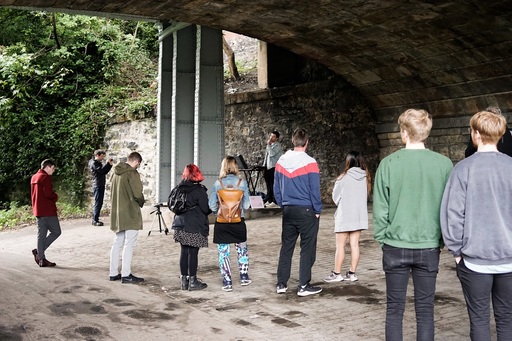 Callum Easter by John Mackie
Feeling privileged to have received the memo, we stand in awe with around 40 or so others who have been starved of live music for months. Faces are glowing. It's genuinely quite moving the first time we clap together in adoration of Easter's very unique brand of genius, and nobody cares when he admits he doesn't really know what he's doing. You could honestly never tell.
Easter's powering today's briefcase setup – which includes a battery powered turntable, mixer, mic and an FM transmitter – with just a 12V battery. Instead of speakers, we're listening via a network of portable radios which surround us, each tuned in to Easter's own pirated frequency. The event invite neatly requested attendees BYORadio.
The guerilla gig acts as a sort of listening party for the new record, with the occasional adornment from Easter in the way of knob-twiddling effects and layered vocals. Green Door Sessions is a collection of re-recorded tracks from his first two EPs and last year's debut album on Lost Map, Here or Nowhere. Listening as we are today, a lot of these songs feel like they've taken on new meaning during lockdown, such is the power of his lyricism. It's particularly pertinent when he bellows: 'Don't you cry, I told myself / These four walls / These four walls that keep on climbing', on Fall Down.
While we're not sure Easter's setup today would work quite so well for anyone else, or at any other time, it proves just how important live music is to a community and industry that is hurting. As Feelings Gone ends the album and the gig, it is pure catharsis. Callum Easter is the perfect soundtrack for the best of days and the worst. And most in attendance today would likely agree it's been one of the best in a while; friends you'd normally run into at gigs, who haven't seen each other in months, grin widely and bump elbows. Live music is joy, and collective joy is like no other feeling.
---
Green Door Sessions is out now via Moshi Moshi Records