Belladrum Tartan Heart Festival 2019: The Report
From first-time infants to the seasoned party animal, you'll find what you're looking for in the heart of the Highlands at Belladrum Tartan Heart Festival
As festivalgoers arrive, setting up camp for the weekend, it becomes quickly clear that Belladrum Tartan Heart Festival is a sea of varying personalities. Though there is family camping available for the festival's younger guests, general camping is a mix of families, the lads out on a mates weekend, the 30-somethings looking for a wild one, and the girls painted in every neon colour under the hot Highland sun.
Thursday 1 August
Venturing into the festival site itself, it seems the organisers have thought of everything. We're greeted by a makeshift co-op upon entry; tents, rides, stalls and food stands sprawl across the impressively beautiful sight, complete with a giant John Lennon sculpture bearing the words: 'Imagine, you are here'.
Local(ish) band Table for Four entertain the early evening crowds swarming toward the bars, singing songs of gastric bands and acceptance and how cool it can be to be a loser, even throwing in an excellent School of Rock cover, Teacher's Pet. Everyone seems happy and contented walking around in the hot summer air, not a cloud in the sky or seemingly a care in the world. Belladrum emits a sense of calm, a sense that we are disconnected from the world, but we're all cool with it.
Thursday evening headliners Elbow blast through a set that covers all of their greatest hits, as Guy Garvey professes his love for the Scottish people, and how much the band are enjoying their first time up by Inverness. "I wish I was Scottish", Garvey confesses, "because you're all really cool."
As Elbow close the main stage for the evening, families drift off to camp while others drink merrily at the bar and the party animals among us rave the night away at one of the many DJ sets happening around the darkened site. The mood is good, with everyone co-existing happily.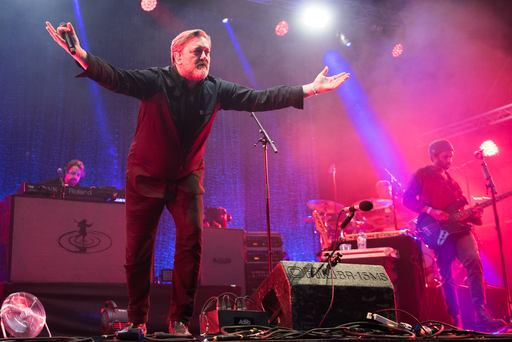 Image: Elbow live at Belladrum Tartan Heart Festival by Allan Lewis
Friday 2 August
There's a heavy but friendly police presence around the campsites and festival ensuring everyone has a good time, but stays safe as the sun continues to shine down on the Highlands. Food trucks emanate delicious smells as festivalgoers chow down on bacon rolls, readying themselves for the day ahead. Indigo Velvet entertain the early afternoon crowd at the Hot House Stage with their glossy pop-punk synthy vibe, the Edinburgh band delivering an uplifting set to complement the beautiful day Belladrum has been given. 
Wandering around the site, there seems no shortage of entertainment. Team Extreme show off their impressive skateboard, scooter and BMX skills, while a short distance away a wrestling show takes place. Later, we stumble upon Kim Carnie, a Celtic musician with songs that sound as though made for these hills and landscape. It seems there really is something for everyone at Belladrum.
As the sun continues to beat down, Elephant Sessions turn the main stage into a massive party, the crowd jigging and jiving with their unique brand of folk-infused indie rock. The group note their journey through Belladrum, having first performed at the festival seven years prior on the back of a combine harvester. Not too long after, Johnny Marr takes to the stage playing a mix of his own songs as well as beloved Smiths classics. Hearing the thousands in attendance singing as loud as they can along to There is a Light that Never Goes Out is a particular highlight of the weekend.
Another Friday evening highlight comes in the form of Stanley Odd frontman Dave Hook who performs a solo set under his Solareye moniker, proving that Scotland can produce compelling and catchy hip-hop. Across the field, the Hot House Stage is at capacity for Glasvegas, as they open with guitar-laden banger Flowers and Football Tops. The crowd could not be more packed in, loving every second, singing note for note, in-between chants of "Here we fuckin' go!"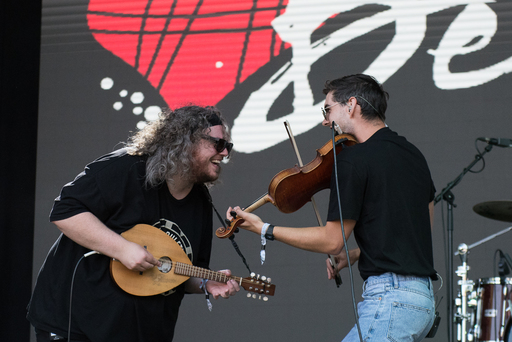 Image: Elephant Sessions live at Belladrum Tartan Heart Festival by Allan Lewis
Saturday 3 August
As the sun rises on the final day of Belladrum, the vibe within the festival is still very much positive. The mid-morning wanderers can be found enjoying some of the seemingly endless food on offer, as well as taking in yoga, massage or reiki classes as they prepare for one more day of festival madness.
Seemingly never too far away from a set of bagpipes at Belladrum, pipers and marching bands make their way through the crowds, adding to the authenticity of the Highland vibe. Man of Moon ride the afternoon waves, pulling a decent sized crowd. Thanking us all for being here, their experimental new wave-esque tendencies are a suitable start to the many bands to follow.
Professing how buzzing she is to be here, Charlotte Brimner, aka Be Charlotte, creates a big sound with a relatively chill vibe, and the tent fills up as she begins. Cloaked in a puffy silver jacket – worn to match the space theme of the festival – she tells the crowd that numbers and stats don't matter to her, she's just happy to be able to play great gigs for great people like us, getting an appreciative cheer from all in attendance.
Over on the main stage, people lay outstretched in the sun as American country trio The Local Honeys add to the carefree vibe circulating the crowd. Across the festival three-piece group Boy Division perform sugary pop tunes that seem to drive their audience wild, before back on the main stage Colonel Mustard and the Dijon 5 split their massive crowd in two as they get folk to take part in a dance-off – a special mention has to go to guitarist Gary who joins the band just two weeks after suffering a heart attack.
As the day starts coming to an end, there seems to be only one man on everyone's mind: Lewis Capaldi. The main stage becomes uncomfortably full as thousands chant Capaldi's name, eager for his arrival. "I never knew that such a big part of my career would be wearing stupid sunglasses", he jokes as multiple pairs of silly specs are thrown onto the stage. The crowd sing every word of his songs back to him, and he leaves half the audience in tears with final song and viral hit, Someone You Loved.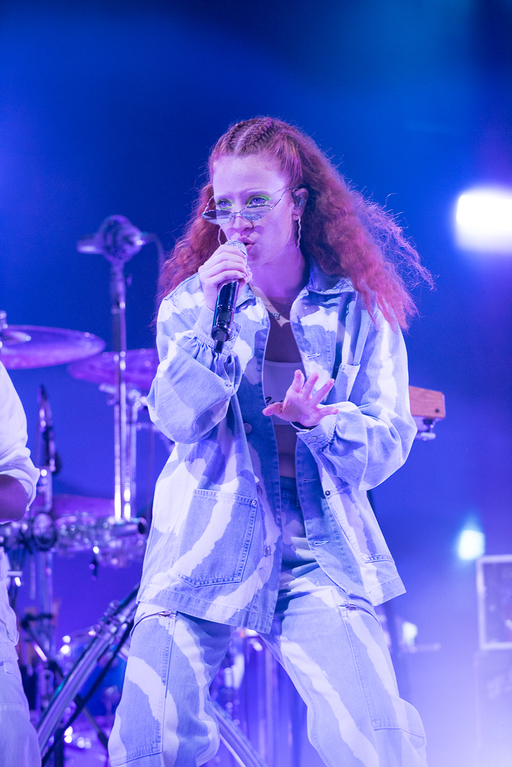 Image: Jess Glynne live at Belladrum Tartan Heart Festival by Allan Lewis
Opening with Hold My Hand, Jess Glynne closes the main stage rattling through a set of feel-good bangers to ensure that if she's the last act of the evening, the crowd are going to leave happy. "Are you ready to have fun with me and my band?" she asks before launching into These Days. While Glynne entertains the main stage, the crowd spills out of the Hot House stage as The Coral close proceedings there with a crowd so big security have to turn people away. Those in on the action go predictably nuts for their nostalgic 90s gem, Dreaming of You.
With so much music and so many activities to choose from throughout the day it's impossible to catch everything going on, but Belladrum makes wandering around discovering new things a truly wonderful experience. Set in the serenity of the hills, the 2019 Belladrum Tartan Heart Festival is a safe, beautiful and captivating place. From the families looking to take their little ones to their first festival, to the off-balance lads out for a weekend of partying, to the music lovers who are looking for that new favourite band, everyone is catered for at this wonderful Highland retreat. A festival that emanates pride, equality, togetherness and good times. Come rave or relax, you'll find what you're looking for.
---
Belladrum Tartan Heart Festival 2019 took place from 1-3 Aug; 2020's Belladrum will take place from 30 Jul-1 Aug; tickets are on sale now