Battles @ Gorilla, Manchester, 28 Oct
Four years since their last visit, a newly slimline Battles work their way through the nuances of new record Juice B Crypts in front of a capacity Manchester crowd
"What do you guys wanna hear? Nope, just kidding. We can't play those songs." At the midpoint of this first appearance from Battles in Manchester for four years, a rare stab at audience interaction from Ian Williams falls flat. He knew it would, of course; his tongue was firmly in cheek, because everything about tonight's show suggests both rigid, rehearsed structure and an unyielding commitment to rattling through tracks new and old with generous helpings of both volume and energy.
A degree of minimalism feels like more of a necessary aspect to a Battles gig now than it ever has, given that the lay-off between the New York outfit's last appearance here in October 2015 and now has seen them lose a key member and opt not to replace them. With bassist Dave Konopka moving onto pastures new, this is a newly slimline Battles, with Williams on guitar and keys and John Stanier remaining a powerhouse behind the kit.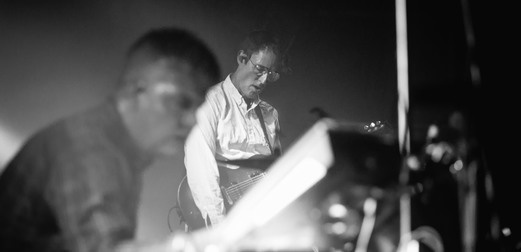 Image: Battles live at Gorilla, Manchester, 28 Oct by Ben Harrison
They're here in support of Juice B Crypts, a reinvention all its own in the way that it embraces hip-hop and funk, and a triumphant reminder that this is a band most obviously at the peak of their powers when they embrace a palpable sense of fun. On stage, though, the focus shifts – with only two pairs of hands available, the emphasis is on punchiness, with many of the nuances of the likes of They Played It Twice (Xenia Rubinos' backing vocals) or the trippy Titanium 2 Step (the legendary Sal Principato's stirring turn) coming courtesy of a backing track.
For the most part, that doesn't matter; the controlled chaos of opener Fort Greene Park would sweep anybody away, whilst nods to the back catalogue – a frenzied Atlas in particular – go down a storm. The musicianship and the vigour is not in doubt, but there's a sense that we're watching Battles pick their way through a transitional period tonight. At present, they're perhaps more fascinating than they are scintillating.