Angel Olsen @ Barrowlands, Glasgow, 14 Feb
Angel Olsen brings her six-piece band to the Barrowlands for a night of beautiful ballads, gorgeous arrangements and Buckfast regrets
As Hand Habits, Meg Duffy recounts emotionally intense stories with a feather-light touch. It could be a tough opening gig in an echoey, half-full Barrowlands, but they quickly capture the crowd's attention with swooning earworms like are you serious? and placeholder. A hint of crowd-led Loch Lomond and some 'yer da'-based humour endears the audience further before guardrail/pwrline finishes the set with some raw, melancholic imagery.
Angel Olsen arrives full of conflicting emotions: sad for the end of the tour, happy to be in Glasgow, hopeful that everyone's going to get laid for Valentine's Day and visibly disgusted by the taste of Buckfast. The rest of the band are less discerning, and two bottles make it round the six-piece outfit over the course of the night.
The set is quite neatly split in two, with the first being composed solely of material from last year's fantastic All Mirrors. Olsen's voice is as powerful as ever, reaching gorgeous heights on the title track and Lark, while bringing a waltzing sweetness to symphonic slow-burners like Tonight. Most of All Mirrors is heavily orchestrated and those songs sound excellent, but it's a real treat to have the cello and violin present for older songs like Acrobat and Forgiven/Forgotten.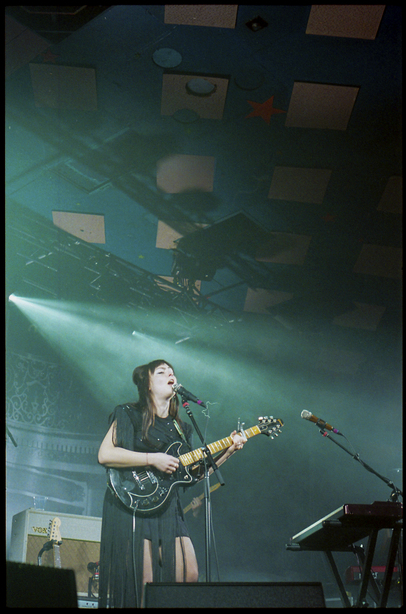 Image: Angel Olsen @ Barrowlands by Marilena Vlachopoulou
At one point, Olsen goes on an extended riff about a new song, concerning her feelings about the tour coming to an end and Glasgow, being continually interrupted by the band's improvised jazz-jams, before launching into a full-blooded Shut Up Kiss Me. It's the sort of light-hearted jab she seems to enjoy, exchanging quips with the audience and band, helping to keep the show from becoming too self-serious amid its grand, sombre arrangements.
Olsen closes the main set with a delicate solo rendition of Bruce Springsteen's Tougher Than the Rest before the band return for a show-stopping Chance. While the band build and maintain a rousing wall-of-sound, Olsen leans into her French torch-singer inclinations and delivers the ballad with all of the drama and triumph you would expect of a rattling finale.
With her ample talent, fantastic backing band and a sold-out Barras crowd hanging on her every word, it's almost too easy for Angel Olsen. The only thing for her to overcome are sky-high expectations, something she manages with aplomb.
---