Scottish Music Highlights: 9-15 Jan
Get back into the gigging swing of things with King Tut's New Year's Revolution, a Shirley Collins documentary, and an Edinburgh show from a former Kraftwerk member
Andy Cooper (Ugly Duckling) @ The Hug & Pint, Glasgow, 10 Jan
It's January, it's cold, it's hard to find the energy and motivation to leave your house to do anything except go to work, and even that's a struggle, right?! Step forward one of the warmest and most infectious performers there is: Andy Cooper. One third of Ugly Duckling, Cooper is influenced by acts like Run DMC, A Tribe Called Quest and De La Soul and is guaranteed to warm up this cold January night with his own brand of upbeat old school hip-hop with a party twist.
Wolfgang Flür @ La Belle Angele, Edinburgh, 12 Jan 
Former Kraftwerk drummer (and sometime Kraftwerk reviewer) Wolfgang Flür presents his new solo material in Edinburgh. Support comes from synth-heavy dance-pop outfit Future Get Down.
The Ballad of Shirley Collins @ Glad Cafe, Glasgow, 12 Jan
Rob Curry & Tim Plester's 2017 documentary charts the story of Collins, a hugely influential figure in UK folk who was forced into early retirement with the vocal cord condition dysphonia only to return with a new album and tour after nearly forty years away. The film screens at the Glad Cafe this week with live performances from a host of Collins collaborators including Trembling Bells duo Alex Neilson and Vinnie Blackwall, and Alasdair Roberts & Ailbhe Nic Oireachtaigh.
Palmiros @ Sneaky Pete's, Edinburgh, 13 Jan
West Lothian blues-rockers Palmiros head up a bill packed with local acts – support comes from Edinburgh indie-grunge four-piece The Motion Poets, alt-rockers Sleepless Giants, and Glasgow songwriter Caitlin Buchanan.

Helicon @ Nice 'n' Sleazy, Glasgow, 14 Jan 
Glasgow's Helicon have been plugging away on the scene now for the better part of a decade, with the "neo-psychedelic ninjas with smatterings of sentient sitar" dropping their debut album late in 2017. They launch the self-titled LP with a host of guest DJs in tow at Sleazy's this weekend.
Jonah Matranga @ Bannermans Bar, Edinburgh, 15 Jan
Matranga, frontman in much-loved 90s emo/post-hardcore outfit Far, marks 20 years since the band's Water & Solutions record with a solo tour that takes in the intimate confines of Bannermans.
Gig of the Week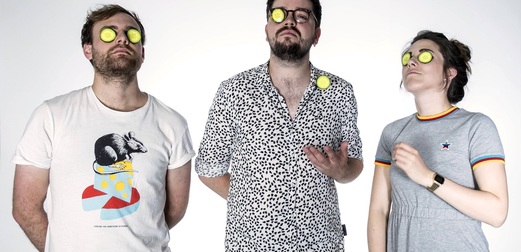 [BooHooHoo by Brian Sweeney]
BooHooHoo @ King Tut's, Glasgow, 12 Jan
King Tut's New Year's Revolution returns for its eighth consecutive year, bringing a selection of emerging local talent in to play at the legendary Tut's until 20 January. Tonight, electro-pop three-piece BooHooHoo headline, with support from The Little Kicks, Noah Noah and Oh Jay. EmuBands will provide tunes for the night in between bands, while afters will be sorted by Paisley art-pop four-piece The Vegan Leather.