Scottish Music Highlights: 6-11 Dec
There's everything from tropical pop to thrashcore hip-hop this week in Scotland's central belt – plenty to get your teeth sunk into and then some!
Gigs in Edinburgh this week
Indigo Velvet @ The Liquid Room, 8 Dec
Join Edinburgh tropical pop quartet Indigo Velvet for their biggest headline show to date as they take on The Liquid Room tonight. With support from The Vegan Leather and Mt. Doubt there's little to grumble about, and fun will definitely be had!

Be Charlotte @ Dalkeith Library, 8 Dec
Dundee's Charlotte Brimner, aka Be Charlotte, is playing in Dalkeith Library tonight as part of the Get it Loud in Libraries project marking her final show of 2017. Don't miss it!
Otherkin @ The Mash House, 10 Dec
The Dublin four-piece – who released their debut album OK earlier this year – are blasting into Edinburgh tonight, crash-landing on the steps of Guthrie Street to fill The Mash House with their high-energy garage rock. Leather jackets at the ready!
---
Gig of the Week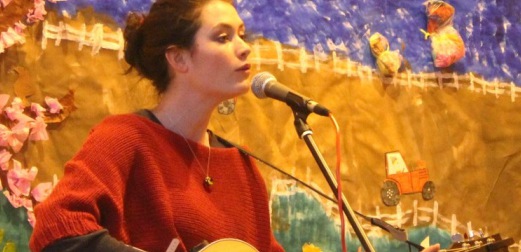 [Rachel Sermanni by Juliet Buchan]
Vegan Connections Christmas, Mono, Glasgow, 9 Dec
There may not be turkey but meat is murder after all, or so says Morrissey. Vegan Connections bring together some of the best vegan producers in the UK for The Glasgow Vegan Christmas Festival today, promising a blissful blend of carol singing, mulled wine and Yuletide spirit at The Briggait from 10am. The festivities continue into the evening with a gig at Mono, featuring Randolph's Leap and Rachel Sermanni.
---
Gigs in Glasgow this week
EAT FAST @ The Old Hairdresser's, 7 Dec
DIY collective Spiral Oh bring Geordie garage-rockers EAT FAST for a jaunt up to Glasgow to perform some ditties from their recent Immortal Kombat EP. They've also managed to pull together an almighty line-up of local support acts in the form of LUCIA, HOME$LICE and West Princes. All that and it won't even break the bank – you could call it a Christmas miracle.

DJ Food: Selected Aphex Works AV Set @ O2 ABC, 8 Dec
This is a rare chance to see DJ Food play strictly Aphex Twin gems. With over two decades of experience, DJ Food's seamless mixing skills and extreme Aphex knowledge, this will no doubt be a dream show for all the Aphex heads out there.

GNOD @ Broadcast, 8 Dec
The now decade-old exploratory band GNOD are celebrating the start of the next phase of their existence with a research and development tour. GNOD (R&D) is a stripped back version of the band consisting of co-founders Paddy Shine and Chris Haslam and tonight they're hosting an open stage on a quest for new collaborators – they invite you to sing, shout, dance, take an instrument you can play with you and get up and perform with the band. This will definitely make for a truly unique show.

Cloud Nothings @ The Art School, 8 Dec
Almost a year on from the release of their fourth record Life Without Sound – released at the end of January – Dylan Baldi's Cloud Nothings are stopping in to Glasgow's Art School tonight. Support from The Hotelier. 

Dinosaur Jr @ The Art School, 11 Dec
The mighty Dinosaur Jr are in town for two nights this week; the 10 Dec is sold out but there are still tickets available for Monday's show, and there's support from Spinning Coin. Win win.

Ho99o9 @ Stereo, 11 Dec
Experimental thrashcore hip-hop duo Ho99o9 – pronounced 'horror', duh – will probably blow your minds, and your eardrums. For fans of Death Grips, Cerebral Ballzy and early Odd Future, the duo blend punk rock, hardcore and hip-hop and are equally shocking to watch as they are totally mesmerizing. Bring your earplugs, and maybe a shield if you're thinking of jumping into the pit at any point. You have been warned.