Scottish Music Highlights: 28 Nov - 4 Dec
From Book Yer Ane Fest's DIY punk in Dundee to Malian funk from Songhoy Blues in Glasgow and frantic bubu music in Edinburgh, we've got you covered
Gigs in Edinburgh this week
KLLO @ Sneaky Pete's, 28 Nov
KLLO are cousins Chloe Kaul and Simon Lam, an electronic pop duo from Melbourne, Australia. The pair have just released their debut album, Backwater, via Different Recordings and are on the road this month in Europe to celebrate. A fusion of 90s electro and R'n'B, it also gives a firm nod towards the likes of James Blake and The xx. Support tonight comes from Edinburgh ambient duo, Super Inuit.

Janka Nabay & The Bubu Gang @ Summerhall, 30 Nov
Janka Nabay is the undisputed king of bubu music, a frantically-paced dance music with ancient, magical origins in Sierra Leone. The Bubu Gang are the posse of musical collaborators Nabay has hooked up with in the US to create a wild, high-octane juggernaut of call-and-response vocal interplay, juddering dancefloor rhythms, synths and guitars. This will surely be a unique and wonderful way to celebrate this St Andrew's Day...

Cold Turkey @ Summerhall, 1 Dec
Cold Turkey is brand new so we're not entirely sure what to expect, but what you can expect is appearances from Frightened Rabbit's Scott Hutchison, Withered Hand, Neu! Reekie!'s Michael Pederson and Hollie McNish, the latter who has promised to bring her recorder for the grande finale of the night. Basically, you'll have severe FOMO if you don't go.

BDY_PRTS @ Sneaky Pete's, 2 Dec
Fresh from releasing their debut album – Fly Invisible Hero – at the end of November, the Glasgow duo, and best pals, BDY_PRTS are embarking on a mini-Scottish tour this winter. That tour takes in Sneaky Pete's tonight as well as Beat Generator, Dundee (29 Nov) and Stereo, Glasgow (1 Dec). Read our recent interview with the pair about their writing process, pop sensibilities, friendship and, surprisingly, llamas...
---
Gig of the Week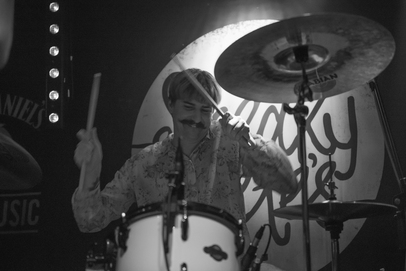 [The Spook School by Sarah Donley]
Book Yer Ane Fest XI, Dundee, 1-3 Dec
Make That A Take Records are celebrating DIY punk music and culture across three venues in the heart of Dundee this December – Abertay Student Centre, Conroy's Basement and Deacon Brodie's. With over 60 acts playing the three-day event including Lou Mclean, Tongue Trap and The Spook School, they'll also be hosting stalls for the weekend including Radical Rebel DIY, Safe Gigs for Women, Umlaut Records and Vegan Action North East, and it's all for charity. What a great way to kick off December!
---
Gigs in Glasgow this week
Gorillaz @ SSE Hydro, 29 Nov
Damon Albarn and Jamie Hewlett squashed their personal beef and returned in April after a seven year absence with their fifth Gorillaz album. The star-studded 20-track Humanz bagged four stars from us on its release; our review describing it as "intelligent party music" and "what we need right now." Tonight, the visual band make a stop at Glasgow's Hydro, with support from North London rapper Little Simz. 
Pumarosa @ King Tut's, 2 Dec
The London-based five-piece released their debut album The Witch back in May and when we caugh up with frontwoman Isabel Munoz-Newsome, she told us that "it's very much rooted in people: flesh and blood." Read the full interview then go check them out tonight's at Tut's!

Wolves in the Throne Room @ St Luke's, 2 Dec
Back in September we awarded Wolves in the Throne Room's sixth studio album, Thrice Woven, a glowing five star review in which we said it's "a beautifully composed black metal record that stands up with all the greats." Catch the American trio tonight in the atmospheric surrounds of Glasgow's St. Luke's.

Songhoy Blues @ Òran Mór, 3 Dec
Malian desert blues outfit Songhoy Blues released their sophomore record Résistance back in June and it's a funk-fuelled banger. Seeing Songhoy Blues live is one of the happiest things you can hope for, so get your festive cheer underway early by paying SB a visit tonight at Òran Mór.
Kobi Onyame @ SWG3's Poetry Club, 3 Dec
For over ten years, Glasgow-based musician Kobi Onyame has been gradually making a name for himself (under numerous different guises) as one of the most promising hip-hop acts in Scotland. But for his 2017 album GOLD, he returned to his roots fusing rap, grime, and R'n'B with his Ghanaian heritage. After a year which has included awards and sessions for BBC Radio Scotland, headlining SWG3's Poetry Club will be the perfect cherry on top of a successful year for Onyame. Support comes from DopeSickFly and LUNIR