Scottish Music Highlights: 26 Sep - 2 Oct
Our pick of this week's music, including visits from Nick Cave and Loyle Carner, plus the return of Tenement Trail
Gigs in Edinburgh this week
ULTRAS @ Voodoo Rooms, 27 Sep
Gav Prentice brings his new project ULTRAS to Edinburgh to headline the latest night from Serendipity, who combine live music with art. ULTRAS are supported by TEEK and Wendy McAuslan, while illustrator Terri Po hosts an exhibition of her work.
Lazy Day @ Leith Depot, 27 Sep
London-based lo-fi grunge quartet Lazy Day releaseed debut EP Ribbons this month via Eigg label Lost Map. Another first for the dreamy four-piece will be their September headline tour, taking in 12 dates across the UK including three dates in Scotland. Their Edinburgh stop features support from Hailey Beavis and office favourites Breakfast Muff; they also play The Hug & Pint, Glasgow on 26 Sep with MISC. MEAT and Chrissy Barnacle (for what is sadly the final live show from TYCI), and Conroy's Basement in Dundee on 28 Sep with support from Joshua Gray and Catch.

Living Room Gigs @ Assembly Roxy Snug Bar, 28 Sep
For the tenth edition of the regular DIY songwriters' night, Roberta Banana is joined by Ainslie Henderson and Davie Luhanga, joined by members of his African-Scottish collaboration Tilitose.
Tubular Bells for Two @ The Queen's Hall, 1 Oct
It's a simple concept that's taken its creators on tour around the world – two multi-instrumentalists take on more than 20 instruments to perform Mike Oldfield's groundbreaking 1973 album live and in full. Find out how they get on at The Queen's Hall; they also play the Lomond Auditorium at Glasgow's SEC on 30 Sep.
Gigs in Glasgow this week
Nick Cave and the Bad Seeds @ SSE Hydro, 27 Sep 
The first full Bad Seeds tour following the release of last year's Skeleton Tree, the Australian legends return to town with an enormous gig at the Hydro.
Loyle Carner @ O2 ABC, 28 Sep 
Carner's conscious, heartfelt hip-hop has seen him sell out venues across the UK, make the shortlist for this year's Mercury Prize, and earn rave reviews across the board (including a five-star from us for his Liquid Room show back in February). His star continues to rise, with Carner headlining the ABC tonight with support from Paisley's own Shogun.
Colours Classical @ SSE Hydro, 29 Sep
A night of dancefloor anthems with a twist, as the 60-piece Scottish Festival Orchestra rip through some of dance music's most recognisable hits. Danny Rampling, Seb Fontaine and Tall Paul – stalwarts during Colours' two-decade stint at The Arches – all feature in what's sure to be a unique show.
Charlie Sloth @ O2 ABC, 2 Oct
The man behind Radio 1Xtra's revolutionary Fire in the Booth series presents tracks from his debut album, with Fekky, Shogun, Ransom FA and K Koke in tow.
---
Gig of the Week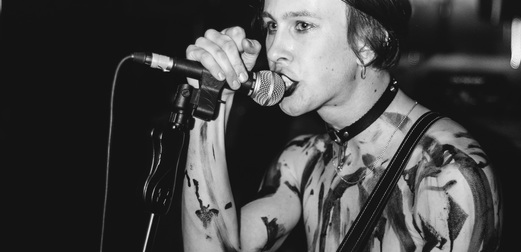 [The Ninth Wave: photo by Cameron Brisbane]
Tenement Trail @ various venues, Glasgow, 30 Sep
The annual all-dayer is back, with more than fifty bands spread over nine of Glasgow's best venues. There's plenty to get stuck into, but we can recommend the dreamy pop of Neon Waltz, the glam rock-inspired Catholic Action and the full-on gothic noise-pop of The Ninth Wave as good places to start your plans. 
---
Clubbing Highlights
I Am x Optimo @ Sub Club, Glasgow, 26 Sep
Beta & Kappa celebrate I AM's birthday with a visit from Glasgow dancefloor legends Optimo – if you're in need of a Tuesday night party, look no further.
Karnival feat Leftfield (DJ set) @ La Belle Angèle, Edinburgh, 29 Sep
22 years on from the release of the pioneering Leftism, the record's influence and power hasn't waned, so expect a lively night at La Belle as Leftfield hit the decks. They recently told us about the music which influenced Leftism, which you can read here.
All Good presents Mike Servito @ Reading Rooms, Dundee, 29 Sep
A Detroit native who has honed his craft at the Bunker in Brooklyn while collaborating with a host of huge names, Servito brings his house, techno and party selection smarts to Dundee this weekend.
Slam Events presents Dave Clarke @ SWG3, Glasgow, 29 Sep
Known as 'The Baron of Techno', Dave Clarke has just announced the forthcoming release of The Desecration of Desire, his first album in 14 years. Ahead of the album drop, he plays SWG3 with Surgeon and Edit Select also on the bill.
Platform 18 4th Birthday @ West Street, Glasgow, 30 Sep
Platform 18's summer rave impressed back in July, so expect a similar vibe as they celebrate their 4th birthday at their West Street home with Enzo Siragusa & tINI alongside residents Ivan Kutz, Niz & Craig Hamilton.
Rubadub presents RAD25: Ross 154 / Newworldaquarium @ La Cheetah, Glasgow, 30 Sep
Rubadub celebrate their quarter-century this year, and their anniversary celebrations kick off with this night at La Cheetah featuring ace producer and Rubadub favourite Ross 154/Newworldaquarium.