Scottish Music Highlights: 24-31 Oct
This week, catch local heroes Be Charlotte and The Little Kicks, and take in visits from Ghostpoet, Mount Kimbie and Godspeed You! Black Emperor
Live music in Edinburgh this week
London Grammar @ Usher Hall, 24 Oct
Hot on the heels of their second album Truth is a Beautiful Thing, Hannah Reid, Dan Rothman and Dominic Major bring their ever-evolving sound to the Usher Hall. We caught up with Reid earlier this year to discuss stage fright and the often-forgotten physical toll that touring takes on bands – read our chat here.
Our Ladies of Sorrow @ Safari Lounge, 27 Oct
Eagleowl's annual outing as their "psych-prog alter ego" – expect driving psych tunes backed with visuals drawn from classic horror and giallo cinema. Here's OLOS ringleader Bart Owl's playlist from this time last year to whet your appetite.
Be Charlotte @ The Mash House, 28 Oct 
Charlotte Brimner has been busy – she's been on tour across Europe, working on new music in the States, and she's been collaborating with Scottish Opera on a new version of signature track One Drop. Her crowd-funded new EP Heart of Survival drops this week, and she's playing a string of shows across Scotland to mark the occasion, including this one at The Mash House in Edinburgh. You can also catch her at the Reading Rooms in Dundee on 24 Oct; King Tut's in Glasgow on 25 Oct; and the Lemon Tree in Aberdeen on 26 Oct.
Live music in Glasgow this week
Adore//Repel @ The Old Hairdresser's, 26 Oct  
As evidenced on their debut album Empty Orchestra, and the video for their track Secret Road Part II which we premiered earlier this year, Wakefield four-piece Adore//Repel are a band brimming with intensity, beauty and ferocity. 
Ibibio Sound Machine @ Stereo, 27 Oct
West-African funk, sleek electronics and post-punk starkness combine on Ibibio Sound Machine's latest album Uyai, and their action-packed live show received a five-star review from us earlier this year. Bring your dancing shoes and you won't be disappointed.
The Ninth Wave @ Laurieston Arches, Glasgow, 27 Oct 
The gothic noise-pop upstarts launch their Reformation EP with a show at the Laurieston Arches as part of a string of release shows. Will it be terrifying? Possibly. Will it be loads of fun? Definitely. 
Godspeed You! Black Emperor @ O2 ABC, 27 Oct
If there were ever a band whose sound, name and general vibe scream 'dread and terror', it's GY!BE. Catch the Canadian collective at the O2 ABC for some extended pre-Hallow's Eve slices of ominous but strangely beautiful post-rock. 
Ghostpoet @ Stereo, 28 Oct
Obaro Ejimiwe, aka Ghostpoet, has been a reliable voice of anxiety throughout his career, and his documenting of issues from consumerism to warfare is at its strongest on new album Dark Days & Canapés. 
The Little Kicks + ULTRAS @ The Old Hairdresser's, 28 Oct 
"The music is the most important thing for us," The Little Kicks frontman Steven Milne told us earlier this year. "It's not really our desire to become famous and all that bullshit." Well, if the Aberdeen indie outfit keep up their habit of writing good songs and touring all the time, it might just happen anyway. Catch them in Glasgow this week with support from Gav Prentice's fantastic new project ULTRAS; they also play Summerhall in Edinburgh on 27 Oct with support from Scottish Alternative Music Award-winners Stillhound.
Mount Kimbie @ The Art School, 30 Oct
Kai Campos and Dominic Maker's third album Love What Survives is a melting pot of influences, styles and elements. Watch the duo, joined by live bandmates Marc Pell and Andrea Balency, translate the record to the live arena at The Art School.
Goldfrapp @ O2 Academy, 31 Oct
Alison Goldfrapp and Will Gregory return to Glasgow to round off October with new album Silver Eye, and a sprinkling of tracks from across their illustrious two-decade career at the top of electronic music.
Chk Chk Chk (!!!) @ Stereo, 31 Oct
The California disco-punks bring their absurdly high-energy live show to Stereo this week. In our experience, those who get within a few rows of the stage should expect to be danced at and sweated on by frontman Nic Offer – something to bear in mind if you're planning on donning a Halloween costume for the evening.
Gig of the Week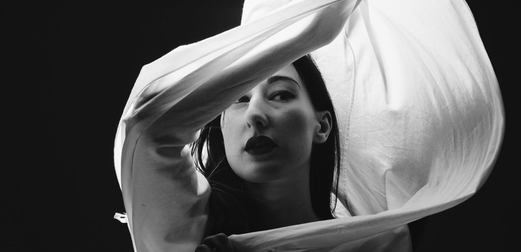 Zola Jesus @ Saint Luke's, 31 Oct
Nika Roza Danilova, better known by her stage name Zola Jesus, released her fifth studio album Okovi last month. Tackling life and death at its core – during the album's writing process, Danilova was struck by lightning – it's no wonder the album feels like her most personal yet. If the standard Halloween party isn't for you, the ethereal soundscapes and beats of Zola Jesus would be the perfect alternative.
Club nights in Scotland this week
Our Halloween events round-up features an extensive guide to the weekend's spookiest nights, including Slam's Maximum Pressure Halloween special at SWG3 and Denis Sulta's Spooktacular in Edinburgh. If you still want to hit the club but can't be arsed with dodging people dressed as ghosts, we recommend Ezup's fourth birthday celebration with Chicago House legend Paul Johnson at La Cheetah (27 Oct), and a humungous quadruple bill at The Bongo Club of Ben UFO, Pangaea, Pearson Sound and Demian Licht to celebrate 11 years of Substance (27 Oct). Also keep an eye out for tickets for a pair of big nights at Sneaky Pete's in Edinburgh with Hotflush Recordings head honcho Scuba (25 Oct) and the R'n'B-infused house of LuckyMe's Jacques Greene (30 Oct).