Scottish Music Highlights: 14-20 Nov
This week sees big-name hip-hop and R'n'B from Thundercat, Bryson Tiller and Run The Jewels, plus gigs from Marika Hackman, Spinning Coin and Aldous Harding
Live music in Edinburgh
Slugabed @ Sneaky Pete's, 14 Nov
Slugabed's sound encompasses elements of jazz, hip-hop, electronica and bass – in other words, he's a perfect fit for a live show at Sneaky's. He's also playing the equally compact and fun-packed Hug & Pint through in Glasgow on 15 Nov.

Lucy Rose @ The Caves, 14 Nov
The influences on Rose's latest LP Something's Changed range from Beth Orton and Joni Mitchell to Carole King and Rosie Thomas; hear those influences come together in the lovely surrounds of The Caves. You can also catch her at the equally charming Oran Mor through in Glasgow on 15 Nov.

Ride @ The Queen's Hall, 14 Nov
With their outstanding fifth album Weather Diaries, the shoegaze veterans proved that they are well and truly back, so now's the ideal time to experience the resurgence of the Oxford quartet in the flesh. Support comes in the form of the sprawling jams of Ulrika Spacek.
Syd Arthur @ The Mash House, 16 Nov
On their 2016 record Apricity, Canterbury four-piece Syd Arthur threw electronic and chillwave elements into their indie-rock sound to impressive effect. You can also catch them at The Hug & Pint through in Glasgow on 14 Nov.

Spinning Coin @ Henry's Cellar Bar, 18 Nov
The Glasgow five-piece have been touted as the latest great guitar band from the city, and their debut album Permo more than lives up to the hype. Spinning Coin launch the record with a pair of shows this week – they're at Mono in Glasgow on Friday (17 Nov), and play this show at Henry's on Saturday with support from Keel Her and Rocky Lorelei.
---
Gigs of the week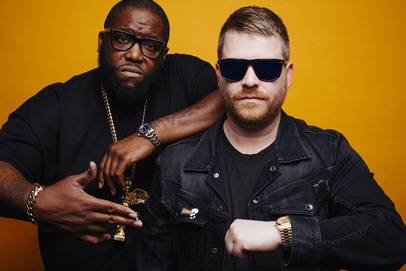 Run The Jewels @ O2 Academy, Glasgow, 16 Nov
Hip-hop's top tag team of Killer Mike and El-P return for their biggest Scottish headline show to date, on the heels of their slot supporting Eminem at Bellahouston Park in the summer. We caught up with Mike and El in Barcelona back in the summer to chat about mixing the powerful, political and puerile together – expect all three tonight, and head down early to catch a support slot from the excellent Danny Brown.
Strange Behaviours Winter Party @ Tolbooth, Stirling, 18 Nov
Remember when Strange Behaviours threw their summer party back in July? Well, they're back with a flippin' wonderful winter edition featuring some of our favourites. Throughout the evening you'll be able to catch a veritable feast of eclectic acts across three different stages, including revered psychedelic Eigg-based pop folky Pictish Trail; Paisley grime artist Shogun; and The Lochbacks, an acapella group featuring Be Charlotte, members of Pronto Mama and Louie from Hector Bizerk.

---
Live music in Glasgow
Thundercat @ O2 ABC, 14 Nov
If there's one gig this week that won't let you down, it's Thundercat. The bass extraordinaire's songs slap so hard you'll be left bruised. We reviewed the fella back in March (five stars, obviously), and described the affair as an "immersive eyes-locked-on-the-stage-but-feet-definitely-moving type of show". Should be a blazer.
Mount Eerie @ St. Luke's, 16 Nov
Phil Elverum's latest is an undeniably dark record, created in the wake of the death of his wife Geneviève Castrée. It's a tough listen, but the reward is an absorbing collection of tracks; expect an intimate and heart-rending live show from the former Microphones songwriter. 
Aldous Harding @ The Art School, 17 Nov
The inimitable talent that is New Zealander Aldous Harding, who released her sophomore record Party via 4AD back in May, self-describes her sound as "gothic-folk." Her album is one of stunning beauty – wrought with emotion, Harding's voice twists and contorts throughout, yet always identifiable as her own. Live, Harding appears almost possessed by her music; utterly bewitching, intense and an absolute must-see.

Protomartyr @ CCA, 17 Nov
The Detroit post-punks are a near-perfect example of the genre – a driving rhythm section, neat riffs, and a frontman in Bob Casey who's equal parts disaffected drawl and fantastically shabby tailoring. Their new record Relatives in Descent is their best to date and their live show shuffles up typical rock band expectations; this is one not to be missed.
The LaFontaines @ Barrowlands, 18 Nov
The LaFontaines bring their rap-rock hybrid to the Barrowlands in support of new album Common Problem. Last month, the band let us in on some of the artists, albums and songs that helped inform the record – find their playlist here.
Marika Hackman @ King Tut's, 19 Nov
On new album I'm Your Man, Hackman pushed her sound forward in both musical and lyrical senses, refining her songwriting down to a laser-like focus. Find out how that translates to her live show at King Tut's, and read our chat with Hackman from earlier this year.
Bryson Tiller @ O2 Academy, 20 Nov
It's a freakin' massive line-up at the Academy tonight. Not only is chill-hop artist Bryson Tiller swinging by for a set (FFO PARTYNEXTDOOR and Frank Ocean), he's landed a gold-standard support from the champ that is SZA. She's nominated for a MOBO and her sophomore album Ctrl is an addictive, melodic, authentically heartfelt R'n'B treat. You're gonna wanna get there on time – nobody turns up late for SZA.
---
Voted in our Scottish Album of 2017 poll yet? Make your choice using the widget below, or click here if you're on mobile.