Scottish Music Highlights: 13-19 Feb
In this week's gig round-up, Franz Ferdinand and Four Tet return to Glasgow, FOUND present an evening of machine music, and Meursault celebrate the tenth anniversary of their cult classic Pissing on Bonfires / Kissing With Tongues
Gigs in Edinburgh this week
Cool Ruins @ The Wee Red Bar, 14 Feb
Seattle producer Cool Ruins brings the woozy electronics of his new Truth = Love EP to The Wee Red Bar on the grounds of Edinburgh College of Art, for a Valentine's Day show with support from Edinburgh ambient duo Super Inuit.
Flux Velociraptor @ Leith Depot, 15 Feb 
An intriguing triple bill for this Thursday night show; Slow Blood (fka Dead Boy Robotics) bring their gothic alt-rock to Leith Depot who are joined by melodic noise merchants Fatalists and "Livingston-born purveyors of mountainous riffs and earthshaking grooves" Flux Velociraptor, who release their debut EP next month.
Phillip Taylor (PAWS) @ Leith Depot, 16 Feb 
After a string of gigs supporting The Cribs across the UK, PAWS frontman Phillip Taylor strips things back a bit for a solo show at Leith Depot.
Wave Table: A Night of Machine Music with FOUND @ Paradise Palms, 18 Feb
Everyone's favourite experimental art/music/tech collective FOUND present an evening of solo sets powered by synths, customised drum machines and other electronic goodies at Paradise Palms. Simon Kirkby, Lomond Campbell and River of Slime are joined by the mysterious Main Hobby – "main hobby has played no shows. main hobby has released no music." – for what's sure to be a mind-bending evening of unexpected sound. Get down early, you won't regret it.
---
Gig of the week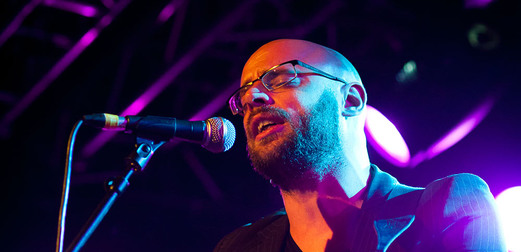 [Meursault by David P Scott]
Meursault @ Summerhall, Edinburgh, 17 Feb
Wow. It's been ten years since Edinburgh's Meursault released Pissing on Bonfires / Kissing with Tongues and we can hardly believe it! Head along to Summerhall tonight to get well and truly pelted in the face by the voice of Neil Pennycook and of course to hear their debut long player in full. As well as Pissing… Pennycook promises to play his Nothing Broke EP in full too. What a fucking treat. Get ready to bawl your eyes out to William Henry Miller and scream your heart out to A Few Kind Words. See you there!
---
Gigs in Glasgow this week
Bridal Shower @ Bloc+, 13 Feb
The Glasgow post-punks head up the bill at the latest iteration of their Repeater night at Bloc+, with Freddie Quell joining them on the bill. Oh, and it's all free!
Four Tet @ Barrowlands, 16 Feb 
He's a busy guy at the best of times, and Four Tet (aka Kieran Hebden) hits Glasgow for a double-header of shows this Friday. First up is the full-on Four Tet live show at the Barrowlands, and then it's over to the Sub Club where Hebden will DJ with a host of special guests for an aftershow party, 'cause after the show it's the after party... no? Yes.
The Van T's @ Stereo, 16 Feb
Led by twin sisters Hannah and Chloe Van Thompson, and flanked by bassist Joanne Forbes and drummer Shaun Hood, The Van T's are a jubilant mass of long hair, face glitter and brassy harmonies. The Glasgow surf-poppers are joined at Stereo by fuzz-rock trio Shredd.
Nick Hakim @ King Tut's, 16 Feb 
The New York psych-soul man brings his genre-blending sound to Glasgow, on the heels of last year's Green Twins album.
Franz Ferdinand @ O2 Academy, 17 Feb 
They're back with a retooled line-up (now featuring the synth talents of Julian Corrie, aka Miaoux Miaoux), and a host of new tracks in the form of fifth album Always Ascending. Catch up with the new-look Franz Ferdinand at the Academy this week, with support from The Strokes guitarist Albert Hammond Jr, and get up to speed on all things Franz Ferdinand with our chat with Corrie and frontman Alex Kapranos.
Lewis Capaldi @ O2 ABC, 17 Feb
Capaldi's rise seems unstoppable – the Bathgate native's debut EP Bloom has been streamed around 40 million times on Spotify, he was also recently named one of Vevo dscvr's Artists to Watch 2018, and was longlisted for the prestigious BBC Sound of 2018 award. Catch the songwriter at the ABC this weekend, and read our chat with Capaldi from this month's magazine.
Loney Dear @ The Hug & Pint, 17 Feb
Loney Dear is the musical alter-ego of Swedish singer-songwriter and multi-instrumentalist Emil Svanängen, with his folky indie chock full of deft guitar swathes and haunting folk strains. In short, ideal for the cosy Hug & Pint basement.
British Sea Power @ Garage, 17 Feb
Last time we bumped into British Sea Power it was a pretty spectacular sight to behold, the stage festooned with lights, leaves and a seven-foot tall polar bear. Expect more of the same when they hit the Garage, with support from cosmic folkie extraordinare Pictish Trail.
Alvvays @ O2 ABC, 18 Feb
Canadian dream-pop aces Alvvays return to Glasgow with their top-drawer second album Antisocialites for a night under the giant disco ball at the ABC. Support, for their second Glasgow show in a row, comes in the form of Spinning Coin.
Boris & Amenra @ Saint Luke's, 19 Feb
Get double the experimental metal for your money at Saint Luke's this week, as veteran Japanese trio Boris celebrate their 25th anniversary with a co-headline tour alongside Belgian sludge merchants Amenra.