Scottish Music Highlights: 12-18 Dec
As Christmas gets closer, Christmas gigs get more frequent – we select our pick of the best along with some other not-so-Christmassy shows like Mogwai, Jane Weaver and Pronto Mama
Gigs in Edinburgh this week
Pronto Mama @ Sneaky Pete's, 13 Dec
Glasgow's Pronto Mama have had a bloody great year off the back of releasing their debut album Any Joy, and this December sees the sextet head off on a mini-Scottish tour, which they've stated on their Facebook page will be their "last tour in Scotland for a while." After a Twitter poll Pronto Mama will be performing a We Were Promised Jetpacks cover tonight in Edinburgh; a cover of The View at Clark's on Lindsay Street, Dundee, 14 Dec; and a cover of Robert Burns at Furys Nightclub, Ayr, 15 Dec.
Braw Gigs Xmas Bash @ Henry's Cellar Bar, 15 Dec
Edinburgh purveyors of all things braw, Braw Gigs invite you to 'sack off the office party and come on down and get egg-nogged AF' at their Henry's Cellar Bar Xmas Bash. While we can't promote irresponsible eggnog consumption, we can fully endorse their suitably weird and wonderful line-up; there'll be, amongst others, noise rock and electronics from Yorkshire's Guttersnipe, poetry and music from Glasgow's Joanne Robertson and a DJ set from Blanck Mass. Merry fucking Christmas indeed!

Neu! Reekie! Xmas Snowblinder @ Central Hall, 15 Dec
What better way for Neu! Reekie! to top off their belter of a 2017 than with their Xmas SnowBlinder featuring some truly massive names in music and spoken word. Charlotte Church, Irvine Welsh, Bill Drummond, Aidan Moffat, Emme Woods, Hollie McNish, Kayus Bankole (Young Fathers) and Iona Lee are among those performing tonight; and Frightened Rabbit fans can enjoy Scott Hutchison's take on Tom Petty & The Heartbreakers. 

Little Love & The Friendly Vibes @ Leith Depot, 16 Dec
Edinburgh's Little Love & The Friendly Vibes have just released their super fun three-part A Lovely Little Christmas EP, and are celebrating with a show tonight at Leith Depot. Fistymuffs, Fast Girls, The Cosmonauts and Stephen McLaren are all also playing. In the words of Little Love... "it's going to be magical."

---
Gig of the Week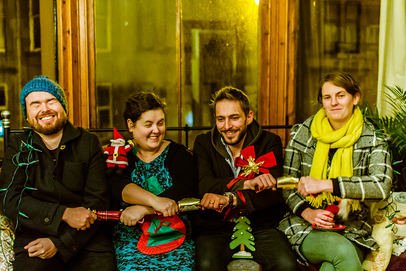 [Kid Canaveral by Jayjay Robertson]
Kid Canaveral's Christmas Baubles @ Summerhall, Edinburgh, 16 Dec
Edinburgh indie-pop stalwarts Kid Canaveral are back for, rather unbelievably, the eighth installment of their annual Christmas Baubles celebrations in conjunction with Lost Map records, and this year they're taking over Edinburgh's Summerhall. This year's line-up includes London trio Girl Ray, garage rock supergroup The Surfing Magazines, Glasgow producer HQFU, singer-songwriter Emma Kupa and obviously Kid C themselves, but they've promised some special guests too. The whole thing starts at 2pm so yule be able to make a day of this one!
---
Gigs in Glasgow this week
Jane Weaver @ King Tut's, 12 Dec
Ethereal cosmic-pop purveyor Jane Weaver's eighth studio album, Modern Kosmology, was number 32 in our 2017 Albums of the Year list. Catch the Liverpudlian at King Tut's tonight.
Monoganon @ Stereo, 14 Dec
Monoganon's latest album, Killmens, was released via Lost Map just last month and to celebrate you can catch them in their full band format tonight at Stereo. Support comes in the form of Good Dog (Susan Bear from Tuff Love) and Yous, along with a celebrity guest in the form of Lost Map label boss Johnny Lynch, aka Pictish Trail.
A Very Special Christmas with Natalie Pryce @ Broadcast, 16 Dec
Scottish musical collective Natalie Pryce (yes, they're a collective not just one person) just released their a very special Christmas with Natalie Pryce EP via new Glasgow label, Ptarmigan Records. The EP really brightened our world last week, so if you're up for an alternative Christmas night out then this could be one for you! 
Mogwai @ SSE Hydro, 16 Dec
Absolute giants of the Scottish music scene, Mogwai play an absolute giant of a venue in the form of the SSE Hydro tonight, marking their biggest home turf headline show to date, and possibly their biggest anywhere? Having released Every Country's Sun back at the start of September to critical acclaim, we can't help but think this show is going to be just that little bit special. Oh, and there's support from 2017 SAY Award winners, and Rock Action label mates, Sacred Paws, as well as Mark Gardener-fronted Ride. Ooft.

A Pop Fan's Dream: Xmas Party @ Stereo, 17 Dec
Puzzled Aardvark have put together a lovely Christmas party for you tonight, featuring the pop stylings of Duglas T. Stewart (BMX Bandits), The Just Joans, The Hector Collectors, Colin Godson, Little Love & The Friendly Vibes and PopArt. Treat yourself to some Sunday night fun.