Record Store Day 2022: What's On in Scotland
With Record Store Day back in its rightful place in the calendar, we take a closer look at what some of Scotland's record shops have in store on Saturday 23 April
Barring a couple of years, due to the pandemic, Record Store Day has been taking place on a Saturday in April since 2008. An idea formed among independent record shop owners in Baltimore, Maryland in 2007, the day is now a worldwide phenomenon. The return of Record Store Day to its rightful place in the April calendar this year sees international superstar Taylor Swift take the helm as the event's first ever global ambassador for what will surely be the biggest day record shops have seen since 2019.
In Scotland, due to the continued easing of restrictions, the return of Record Store Day to April also means a return to in-store events; community is such a big part of what Record Store Day is all about – as well as the music and the record sales, of course – so ahead of the big day we've pulled together a handy guide of what's going on across Glasgow, Edinburgh and Dundee on Saturday 23 April.
Record Store Day in Glasgow
Starting in Glasgow, Monorail Music and Mono Cafe Bar in the Merchant City will be ready and waiting to take your orders from 8am before doors officially open at 9am. Entertainment will then kick off with DJs from 10am and live music from 2pm; the day's lineup includes music from the Glasgow African Balafon Orchestra (GABO), Spanish garage-pop quartet Melenas and Glasgow Hi-NRG Gabber merchant Lady Neptune, while DJ sets will come from Camera Obscura, Lost Map Records, Rebecca Vasmant and Venetian Blinds.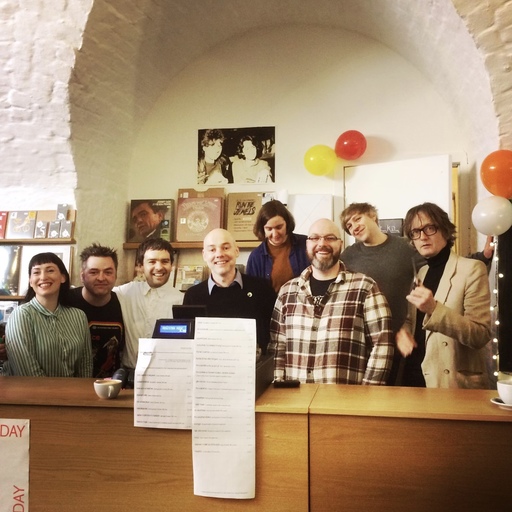 Image: The staff of Monorail Music with Jarvis Cocker by Katrina Mitchell
In the Southside, Some Great Reward are getting in on the action too, with a little help from their pals at Radio Buena Vida, naturally. DJs Imperial Neil, Mao Mao, Curlach and Ian Alexander will play hour-long sets in-store from 2-6pm to help celebrate all things music and record collecting, before the shop staff themselves go back-to-back for the final hour in what they describe will be "an hilarious amateur-hour".
In the West End, it's all about the records at Mixed Up Records, who tell us they'll be stocking hundreds of this year's limited edition RSD releases. On the day they'll also be offering 10% off all of their normal shop stock, with free goodies to those eager enough to get through the door first. In Finnieston, if you're a fan of Ocean Colour Scene, get yourself along to Strip Joint Records where you'll find Simon Fowler and Oscar Harrison from the band. They're celebrating the release of Live on the Riverboat, expect a live performance and record signing from 3pm.
Record Store Day in Edinburgh
In Edinburgh, VoxBox Music in Stockbridge returns to St Vincent's Chapel for a full day of live performances to help celebrate the big day. We've been privy to some incredible performances in St Stephen Street over the years thanks to VoxBox, and this year looks no different with a stacked bill which includes Kathryn Joseph, Jill Lorean, Adam Stafford, Raymond McDonald, Phillip Jon Taylor (PAWS), Jane Blanchard and Michael Cassidy. As well as all that, BBC Radio Scotland's Nicola Meighan will be chatting to Vashti Bunyan about her memoir Wayward: Just Another Life to Live, while Ian Rankin will be sitting down for a chat with Graeme Thomson to discuss his new book, A New History of Simple Minds. The day kicks off at 8am with live music from 11am; there will be a bar operating throughout the event at St Vincent's Chapel and there will be a collection on the day for Tiny Changes.
At Underground Solu'shn in the Old Town things will also be getting underway for this year's main event from 8am, with free goodies and tote bags for those at the front of the queue. Also, serious RSD fans take note: Underground Solu'shn will be stocking every single one of this year's exclusive RSD releases. Taking place until 7pm, refreshments will be available throughout the day in aid of Warchild, courtesy of Meantime Brewing, with the day set to be soundtracked from 2pm by a whole host of local musicians, DJs and beatmakers. Expect sets and performances from Neil Landstrumm (live), George T (Tribal Function/Optimo Music), Jaisu (Athens of the North) Jazz Spastiks (Jazzplastik), Hobbes (Hobbes Music), Dan Bland (Indicator Records), Alliyah Enyo (Miss World) and Saint Sunday (EHFM), with more to be announced.
Assai Records in the West End will also be opening their doors at 8am, with the added incentive of breakfast rolls and hot cups of tea for those queuing nice and early. Simon Fowler and Oscar Harrison (Ocean Colour Scene) will be stopping by the shop for an acoustic performance and signing between 11:30am and 1pm, and bonus Assai points will be rewarded to those who purchase any of this year's exclusive RSD titles. Meanwhile, up the road in Bruntsfield, new kid on the block Thorne Records are also an official participant this year, despite having only been open for a matter of weeks. As they're fresh out the gate, they'll be taking things easy with some beers in-store and plenty of records for you to spend your pocket money on.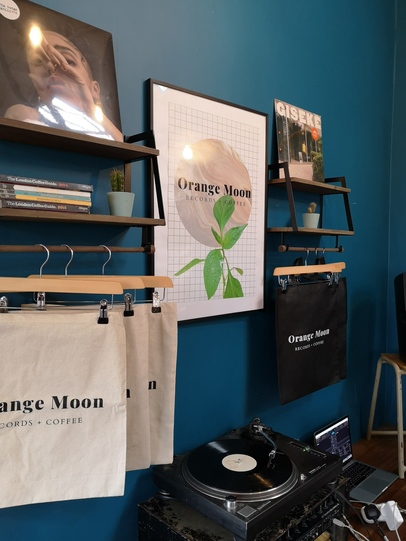 Image: Orange Moon Records in North Berwick
Just outside Edinburgh, the also relatively new Orange Moon Records, based in the upstairs of North Berwick's Steampunk, is also worth a visit this Record Store Day. Although not an official RSD participant (please note: they will not be stocking any of this year's official RSD releases), they are still going to be making a day of it with in-store DJs throughout the day and a gig in the cafe downstairs featuring East Lothian bands Bluetile and Dr Salad; vinyl enthusiasts should note that on the day Orange Moon will be running a 24-hour flash sale, as well as raffling off some super rare records – titles still TBD.
Record Store Day in Dundee
Expect similar scenes to Edinburgh in the Dundee branch of Assai Records, with breakfast rolls and tea from 8am -  but instead of the Riverboat lads, in the City of Discovery you'll be treated to a no-doubt hair-raising performance from Kathryn Joseph instead, as well as a signing; she'll be stopping by the Union Street shop at 1pm, so get there early to avoid disappointment.
Finally, on the Perth Road, Le Freak Records are also getting in on the action and will be partying all day from 10am right through until 9pm with live entertainment and drinks provided throughout the day. DJs confirmed so far include Red (Locarno), Mark Wallace (Beat Quest) and the boys from Floor Above and Public House.
---
Record Store Day 2022 takes place on Saturday 23 April; for a full list of participating stores and official RSD releases head to recordstoreday.co.uk