Gigs in Glasgow and Edinburgh: 9-14 May
We take a closer look at the gigs happening in Edinburgh and Glasgow this week, including the launch of Museum of the Moon and shows from The Spook School and We Are Scientists
Gigs in Edinburgh this week
The Spook School @ Summerhall, 10 May
The last time we saw The Spook School was at their Glasgow launch show for latest album Could it be Different? at Stereo; it was a night of fucking great indie pop tunes paired with lots and lots and LOTS of silly chat about Linda McCartney's vegetarian sausages. The whole night culminated in the Spookies covering, quite unexpectedly, Robbie Williams' Angels with the lyrics changed to 'I'm loving Linda instead.' Veggie sausage chat aside, we had a bloody lovely time and reckon this will likely be just as much fun. Maybe even more. Sausages.
Khalid Al Khajah @ Assembly Roxy, 10 May
The Edinburgh-based singer-songwriter and producer first came to our attention with his incredibly soulful, Prince-indebted, R'n'B-influenced Open EP at the start of last year. Written, recorded and produced entirely in his living room, he'll feel at home tonight playing as part of The Living Room Gigs series at Assembly Roxy. He also plays our stage at this year's Kelburn Garden Party, 30 Jun.
Because You're a Girl Festival @ Teviot, 11-12 May
Because You're a Girl Festival has its focus firmly set on promoting new art by women. As well as visual arts, the festival also features an exciting live music line-up including performances from Edinburgh-based, Finnish electro-pop act Aino Elina, hip-hip trio The Honey Farm and ambient/electro producer Cracked Hands.
Ashley Paul (4pm matinee show) @ Leith Depot, 12 May
Edinburgh promoters Braw Gigs have put together a lovely afternoon matinee show at Leith Depot today featuring London-based, American composer and multi-instrumentalist Ashley Paul. Support will come from Ali Robertson and Tara Pattenden and will likely feature an array of homemade electronics, samplers and wearable noisemakers. If you didn't have plans for Saturday afternoon, well now you do. You are welcome. 
The Vegan Leather @ Sneaky Pete's, 14 May
Our favourite Paisley art-pop quartet touch down in Sneaky's tonight for what is expected to be a spectactularly high energy Monday night in Edinburgh. You'll be dancing long into the night after this one, we guarantee. Support comes from NOAH NOAH and Lost in Vancouver.
---
Scottish Gig of the Week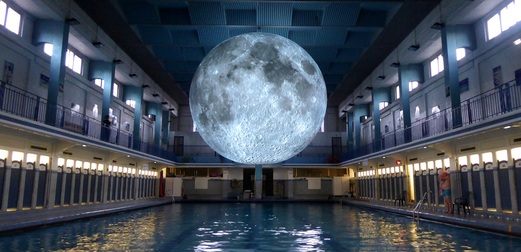 [Museum of the Moon at Tombees de la Nuit, Rennes by Luke Jerram]
Museum of the Moon @ Mackintosh Queen's Cross Church, 11 May
To coincide with Luke Jerram's touring art installation Museum of the Moon, which will feature at Glasgow's Mackintosh Queen's Cross Church from 11 May-24 Jun, Synergy Concerts have compiled a wide-ranging programme of Events Under the Moon. During the residency, The Vaselines, The Pastels, Blanck Mass and Rival Consoles are all set to play, with a number of lunar-themed shows too including Mr Boom, The Big Moon and Start to End performing Air's Moon Safari in full, as well as four nights of Pink Floyd's Dark Side of the Moon, the first of which is tonight. Good work chaps and chapesses. Museum of the Moon runs until 24 Jun.
---
Gigs in Glasgow this week
Canshaker Pi @ King Tut's, 9 May
Amsterdam four-piece Canshaker Pi are set to release their debut album Naughty Naughty Violence on 1 June and are touring the UK in celebration, stopping in at Glasgow's King Tut's tonight. Having supported the likes of Car Seat Headrest and Parquet Courts in the past, they fit very neatly into the slacker-pop bubble, and if you're a fan of those bands, along with the likes of Pavement, then Canshaker Pi are big time for you. They may even become your new favourite band.
We Are Scientists @ The Garage, 10 May
With six official studio albums now firmly under their belts, having recently released Megaplex at the end of April, We Are Scientists are touring the UK in celebration and stopping in at Glasgow's Garage tonight. We're expecting lots of songs from the latest album, but holding out for a sneaky wee play of Nobody Move, Nobody Get Hurt, the explosive opener from 2006's With Love and Squalor. Pretty please.
Nap Eyes & Haley Heynderickx @ The Hug & Pint, 10 May
The Nova-Scotia slack-rockers Nap Eyes recently released their third long player I'm Bad Now, and as well as them tonight at Hug, you can also catch support from the phenomenally talented Haley Heynderickx whose I Need to Start a Garden album is simply magical. Double whammy.
Poppy Ackroyd @ The Glad Cafe, 10 May
Classically trained pianist and violinist, Brighton-based Poppy Ackroyd (who studied in Edinburgh and can also frequently be found performing as part of Joe Acheson's Hidden Orchestra) is touring her latest album Resolve, released at the start of the year on Björk's One Little Indian label. Catch her tonight at The Glad Cafe or at Edinburgh's Queen's Hall on 11 May.
Circuit des Yeux @ Mono, 14 May
Last October, Haley Fohr, the vocalist, composer and producer who performs under the moniker Circuit des Yeux, released her fifth studio album, Reaching for Indigo. We described the record as "a truly impressive singular statement that vividly captures a century of folk, classic rock, and mid-century electronica," awarding it five stars along the way. Catch it performed live in its entirety tonight at Mono.