Gigs in Glasgow and Edinburgh: 16-21 May
From Aidan Moffat & RM Hubbert to Japanese Breakfast, Car Seat Headrest and a Glasgow all-dayer hosted by Savage Mansion, we take a look at the best shows this week across Scotland
Gigs in Edinburgh this week
DTHPDL @ Leith Depot, 16 May
Edinburgh DIY promoters and record label City of Glass put on their 13th gig tonight in the sweaty cosy surrounds of Edinburgh's much loved Leith Depot. Edinburgh four-piece DTHPDL are set to headline with their weird and wonderful take on krautrock electronica; support comes from Glasgow's Savage Mansion, Manchester's Easter and relatively new slackers on the scene, Moonsoup.
ST.MARTiiNS @ Sneaky Pete's, Edinburgh, 18 May
As ST.MARTiiNS, Dundee-based Katie Lynch and Mark Johnston craft unique soundscapes combining elements of jazz, lo-fi, electronica and pop, with Lynch's vocals taking everything to the next level. We're so impressed with the duo that we've booked them to play our stage at Kelburn Garden Party on 30 June; with tunes this summer-ready, you'd do right by ditching the Meadows tonight for a ray of musical sunshine instead. ST.MARTiiNS also play The Hug & Pint, Glasgow, 19 May.

INK. & Indigo Velvet @ The Mash House, 18 May
INK. is the new post-punk trio from McFly bassist Dougie Poynter. Tonight they play their first Edinburgh headline show with support from tropical pop outfit, Indigo Velvet.
---
Scottish Gig of the Week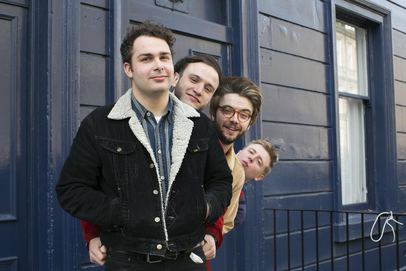 Savage Mansion Southside All-Dayer @ The Glad Cafe, Glasgow, 19 May
Glasgow purveyors of bright and sunny slacker pop, the aforementioned Savage Mansion are putting on an all-dayer at The Glad Cafe today and you're invited. Yes, you! As well as the Mansion themselves, you can also catch sets from several other very lovely, fun and most importantly, really fucking good bands: Spinning Coin, Happy Spendy and Martha Ffion are all on the bill, as well as DTHPDL who, like ST.MARTiiNS above, are also set to play our stage at Kelburn Garden Party this year.

---
Gigs in Glasgow this week
Aidan Moffat & RM Hubbert @ Saint Luke's, 17 May
Fresh from releasing their debut collaborative album, Here Lies the Body, Aidan Moffat & RM Hubbert play Saint Luke's tonight in celebration. Get yourself in the mood by reading our interview with the pair here where we chat about childhood holidays to Blackpool, road trips and feminism.

Chad Valley @ Broadcast, 17 May
In the mid-noughties there was an exquisite band called Jonquil who sadly no longer make music together, but born from their wonder comes a more electronic offering in the form of the excellent Chad Valley (aka Hugo Manuel, Jonquil frontman). Support tonight comes from Manuel's old bandmate Hudson Scott and local electro-pop duo, Chuchoter.

Broken Records @ Stereo, 18 May
Fresh from releasing their latest album What We Might Know, Edinburgh's Broken Records celebrate with a show tonight at Stereo. Watch their latest music video for Perfect Hollow Love taken from the album here. Support tonight comes from Carla J. Easton.

Car Seat Headrest @ O2 ABC, 18 May
Will Toledo and co. are back on tour and stopping in on Sauchiehall Street's O2 ABC tonight to celebrate the release of a more polished version of their lo-fi cult album Twin Fantasy. With any luck they'll play some bangers from their 2015 and 2016 albums Teens of Style and Teens of Denial as well *crosses fingers*.

U.S. Girls @ Stereo, 19 May
After releasing one of the albums of the year for us so far with In a Poem Unlimited, be sure to catch Meghan Remy, aka U.S. Girls, tonight at Stereo.

Phoebe Bridgers @ Saint Luke's, 20 May
The amazing Phoebe Bridgers plays Saint Luke's tonight so head along and you'll likely be able to hear her stunning 2017 album Stranger in the Alps almost in its entirety. It will be beautiful, you know it will.

BODEGA @ The Poetry Club, 20 May
New York's BODEGA are barely out the starting gate and are already delivering bangers left, right and centre – their debut album Endless Scroll is out at the start of June, but in the meantime you'll listen to the three songs they have on repeat – How Did This Happen?, Can't Knock the Hustle and Jack in Titanic – if you know what's good for you, and you'll go check them out at The Poetry Club tonight as well.

Japanese Breakfast @ Mono, 21 May
Michelle Zauner brings her Japanese Breakfast project to Mono tonight, so expect a selection of cuts from 2016's Psychopomp and 2017's Sounds from Another Planet all brought to life in a live setting with Zauner's undeniably incredible voice.

ALMA @ O2 ABC2, 21 May
You might want to bring your shades with you tonight because Finnish dance-pop sensation ALMA has hair brighter than the sun. Since appearing on Finnish Pop Idol when she was just 16 years old, ALMA has since worked with the likes of Charli XCX, MØ and even French Montana, but don't judge her for that last one.
Leave the City
James Yorkston presents Tae Sup Wi' a Fifer @ Adam Smith Theatre, Kirkcaldy, 18 May
Fancy getting out of the major cities to see some top notch music? Then look no further for James Yorkston has the answer to all of your problems with the first in a three-part spring/summer series of events at Kirkcaldy's Adam Smith Theatre. Tonight's Tae Sup Wi' a Fifer features Ian McMillan, Grace Petrie and Withered Hand.