Eurosonic 2022: Preview
With the pandemic still causing disruption across the music industry, we take a closer look at this year's digital Eurosonic festival and pick out five acts you can watch online
With ongoing uncertainty around the live music scene due to COVID-19, cancellations, amendments and rescheduled dates are sadly just another thing we're having to learn to live with. In Scotland, from 27 December up until 17 January, practically all live music was pulled and we still don't know what's in store for us beyond that date, but festivals like Celtic Connections have already cancelled a large portion of their lineup due to restrictions and a digital programme was announced today.
At the start of December, a decision was made by Eurosonic Noorderslag that the annual new music showcase and conference festival in the Netherlands would move entirely online for the second year running. Held in the Dutch city of Groningen every January, Eurosonic is a vital industry event for artists on the rise as well as for discussing important actions the industry can take for a better future.
Running online from 19 to 21 January, this year's conference programme focuses on topics like diversity, women in hip-hop and music streaming, and asks if the future of music is happening on social media. With the ongoing pandemic, there will also be discussions on the recovery of the music sector along with a closer look at how the music industry continues to be at risk. Each day there will also be one-on-one networking opportunities and daily mental health help desks.
As well as the conference programme, there's also a stacked schedule of music to be enjoyed online, with a whole host of UK artists on the rise, like 2021 breakout artist Self Esteem, hotly tipped Isle of Wight duo Wet Leg, Leeds four-piece Yard Act and rapper Enny whose single Peng Black Girls marked a huge turning point for the London rapper last year. Very much an international event, we pick out five other artists worth checking out at this year's digital Eurosonic festival.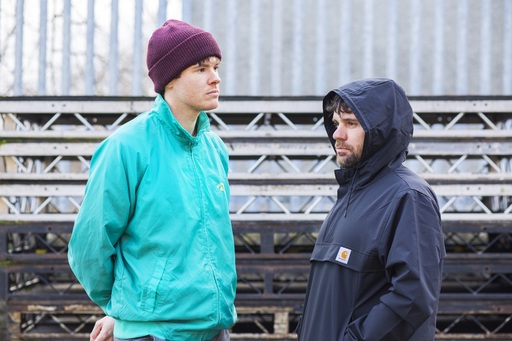 Image: MEMES by Jannica Honey
BSÍ
BSÍ started out with the Icelandic duo trying instruments they didn't know, using them as more of a musical playground to explore than anything else. Expect music from their debut album, released via two EPs last May – Sometimes depressed… and …but always antifascist – which features gorgeous vocals and drums from Silla Thorarensen with bass and toe-synths (yes we said toe-synths!) from Julius Pollux Rothlander. Catch them online, 19 Jan, 8.50pm–9pm
MEMES
Scottish duo MEMES can include Steve Lamacq as a fan. The BBC 6 Music DJ had the pair in for a session back in 2019 when they barely had any music out. Proudly a laptop post-punk band, MEMES have since performed at Scottish showcase festival Wide Days and went on to release their excellent self-titled debut EP via Fierce Panda during the pandemic. Read our EP track-by-track with the band here. Catch them online, 19 Jan, 9.10pm-9.20pm
Priya Ragu
Priya Ragu is a Tamil-Swiss singer, rapper and songwriter based in the UK. An exceptional R'n'B artist, her debut album, damnshestamil, was released towards the end of 2021 via Warner with two of its singles – Good Love 2.0 and Chicken Lemon Rice – making the top ten in the UK Asian Chart. With support already across BBC stations like Radio 1, 1Xtra and 6 Music, a slot at Eurosonic means it's time for Priya Ragu to level up. Catch them online, 21 Jan, 9.20pm–9.35pm
Smoothboi Ezra
For fans of Phoebe Bridgers, Haley Heynderickx and Soccer Mommy, Smoothboi Ezra writes from the perspective of being gender non-binary and on the autism spectrum. One of the things that strikes you immediately upon listening to the Irish singer-songwriter is how much emotion they manage to convey with just their voice alone, before you've even unpacked the lyrics. An absolute balm to listen to. Catch them online, 21 Jan, 8.15pm-8.20pm
Sofie
Vienna-based artist and musician Sofie was an original member of the Boiler Room team; she hosts a regular show on NTS Radio and worked for the Stones Throw label for four years. In the summer of 2020, she released her self-produced debut album, Cult Survivor, via the label, a dozen dreamy pop songs inspired by heartbreak and life's overwhelming decisions. Catch them online, 19 Jan, 8.25pm-8.35pm
---
The 2022 edition of Eurosonic Noorderslag runs online from 19-22 Jan; tickets are priced between €75–€99