The Magnetic Fields: The Strange Powers of Stephin Merritt
Reluctant in interview but with a work ethic to make James Brown proud, The Magnetic Fields' Stephin Merritt explains why he enjoys a good deadline
Stephin Merritt's irascibility is the stuff of lore – spare a thought, dear reader, for the Chicago Time Out editor reportedly reduced to tears during a particularly sour encounter – but like most anecdote-based reputations, his prickliness is prey to exaggeration. Admittedly, our brief chat contains its share of confidence-shrivelling dead ends (Q: You don't record many covers, so what attracted you to Franz Ferdinand's Dream Again (for last year's Covers EP)? "I liked the song"). But ask him about recent record purchases (Doris Day, The Louvin Brothers and a compilation of Indian horror themes entitled Bollywood Bloodbath), or the state of his myriad other projects (more on which shortly), and he belies his Eeyore persona by being as forthcoming and drolly amusing as any fan, or indeed, nervous interviewer, could hope.
Our call interrupts New York-based rehearsals for a forthcoming tour to promote latest album Love at the Bottom of the Sea – a frothy collection of short, sharp synth-pop compositions cut through with characteristically quotable lyrics ('I don't know why I love you/ you're not really a person/ more a gadget with meat stuck to it' is an immediate favourite). It follows a run of releases in which synths – the bedrock instrument of early Magnetic Fields records – were shelved, as Merritt carried over opus 69 Love Songs' multi-genre smorgasbord into a series of albums with more narrowly focused (and modest) musical concepts: the cabaret-flecked chamber-pop of i; the Jesus and Mary Chain-style fuzz of Distortion; and the largely unplugged 'folk album' Realism. "I was bored with the synthesiser being this old familiar sound, a sort of nostalgic sound, and I didn't necessarily share that nostalgia," says Merritt, only choosing to reintroduce the synth when a "new breed" emerged to refresh the palette. "I'm committed to being diverse with instrumentation. Playing and having fun and experimenting in the studio is an important part of recording."
Ten albums as the Magnetic Fields is an impressive milestone by any standard, yet the stat barely scrapes the surface of Merritt's prolific work-rate. His extended corpus spans Chinese operas, audiobook scores and much more besides, under guises ranging from self-styled 'goth-bubblegum' act The Gothic Archies, to occasional side-project The 6ths, which counts Lou Barlow, Amelia Fletcher and Bob Mould amongst its guest vocalist roll-call. Last year, a Merritt-curated Obscurities collection featured previously-unreleased material from a plethora of sources, including unfinished musical The Song from Venus, and Buffalo Rome, Merritt's first band with long-term collaborators Claudia Gonson and Shirley Simms.
The vault-raiding also yielded alternative versions of pre-existing tracks, including an up-tempo digital overhaul of i's I Don't Believe You; I ask whether this is typical of his working methods. "When I write songs, I'm generally not thinking of the arrangements, unless it's for a show," he replies. "When I'm writing for a play, I know what the instrumentation is going to be ahead of time [and] I generally know who is going to be singing the song I write, but for the band, I don't know any of that." Does this mean there's a certain amount of fluidity to Merritt's writing process? Do ideas sparked during preparation for one project ever eventually work their way into others, for instance? "I'm never working on both at the same time, so they're pretty independent," he responds unequivocally. "I strongly dislike working on more than one thing at the same time."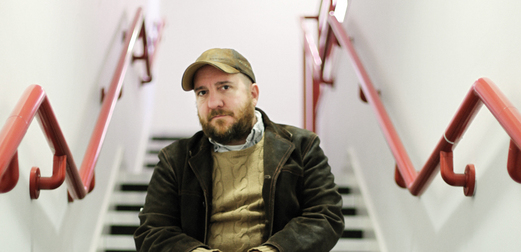 It's difficult to take such a claim at face value when you consider the number of irons Merritt has in the fire at any one time. Some of these unfinished works he's tight lipped about: "we'll see" is all we get regarding a status update for the aforementioned The Song from Venus, recently likened to Chinese Democracy by Lemony Snicket author and 69 Love Songs accordionist Daniel Handler. But about other projects, he shares tidbits: when pushed for information on a recent Royal Shakespeare Company commission, Merritt names Arthur Schnitzler's 1897 play La Ronde – about sexual and moral relations in turn-of-the-century Vienna – as the primary inspiration, though "it's not at all recognisable now, so I'd say it's an original work rather than an adaptation."
In addition, a new Future Bible Heroes record is on the horizon ("right now I have 22 backing tracks to work with"), while a third 6ths album was only recently abandoned (regrettably, he's "back to square one with that" for the time being). Amidst it all, less time-consuming labour is slotted in wherever it can be accommodated. Earlier in the year, Merritt made an unexpected foray into computer games, providing narration for Space Cruiser – a one-night only 'cooperative mission-based game' that took place at New York's Natural History Museum. In a decked-out planetarium, 200 participants jointly navigated a spacecraft through an asteroid field, aided by a Merritt-voiced on-board guidance system. "I said I'd do it if it took less than an hour," Merritt laughs, "and it did – it took 45 minutes. It was fun, I'd never done voice over before. I got to be all computery…" Unprompted, we're treated to a sample of his robot impression. "There is. A fire. On. Flight. Deck. One," he mechanically intones, more staccato and bassy than ever. "That sort of stuff."
To squeeze in so much, yet (apparently) avoid overlap not only requires considerable forward planning, but a dogged work ethic to boot. I ask if he finds deadlines productive in themselves. "Oh, I love deadlines, yes, deadlines are very productive. When recording 69 Love Songs I had a one year deadline, self-imposed. I decided that I was going to do the entire recording in one year, and at this point I hadn't written all the songs yet either, I had maybe half of them, and decided to write the other half and record the whole thing in a year." A triple album in 365 days is no mean feat, to say the least. "I was two weeks late – but only two weeks," he states with a hint of pride. "Coincidentally, I took a two week vacation during the recording, so, it pretty much was the year."
2010 saw the release of documentary Strange Powers: Stephin Merritt and the Magnetic Fields, which offered insight into its subject's writing habits over a ten year period. During filming, Merritt decided to relocate from New York to Los Angeles, citing a long-held desire to 'break into' the closed-shop world of Hollywood scores. Has he made any progress in that regard? "Um, it doesn't seem to matter where I live," he laughs, before offering a more pragmatic reason for the relocation. "Really, the point of moving was to have my studio be in a larger space. I now have a three bedroom house in LA that I couldn't even imagine being able to afford in New York." He continues to split his time between the two cities, but despite regular coast-to-coast travel, he still finds the prospect of heading out on tour a miserable one. Will Irving (Merritt's Chihuahua, named after late composer and lyricist Irving Berlin) accompany him on the road this time? "No, he'll stay home," Merritt sighs. "We did tour with him briefly when he was a puppy, but it did not work out very well."
Sensing impatience with the topic, and with only minutes left of our interview slot, The Skinny considers it prudent to change subject; foolishly defaulting on politics, we attempt to canvass Merritt's opinions on the ongoing Republican primaries. In the lengthy pause that follows, there's ample time to regret the non-sequitur introduction of one of polite conversation's no-go topics, but, eventually, he formulates an answer he's comfortable with: no comment. "I'd like to keep my passport," Merritt states for the record, "so let's not discuss that." With UK shows scheduled for later in the month, his caution is generous; after all, there are few more sure-fire ways of dodging undesirable tour commitments than a withdrawn travel permit.