Spotlight On... Numbers x Youth Music
With the six-month Numbers x Youth Music initiative coming to an end, we chat with two of its participants to shine a spotlight on the programme as well as their forthcoming compilation release
Towards the end of 2021, influential Glasgow electronic label Numbers announced they'd be launching a work-study programme in the new year in collaboration with UK charity Youth Music. As the six-month programme is about to come to an end, we catch up with two of its participants, Rowan Crerar and Fleur Mackay, to shine a spotlight on Numbers x Youth Music; we find out more about the programme, what's next for the pair and chat about the compilation, which you can hear a preview of in the Soundcloud embed further down the page (click here if it's not displaying correctly).
The Skinny: You've been interning with iconic Glasgow label Numbers since January, thanks to a programme supported by Youth Music – how has the experience been for you both?
Rowan Crerar: It's been a pretty incredible experience! I didn't study music or music business, so it's been a very valuable chance to learn more about the practical ways labels work, as well as getting an amazing chance to learn from specialist experts. Youth Music do some very important work, and the fact that this internship has been part work, part study has made the way we've learnt and developed new skills feel really thorough and well-defined. 

Fleur Mackay: Taking part in the Numbers x Youth Music programme has been really exciting! We've learned so much about the various skills involved in running a label and Numbers have taken so much care to ensure we have been able to learn about topics that interest us all individually. The support from the people involved has been invaluable to me and we have been given access to lots of amazing resources, knowledge and people. I feel so grateful to have had the opportunity to be a part of a label like Numbers and to have met the other three participants in the programme.
One of the projects you've been working on is this cassette compilation PINS: A Compilation of Electronic Music from Glasgow, due out on 24 June. Can you tell us about the idea behind the compilation?
FM: Both myself and Rowan had expressed an interest in various DIY music-making going on in and around Glasgow and so it made sense for us to root our project in this. Rowan wanted to make a project that could drop a pin on the current music coming out of Glasgow post lockdown. Releasing a tape seemed like an effective way to do this and create a tangible and accessible medium through which people could interact with some exciting DIY electronic music from Glasgow.

RC: The original idea came from wanting to create a bit of a time capsule of where Glasgow's electronic music is now. Glasgow was the most locked down city in the UK, which obviously meant that there was an incredibly long time where venues, artists and performers were left out in the cold and with nowhere to really be creative, connect and be experimental. Plus, big changes like venues closing and radio stations opening has maybe shifted the sounds of Glasgow's dance music into quite different territory to where it was five or so years ago. We wanted to drop a pin on the present, while also giving a platform to new artists, or artists making really incredible work, and I guess in a way create a physical object that we could be proud of, and that people making music or art in glasgow could be proud of too.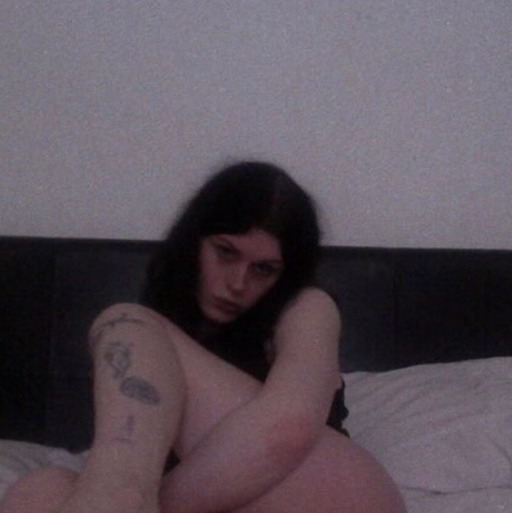 Image: Self-portrait, by KAVARI

Musically, what can people expect from the compilation, what artists are involved and how did you go about curating it?
RC: Electronic music is huge, and the amount of it being made in Glasgow seems to get bigger and bigger every day. So trying to encapsulate that in a six-track compilation has been quite a challenge! We've tried to balance the DIY, experimental and textural sounds with quite clubby, faster compositions. There's a lot of crossover between these two distinctions too. For example, KAVARI makes these incredible, intense, dark tunes that slot perfectly into club sets – but she also makes beautiful, ethereal ambient music. Kamus & PinballSpider similarly deliver a strong, drum-focused club sound, but manage to weave in delicate elements of percussions and textures from their everyday surroundings.

We had a list of artists we wanted to work with, it was maybe 12 or 15 people long, and from there we tried to whittle it down to a final six that we thought each represented a different tone within Glasgow's electronic music scene – we were very lucky that everyone we asked was keen to be involved, and have ended up with tracks from Kamus & PinballSpider, Pigeon Steve, Helena Celle, WomenSaid, KAVARI and EVANTHÉA.

FM: You can expect variety from the tape! It's really exciting to have all these artists operating in Glasgow but making such different styles of music! Some are moody and textural and others are more club-ready; with the tape you can indulge in whichever style suits your mood.
On the same day as the compilation's release, you're celebrating with an event at Glasgow's Audio. Can you tell us more about the event?
RC: With making a tape, you're making something physical. So we wanted to do something that continues on that physical experience, and also continues on tying the launch to the here and now. We're recording the sets on the night, and offering the chance to buy a ticket and tape, a deal which essentially is attempting to memorialise the process of making the tape, and the here and now. I think it's important to make things or events where people can be with one another as much as possible.
FM: The launch party is this Friday (24 Jun) at Audio from 10pm-3am. Tickets are available on RA and you can grab the tape and ticket combo on our Bandcamp, where you get a ticket for the party with your tape preorder plus a limited edition alternative poster and access to recordings of DJ sets from the night. The night is starting off with an ambient set from Lizzie Urquhart, followed by an improvised, live set from the amazing Womensaid. After this we have further exciting performances from Kamus & PinballSpider, HEATNAVI (aka EVANTHÉA) and finally a climactic closing set from Drumheller. 
Finally, what's next for the two of you? Do you have more in the pipeline with Numbers or are you moving onto your own projects?
RC: I'm hoping to put out more tapes! Something we've been able to learn more about in this internship is funding, and being transparent about where the money funding creative projects is coming from. So hopefully I'll be able to get some more funding and put out some more tapes from Scottish artists – there's a lot of people making beautiful electronic music here and I'd love to use some of the skills I learnt on this placement to try and make a platform where people can express themselves. Other than that I'll keep running my club nights (Club Sylkie) and doing my radio projects [at EH-FM], I think.

FM: The programme at Numbers comes to an end at the end of June, so I will be continuing to work on my own projects but armed with a lot more experience and knowledge about working in the music industry than I had before. I'm hoping to put on more events and take part in more collaborative projects as working with Rowan on PINS... has really been a pleasure.
---
PINS: A Compilation of Electronic Music From Glasgow is released on 24 Jun; available on Bandcamp: pinsglasgow.bandcamp.com
Follow PINS on Instagram; Rowan Crerar on Instagram and Twitter; Fleur Mackay on Instagram