Snapped Ankles on Stunning Luxury and gentrification
Paddy Austin of Snapped Ankles tells us about how the gentrification of East London has influenced their new album Stunning Luxury, whilst giving us a masterclass in originality
If you thought you knew by now what Snapped Ankles – the East London four-piece with a propensity for dressing like trees – were about, think again. Their forthcoming album Stunning Luxury sees the woodwose swapping their swampy attire for sharp estate agent suits, seemingly blending in with their enemies in order to survive. This might come as a surprise to those who expected more woody weirdness from the band, but as Snapped Ankle's Paddy Austin says, "We want people to be in some way surprised" before chuckling: "But I mustn't say that too often or they'll come expecting to be surprised." 
If it seems like Snapped Ankles are selling their souls to the enemy, Austin clarifies that the idea for the band's new concept came from a gig they did in a dilapidated squat in East London that had no roof. "What could we do in this environment that was going to be a bit cheeky?" he recalls wondering, going on to tell us: "We borrowed some estate agent signs, and put our synthesisers on the estate agent signs, so those became our instruments. We wore business suits with our woodwose masks, and we were like the evil developers."
This tongue-in-cheek attitude to the current crisis of gentrification is very much the Snapped Ankles brand. "I've got the other guys in the band saying, 'Don't bang a drum! We're not political!' but I think it's our duty as a band to kick against, and that's where a lot of our creativity and musical output comes from." For example, Austin describes Pestisound (Moving Out), the first track on the new album, as "a poem-meets-groove track that's come from these warehouse performances where we're the unreliable estate agents, and we position ourselves as that to then have that dialogue of these cheeky opportunistic estate agents who are eating up the area, going 'there's loads of artists here!' and then kick them out!"
Gentrification, regeneration and DIY scenes
Being based in Hackney, Austin says that the current trend of gentrification is "pretty brutal" because "London looks great in a brochure... It's basically cleared out London of a lot of culture, of a creative layer, particularly DIY, which has had a long history in East London. I mean, DIY arts and music scenes, they really work best in rundown, uncared-about spaces of the UK. It's difficult. There's regeneration and there's gentrification. The gentrification is mainly the fault of councils being pushed around by developers when they're trying to regenerate."
The problem of urban gentrification is certainly a muddled one, and one that Snapped Ankles do not profess to solve ("we're not banging the drum this way or that") but it leaves creatives at a loss in terms of where they're able to exist without being driven out by increasing rent prices. In Edinburgh there's the ongoing Save Leith Walk campaign while at the other end of the M8, Glasgow's iconic O2 ABC venue is being threatened with demolition following extreme damage caused by the recent Glasgow School of Art fire.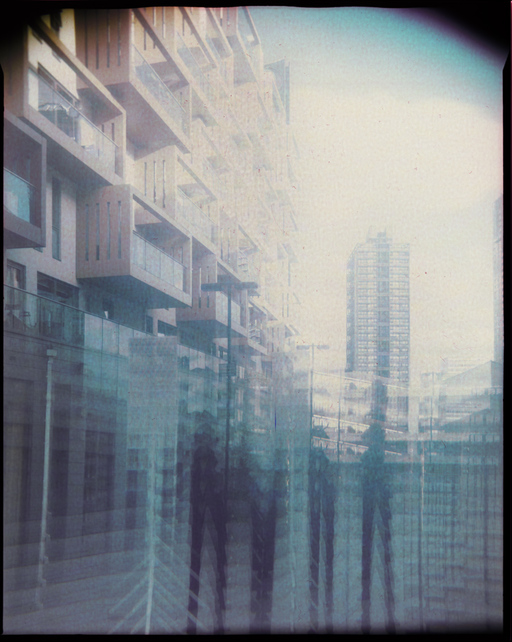 Snapped Ankles. Picture: Kasia Wozniak
Austin hasn't lost all hope, however. He's been applying for Arts Council funding to be able to organise some events (he says that all his artist friends spend their time doing "five minutes of art, ten years writing funding applications"), and he mentions places like Leeds' Live Arts Bistro, Liverpool's Kazimier at the Invisible Wind Factory, and, more generally, the Kent town of Margate: places where there are "ex-artists who have all been pushed out. Art will always happen somewhere; it just has to go a bit further down the road." At these events, he's hoping to provide a little bit of something different. "We don't have the budget to start hitting [the audience] with lights and lasers yet – watch out! When I get that arts funding there'll be lasers and smoke and giant robots like everyone else," he laughs.
The origins of Snapped Ankles
So where did Snapped Ankles emerge from, then? From which dank, fetid corner of which overgrown woods were they born? "Originally it was the name first, and then after about six months of messing around, we thought we might as well be Snapped Ankles." On their wince-worthy name, Austin says, "I've gotten immune to it now, but I have to remember that it's horrible! We end up on the bill with body injury bands and we call it 'the casualty scene'. Every third band will have a 'Broken This' or 'Black Eye', or whatever. We're collecting them all."
As much as the visceral name sets them apart, they back it up with a sound unlike any other. On Stunning Luxury they weave marshy synth sounds into rumbling drums and grainy vocals. "We like old rock'n'roll, we like new wave, we like dancehall: we like everything that's ever been made that makes you dance, but we want to create our own thing," Austin tells us. "We'd been making all these grooves as a band, and when you get a good bassline and a simple drum beat that you've played live, it's post-punk. When you take out all the embellishments, it's within the genre of post-punk. And for post-punk the obvious thing is to be cool and wear black, wear skinny jeans and be a bit cold. We thought, 'well, what's the opposite to that?'"
When they first started making music and performing as a band at Hackney's various warehouse and squat parties, songs would come out of riffing on motifs and rhythms that they would try out live, and the other band members would fit in what they were doing around that. Being born out of such DIY spaces where breaking rules is encouraged, when they started playing established venues, they developed a unique performance style to counteract this, taking people with them into the woods and freeing the spaces of their conventions.
"We've created this 'in the woods' scenario for certain shows and the band have embraced it and gone for it. It's part of the need to reassess the venues that we play as a band compared to where we grew the band in these non-spaces." He sighs, "it's difficult as a creative space to work in. So we're trying to find a way to make that space our own, and one way we do it is to call it the woods."
This means that going to a Snapped Ankles show is unlike any other gig you might have been to. "All we want from the audience is – apart from the obvious of dancing to the songs and losing it and getting immersed in the music – that there's the communal moment that you want. I don't want to knock other bands; they all try and create it in their own different ways, but [with] the format, in many ways, there's still much to be challenged. The areas are so safe." And safety, for Snapped Ankles, is never a good thing.
Snapped Ankles are rebels with a cause: they want to challenge everything you've ever thought you've known about music and performance, flip it on its head and call it something new. Because what's the point in just giving the people what they want? Humbly, Austin says, "we're just the voice from the woods, wanting to highlight some of the finer details of it rather than the overall."
---
Stunning Luxury is released on 1 Mar via The Leaf Label
Snapped Ankles play Sneaky Pete's, Edinburgh, 10 Mar; Mono, Glasgow, 11 Mar