Pictish Trail on Dream Wall, PostMap Club and life on Eigg
With a new EP due in April, we catch up with Pictish Trail's Johnny Lynch to talk about life on Eigg during a pandemic, and how Lost Map's PostMap Club has been the shining jewel in the label's crown
"It certainly has felt like being in a total bubble here." 
Living on the remote Isle of Eigg, with a population of only around 100 people, isolation is something Johnny Lynch is all too familiar with. "In a weird way life on Eigg hasn't changed that much. The biggest changes have been that the tearoom has closed, and the nursery is closed, so my whole year really has been childcare, which has been great," he says wryly.
Towards the end of our WhatsApp video call in February there's a bit of commotion in the background. Lynch's two young children have just left the house, and he enters the room where they've been playing and turns the camera around exclaiming: "The kids have gone and look, they've left an absolute bombsite! This is nursery life. It's kinda what it looks like after a Howlin' Fling except it's actual people instead of stuffed animals."
This horror scene will be all too familiar for parents up and down the country who have been working from home around homeschooling duties. For Lynch, who usually spends a lot of time at work on the road as Pictish Trail, he's remarkably calm and accepting of the chaos the past year has brought, welcoming the time he's been gifted at home. "It's really good," he enthuses, "because there'd be times where I'd be away for a gig and I would notice the changes happening in my daughter, and with [my son]. You'd come back and they'd look a bit different, and it's like 'Oh wow, they've changed', whereas now I'm living with those changes.
"Even with Eigg! Often I'll be away and I'll miss the slight changing of the season. [Sometimes] I'll be away for three or four weeks at a time, and the whole island has changed," he says. "It's the first time in ten years where I've actually got to witness the slow change."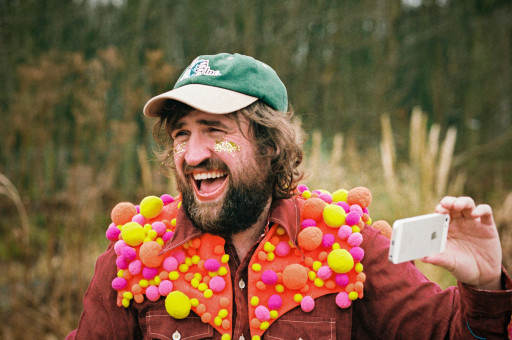 We initially spoke with Lynch towards the end of 2019, a few weeks after an hilarious wardrobe malfunction in Norwich had resulted in him getting down to his underpants onstage. He was out on one of those many weeks-long excursions, supporting Steve Mason on his UK tour and had just announced that his fourth album as Pictish Trail, Thumb World, would be arriving in February 2020. This news came in tandem with the announcement of his biggest headline show to date at St Luke's that January as part of Celtic Connections, with an even bigger show announced shortly after as part of a full band UK tour in the spring. While Celtic Connections went ahead untouched by COVID, by the time the other shows were due to happen, the country was in full lockdown.
"I would've loved to have gone and done the shows, obviously, but there's also a bit in my brain that activates itself before any tour, and it's just like, 'Oh God, you can still pull out. You don't have to do this'," Lynch admits. "That was quite a relief to begin with but then as things have gone on, it's hard to know when the end is in sight. With the tour getting pushed back by another year, am I still promoting the same album at that point?"
Luckily, Lynch is gifted when it comes to creating hopeful and joyful sounding music in the face of adversity. He turned anger and grief into hope on 2016's Future Echoes. In the shadow of political unrest, Thumb World unapologetically leaned into what Lynch referred to as "classic cliches"  in our 2019 chat: "Writing about being trapped inside our phones, and being a dad, is such a classic musician who becomes a dad cliche, and I just thought, 'fuck it, embrace it!'". But like most things in the past year the phrase 'thumb world' has taken on new meaning as we've all been forced to stare at screens more than ever, with the word 'doomscrolling' having firmly set up shop in our vocabulary.
So we take it in our stride when Lynch describes the new music he's been working on as "quite aggressive" and "quite uptempo". He tells us that he's been watching a lot of early 90s wrestling videos on YouTube and listening to a lot of early Chk Chk Chk records ("pining for the music of my early 20s"), and describes his writing sessions as being him screaming into a hairbrush in front of a mirror. "[It's all] quite angry and frustrated," he says. "The songs are all centred around building up tension and then having a big release." While that sounds ideal for a post-pandemic party, it's still early days for the fifth Pictish Trail LP. On 1 April, however, he's releasing his new Dream Wall EP, featuring one all-new track alongside three Thumb World remixes and a remix of Dream Wall itself. 
But Dream Wall isn't the 'screaming-into-a-hairbrush' number you might expect; it's actually a really old song. "It even mentions Cellardyke, from the days I was living in Fife," Lynch tells us. "I recorded it on an old CD-R back in the day and when we were recording Thumb World, we had a bit of extra time." 
Despite being thematically linked with Thumb World, Dream Wall didn't originally make the cut as Lynch felt there were already enough ballads on the record. We're glad, then, that it's now seeing the light of day in this concise collection of songs which also beautifully showcases some of the other talents on Lynch's Lost Map imprint, as well as friends of the label. Callum Easter and Bamboo each give completely different makeovers to the twinkling Slow Memories, while new kid on the block Kinbote reworks Pig Nice, and Good Dog's Suse Bear masterfully turns Dream Wall into a "weird little hypnagogic hyperpop tune."
The way the remixes came about over the course of a year was organic, and Lynch sees putting them out together as a neat "full stop" on Thumb World. "When I knew the tour was gonna get moved again, and I was gonna start on some other music, I thought this is a nice way to bring the story of that album to a close," he says, "and it just felt like it was a good way to involve the PostMap Club as well, which has really been the story of our year."
PostMap Club is Lost Map's subscription club. Each month they post members postcards with download codes for new music, and an actual physical newsletter penned by Lynch ("So you've witnessed my breakdown already then through the newsletters," he jokes when we say we enjoy reading them). The newsletters often include exclusive discount codes on other Lost Map wares via their Bandcamp page, you receive a membership badge when you first join, and there's even a monthly PostMap Podcast to bring it all together.
"The PostMap Club has been really amazing," Lynch says. "Since lockdown last year, it's literally doubled the number of supporters, and people are paying higher tiers now as well... For a label [where] a lot of our running costs were covered by the live events we put on, with those live events gone we were thinking, 'Oh crap, what are we going to do?', and actually, PostMap Club has come in and filled that gap and showed that there is an audience who are willing to support what we're doing.
"Most importantly," he adds, "it's a really great way of involving the musicians on the label." Throughout our chat, talk often moves to Lost Map artists, something Lynch is passionate about. He lights up recalling the month music arrived in his inbox from Kinbote, Sulka and Jenny Moore's Mystic Business, three artists who have now all been introduced to the label through the PostMap Club. "All of it blew me away and it's exactly the sort of stuff that I really love." PostMap Club has also been vital for keeping the Lost Map community connected while the nation has been in and out of flux, and for a label like Lost Map, with community at the heart of everything it does, it has proved to be a vital lifeline.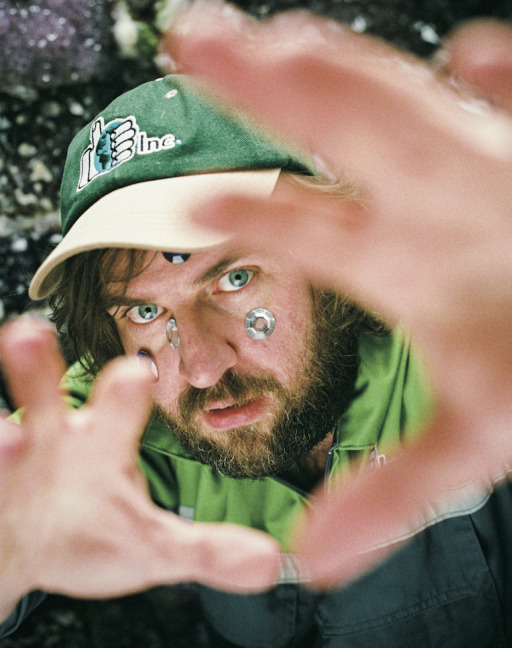 For the small community that resides on Eigg, life has remained remarkably unchanged. Lynch tells us they've even managed to have some socially distant gatherings – including a ceilidh – in the past year. We ask if he thinks there's a future on Eigg for Lost Map happenings, primarily their micro-festival (the aforementioned Howlin' Fling) and their Visitations series, where they invite artists to the island to create new music.
"I think one thing this year's taught me is that we don't need to do everything at once. And actually it's been good not to have a Howlin' Fling happen. It's been good to have not had to worry too much about having a full set of Visitations ready and all that sort of stuff," Lynch tells us with a relatable relief in his voice. "Because PostMap Club now is a thing where there's something happening every month, we don't have to worry about the other projects happening to a specific schedule and they can just happen when they're ready."
It's impossible for anyone to plan ahead right now with tours being rescheduled left, right and centre, but Lynch makes a cautious statement, while offering a glimmer of Howlin' Fling hope: "I've got to think about the vulnerable people on Eigg to some extent, and not upsetting the balance here [...] But it's such a small event, it's one of those things we can make a decision on next January if we're gonna have it next summer." So maybe it won't be too long before festivalgoers are once again strewn across his living room, much like his kids' stuffed toys are now.
---
Dream Wall is released on 1 Apr via Fire Records; Pictish Trail plays Summerhall, Edinburgh, 7 Apr 2022; Beat Generator Live!, Dundee, 8 Apr 2022; The Lemon Tree, Aberdeen, 9 Apr 2022; The Tolbooth, Stirling, 10 Apr 2022
Sign up for Lost Map's PostMap Club at lostmap.com/club
Photography by Fiona Hunter; Art Direction by Rachael Hood; Editing by Devin Clark-Memler