Wolf Alice on epic second album Visions of a Life
Two years after pulling away from the rest of the indie rock pack with My Love Is Cool, Wolf Alice frontwoman Ellie Rowsell talks us through their massive, LA-recorded follow-up
"Those nerves about writing the difficult second album – we never really had them, which was weird."
Really weird, when you consider that there was more pressure on Wolf Alice than most when they faced up to the prospect of following up their Mercury-nominated debut record, 2015's My Love is Cool. That's not least because it was one of those first albums that already felt like a fully realised vision, in the same way that perhaps Franz Ferdinand's, Vampire Weekend's or Interpol's debuts did. There wasn't the sense that the Londoners were building up to making their definitive statement next time around – this was it, a huge, swirling, polished rock record that sounded destined for arenas from the very get go.
Reaching that point, in and of itself, had been a bit of a whirlwind; the present line-up of the band has only been going since 2012, and the recorded build-up to their first long-player was a brief one – a couple of EPs, Blush and Creature Songs, that they released about six months apart. By 2016, though, Moaning Lisa Smile from the latter EP had been nominated for Best Rock Performance at the Grammys and the group had sold out a three-night run at the Kentish Town Forum in their native Camden. They're young, too – singer Ellie Rowsell has only just turned 25 – and the degree to which they've taken things in their stride thus far is as surprising as it is impressive.
That's something that extends to the lightning-quick turnaround of what should have been their daunting second full-length – a few listens appear to confirm it to have been anything but. Visions of a Life will again be released via Dirty Hit, the hugely exciting East London imprint that's also called home by The 1975, The Japanese House and Marika Hackman; the kind of label, then, that suits down to the ground any artist who refuses to be modest about their ambitions. That's precisely the attitude that Wolf Alice seem to have taken on Visions of a Life, a sprawling work that sees them indulge just about every stylistic impulse, from the unhinged punk fury of Yuk Foo to the woozy, part spoken-word comedown of Don't Delete the Kisses, via Planet Hunter's space-rock and the haunting bare-bones starkness that After the Zero Hour represents.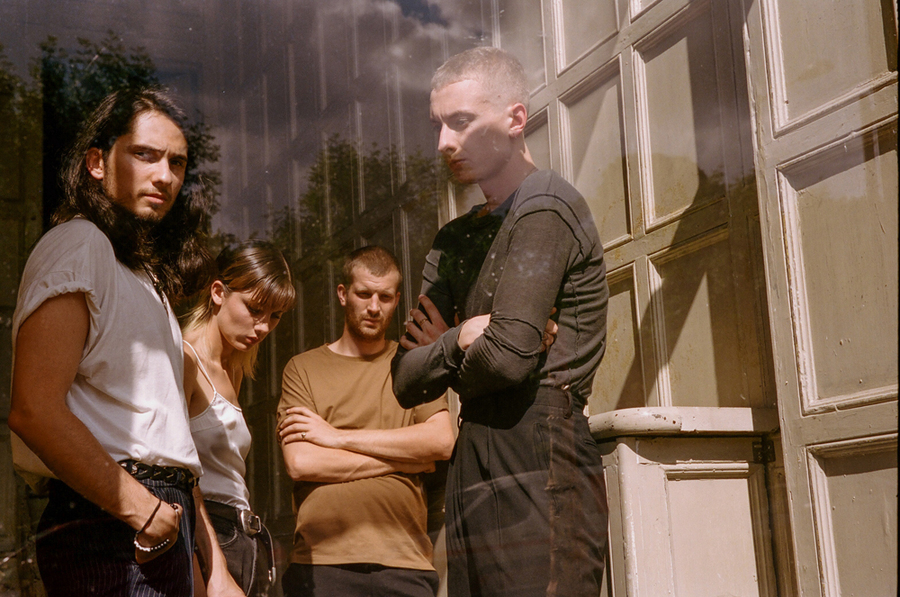 As Rowsell notes, though, enough of the record seemed to have fallen into place by the time they actually turned their attentions to it that there wasn't a great deal of hand-wringing about making sure they could top the success of My Love is Cool. "We didn't realise it as it was happening, but we had quite a lot of it done already," she explains. "We'd had a bit of time off when we finished touring, probably about six months, and then when we all got back together afterwards, it turned out that we already had a lot of material that we all really liked, just from writing here and there – when we were at home between tours, or in breaks out on the road. We were in a much better position than we could have hoped to be, so we were never too worried about the writing of the record – it sort of took care of itself."
The Grammy nod for Moaning Lisa Smile seemed to cement the band's success in having broken America, something that was already evident in the sizes of the rooms that they were selling out in the States. It felt natural, then, that Visions of a Life would end up being something of a Transatlantic record, one that was conceived in London but ultimately realised five and a half thousand miles away in Los Angeles. "All of the songs came together in our rehearsal space in London," says Rowsell. "We treated that like a day job, nine-to-five, giving ourselves the weekends off and occasionally playing shows during them, too. By the time we got to America with the tracks, they were pretty much fully-formed, which I guess means that LA as a place didn't really have a great deal of influence on them. If there's any bearing of it on the record, it will have been subconscious, but it did mean that we got to record in a beautiful studio, and it's easier to want to jump out of bed and get to work when it's really sunny every day."
The group decamped to California primarily in order to work with Justin Meldal-Johnsen, who produced the record and comes with the sort of heavyweight CV that you'd expect from a guy who spent two decades touring with Beck as his bassist and musical director; he's worked with a dizzying breadth of artists right across spectrums of both genre and sonic fidelity. Given Visions of a Life's stylistic restlessness, then, he was a very good fit. "I think we were attracted to the range of different artists he's worked with," Rowsell tells us. "He's produced M83, who have a huge pop sound, and then Paramore, who have always been really hi-fi, even when they've switched between rock and pop. On the other side of that, he did the last record by The Raveonettes, Pe'ahi, which was super scratchy and rough around the edges. He's done so much touring and playing too, so we knew he'd be able to bring a musician's perspective to the album."
Well ahead of the record's release date, fans were given a taste of its eclecticism in the form of its first two singles, which couldn't be further removed from each other. Yuk Foo is a positively feral two-minute torpedo that Rowsell screeches her way through as she breaks off the shackles of a tedious relationship, resolving instead to 'fuck all the people I meet'. Don't Delete the Kisses is quite the opposite: gorgeous and dreamy, with soothing synths that burble away in the background as Rowsell delivers a touching, conversational treatise on modern romance between choruses. Releasing the two tracks so close to each other seems like the perfect way to preface Visions of a Life, but it apparently wasn't meant that way. 
"We didn't actually do that on purpose, but it's worked out nicely," laughs Rowsell. "We put Yuk Foo out because we were excited about playing it live, especially with these tours of small venues we've just done. Our crowds are really energetic and mosh a lot, and we didn't feel as if we had enough songs in our set to allow for that and encourage it. Don't Delete the Kisses is totally different, obviously, but that was what the American label thought would go down best over there, which is why it came out next. We like all our songs, honestly. We'd have been happy to put any of them out."
When the band head out on their biggest UK tour to date in November, they'll revisit some old haunts, with a second night already in the diary at the Barrowlands in Glasgow after the first sold out rapidly. More importantly, though, they'll be making what's effectively their arena bow at the cavernous Alexandra Palace in London, the sort of surroundings they always seemed destined for, but that they surely couldn't have expected to reach this quickly. For Rowsell, it's a prospect that's equal parts unnerving and exciting.
"I think we would always have ended up striving to make a record that sounds as big as this one, even if we weren't playing venues of this size," she reflects. "We all share the same taste for polished rock albums, you know? We want to give every song we're proud of the best shot when we record it. But stepping up to somewhere like Ally Pally – I do think it's really intimidating. I felt a little bit unsure about it when we booked it, but I suppose that's the level the band are at now. God knows – I hope it's gonna be alright!"
---
Visions of Life is released on 29 Sep via Dirty Hit
Wolf Alice play Barrowlands, Glasgow, 11 & 12 Nov