Hen Hoose, The F-List and Popgirlz on their 2021 plans
Having recently set up POWA alongside Siobhan Wilson, Ashley Stein speaks to women-led projects Hen Hoose, The F-List and Popgirlz about their plans for 2021
The creative industries have been forever changed by the coronavirus pandemic, with live music being one of the areas to suffer most. Musicians lost their livelihoods while venues struggled to survive, some having to close their doors for good. In the midst of all this uncertainty, however, a host of incredible, women-led projects grew out of the need for community, connection and sisterhood.
Before the pandemic hit, more and more women were coming forward about the sexism, abuse and assault they face every day working in the creative industries. When COVID struck and silence fell over the music industry, these women's voices suddenly seemed louder than ever. Their experiences were shocking, but only to those who hadn't been listening, who had never had to listen before.
Siobhan Wilson on POWA
As a writer and musician, I have always focused on discussing women's issues and raising the voices of queer and womxn artists through my work. I wanted to continue this during lockdown but had no idea how, until I got a call from composer and singer-songwriter Siobhan Wilson. She talked to me about her experiences as a female freelancer working in the music industry; the fear of speaking out, the lack of accountability around inappropriate behaviour, sexist comments, and unequal pay. 
She wanted to start a project that would raise awareness of the issues women face and asked me to join her. I agreed, and together we founded POWA (Protection of Women in the Arts), a musical collective which works in collaboration with womxn artists to create songs based on our collective experiences of sexism and abuse both within the arts and in our personal lives. We launched in November and are planning to release a new original track every six weeks, which will be available only to members of our Patreon page. Our aim is to raise awareness of the issues faced by womxn working in the arts, while providing paid work for artists struggling during the pandemic.
"This year is a really difficult time for music, and I'm worried about how womxn freelancers will be disproportionately affected by the coronavirus pandemic," says Wilson. "Ashley and I are inspired by the momentum of what's happening in Scotland, and want to bring some hope into musicians' lives in this really hard time by adding to the brilliant work that organisations are already doing in the UK to represent womxn in our industry in building back a better music scene for womxn."
Tamara Schlesinger on Hen Hoose
One such organisation is Hen Hoose, a new all-female songwriting collective funded by Creative Scotland and founded by musician and songwriter Tamara Schlesinger, who performs as MALKA. "The project is initially aimed at gaining syncs [music for film and TV] for the songwriters, to find a new way to generate an income for so many women that have found their usual revenue streams disappear in the current climate," she explains.
"The stats are really pretty depressing when it comes to women songwriters in the UK (and beyond) and I felt like I wanted to try and help make a difference. I have recently been pitching a lot of music for syncs and thought it would be nice to make it more of a collaborative process. My hope is that the music will be so exciting and innovative that we will want to release it and put it out into the world as well.
"I think that you can gain so much from collaborating – a shift in tone of a song, a different idea for a melody line or a direction in which to take the chorus. I write a lot on my own, producing my own music, and I think working with someone new always broadens my outlook. I find that I can be so inspired when I see how others work and I wanted to open the opportunity out to others."
Do you think women artists have been disproportionately affected by the pandemic? "I think that all artists have been affected by the pandemic, the problem is women were at a disadvantage in the industry to begin with. We have lost revenue streams from gigs (merchandise) due to not touring; the ability to record new music due to not being able to access studios, the list goes on. So I wanted to force us to all work at home [to] get better at production if we weren't already confident we could do it and strengthen our confidence if we already could."
What are your plans for Hen Hoose in 2021? "We are currently in our first groups writing to briefs in multiple genres with the goal of creating 15 songs. Those songs are being produced in-house by all of the writers. I have had a lot of other women reaching out about joining the project and while I am at capacity at the moment I believe that this could grow and grow. It has been so exciting to see how many women have been inspired by the project and I can't wait to hear what comes out of the process."
Vick Bain on The F-List
Also launched last year was The F-List, a directory of over 4,500 UK female musicians. The project's founder Vick Bain has worked across the creative industries for the last 15 years and is former CEO of the British Academy of Songwriters, Composers and Authors. She's currently doing a PhD on women in the music industry, and working as a diversity in music consultant.
The F-List came out of research done by Bain in 2019, a gender audit of over 300 UK record labels and music publishing companies. "The results were not great for women!" She continues: "But in doing that research I realised I had a record of thousands of female musicians and bands with women in them, and publishers too. I decided to extract that information and publish it for free on a Googlesheet, which I did [last] February.
"Once lockdown happened I decided to invest my time in making that information more accessible by building a beautiful, searchable website aimed at event promoters and festival organisers. They can find any genre of musician they want by searching The F-List. I also decided to create a not-for-profit organisation to back it up and do more work aimed at campaigning on behalf of female musicians and running initiatives that will help them start and sustain their music careers for longer. So we now have The F-List for Music Community Interest Company with a wonderful board of 12 women, very diverse, from every part of the UK, representing every genre of music."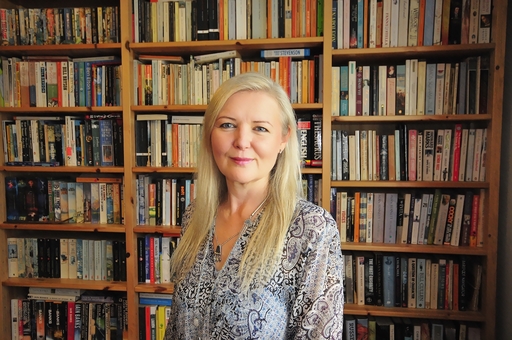 What do you think needs to change for the music industry to become a supportive and accessible space for women? "Big question! Music industry employers need to be aware of their own employment demographic statistics and do more to employ, promote and retain women. They need to ensure they are as flexible as possible for women who are balancing parenting or caring duties; they need to pay them equal to what the men in their companies are earning for similar jobs (and redefine those jobs if necessary); they need to be aware of their creative rosters and SIGN MORE WOMEN!"
And The F-list's plans for 2021? "We have LOTS of plans up our sleeves. This includes a project getting women into professional recording studios in safe, nurturing all-female environments, working with various festivals on their line-ups, partnering up with sister organisations to do mentoring, working on a cross-UK research project looking at sexual harassment in the music industry, responding to various government consultations on behalf of women in music, and of course adding more and more female musicians to The F-List directory. We are going to be very busy! And if anyone else wishes to reach out and work with us, please do drop me a line, I would love to hear from you."
Kohla on Popgirlz
Another important project is Popgirlz, a support group for female and female-identifying artists in the Scottish music scene. SAMA-nominated, alternative R'n'B artist Kohla, real name Rachel Alice Johnson, created the group in late 2019 with the idea of making a safe, motivating space for female artists. "We have collaborative Facebook and Instagram pages where we help and support one another, and I also arrange socials for the womxn to meet, collaborate and become friends. We currently have 75 incredible members and are rapidly expanding!
"Despite the coronavirus restrictions in 2020, we did manage to have our first social in the summer, so I am looking forward to arranging more in 2021. I am also in the midst of planning a Popgirlz convention/festival to support womxn and raise their profiles within the Scottish music scene, with the aid of my fellow Popgirlz Josephine Sillars and Elisabeth Elektra. I have also been arranging a Popgirlz Scotland Podcast series with the group, where members will interview one another about being a womxn in music."
The pandemic may have forced us all apart, but these incredible women have managed to find ways of bringing us back together again. They have created safe, supportive spaces where women can thrive and connect with one another. And, as we attempt to leave behind the difficult, tumultuous and unprecedented year that was 2020, it's uplifting to know that we can look forward to seeing what they create.
---
patreon.com/POWAscotland
henhoose.com
thef-listmusic.uk
Follow Popgirlz on Instagram @popgirlzscotland
Vick Bain photo by Andrew Laming