Girlpool on What Chaos Is Imaginary
With their third album, Girlpool come closer to the band they were always meant to be. Cleo Tucker and Harmony Tividad talk about growing into their creative selves, making their collaboration even stronger
Audiences hunger for bands who are fully-formed. The modern listener demands artists arrive on the scene fleshed out, rounded human beings with the complete story of why you should love them trailing behind. When it's easy enough to click past a song on your weekly discovery playlist on your chosen streaming platform after ten seconds of not being grabbed, there's no time for musicians finding their voice.
This is unapologetically not the case when it comes to Girlpool, the duo of Cleo Tucker and Harmony Tividad who stumbled upon a spark between them in the Los Angeles DIY rock scene, and have been making music together ever since. From their formation they have been an ever-evolving picture, with each project changing, growing and coalescing who they are. They have moved from the punky shout-a-long of American Beauty – the finale of their 2014 self-titled EP, and an unflinching expression of female sexuality charged with humour – to the quiet, bare bones intensity of their first full-length LP, 2015's Before the World Was Big. By 2017, they were embracing a full band sound on Powerplant, weaving nursery rhyme melodies with climaxes of noise. In just five years, Girlpool have been ever-expanding and evolving.
It could be said that the only constant throughout has been their intertwined, united front in the direction of their art, immediately identifiable in what became trademark harmonies. On their third record, What Chaos is Imaginary, the branches begin to untangle a little, and Tucker and Tividad start to flower.
"It's definitely a changing time for us," confirms Tucker, who is joined on the call by Tividad, in an early morning chat from the US west coast. "I think that this album perfectly reflects exactly where Girlpool – where me and Harmony – kind of stand. There's individualism in this record between the two of us in ways that I don't think has existed before in previous albums. Harmony and I are settling, and growing, into our independent directions and then finding the space to craft together with more focus on our own individual processes."
This willingness to explore different paths manifests itself in unexpected ways. "Even if you just listen to the sounds on the record, there's a lot of wandering," explains Tucker. "There's some familiarity, and some sounds that aren't that new, while others come completely out of left-field when compared to the history of Girlpool."
It's true, What Chaos is Imaginary is a collection of mini-experiments: jangly guitar-pop sprinkled with scathing put-downs (Pretty), synth-abetted shoegaze (Where You Sink), proggy electronics (Minute In Your Mind) and emo dream-pop (Chemical Freeze). All Blacked Out could be a lost Elliott Smith cut, and the title track is a sprawling symphony of ideas.
That won't come as a huge surprise to fans who enjoyed their Dev Hynes collaboration (Picturesong, released early last year), though Tucker and Tividad tell us this stage of Girlpool's development was well underway by then. Their confidence as songwriters, in their own right as individual artists, brought with it a desire to match these new songs with a musical ambition they deserved.
"You can go to any place to make the song represent itself as it needs to be, and it kind of doesn't matter. If the song needs to exist in that space, then it has to go there sometimes," says Tividad. For Tucker, playing around with different elements was a means of connecting on a more destructive level: "By the time we were recording and arranging this album, a lot of the songs that we pulled from my end were rock songs, and at that moment I had strayed away from wanting to write indie rock music, and guitar music, and experiment with different kinds of temperatures in music. So for me it was almost like any opportunity I could have to fuck up an indie rock sounding song, I really wanted to take it."
No matter how much of an emphasis this time around is being placed on Tucker and Tividad as separate songwriters (the album's accompanying press release talks about the two straying "from beginning hand in hand in every instance"), the sentiment that they have a unique bond as a band remains true, which is why all the genre experimentation works. Regardless of any aesthetic difference, it retains the defiant essence of Girlpool. "There's definitely a togetherness that's more marked by support of each other's individual life and expansiveness than the other records," says Tividad.
Hire is a song that exemplifies this completely. A highlight of the new record, Tucker – who leads the vocal – describes it as "like throwing a tantrum". "That song is charged," says Tucker. "It feels really good to sing. I was really feeling it, and it is loaded emotionally. There's not a lot of perspective about my own responsibility, in the given dynamic that I'm talking about. It's just like I'm having a fucking tantrum right now. That's just the way that it happened."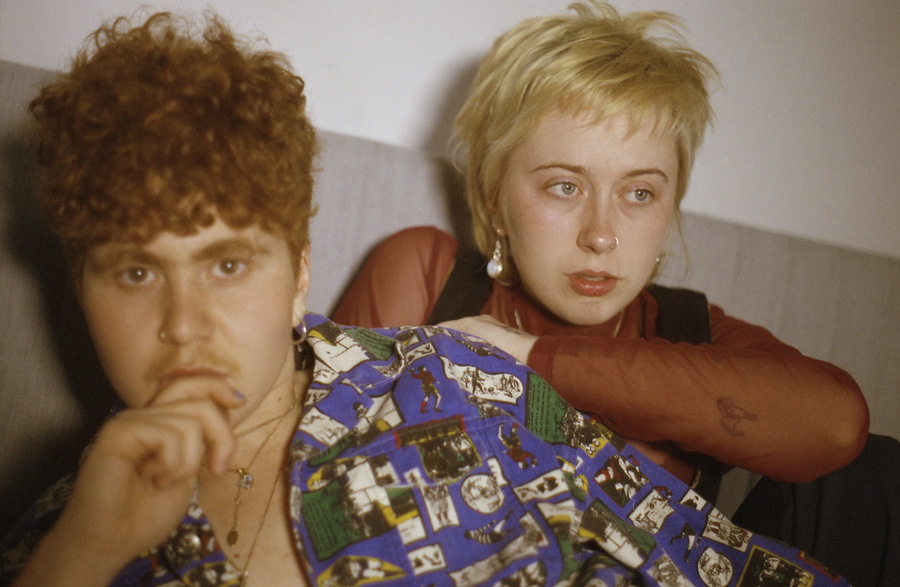 Photo by Gina Canavan
Hire is sung in a lower register than previous Girlpool releases, brought about as a result of the hormone replacement therapy Tucker underwent after coming out as transgender last year. While these were important to his personal development, Tucker expressed, at first, not being "in a comfortable place" with his voice. It's clear that Tucker has found it; Hire is full of confidence, verve and assuredness. His words are abstract and yet hint at the deeply personal; lines take you down unexpected streams, and rhymes seem to clash satisfyingly. It is quintessentially Girlpool, it's just that they shine in working as two distinct and distinguished wholes, rather than component parts of a harmony.
The album's creation saw Tividad use songwriting in her own way. After feeling a deep sense of displacement and an inability to work through some low moments, the title track became a channel to express and move out of that mindset. "That was about trying to find a way out of a problem that feels impossible and a way out of your body through art," she says. "That's something I think about a lot – how art is us sometimes trying to get out of our bodies. There was a moment where I was like, 'There is nowhere I want to be less than in myself right now, but I have no choice so I'm going to try my hardest to release all this clouded feeling as articulately as possible'. I think that music was really healing for me 'cause it's what I know and it's what drives me forward. But maybe whatever your thing is will have the same effect. Whatever makes you move in yourself is what you need to do in those moments. For me, music was definitely it."
When they met, Tividad and Tucker became fast friends, and that closeness has followed them through their short career. They are noted besties. That relationship means making music together for them has a unique twist, that brings its own pros and cons.
"I can't imagine making an album with anybody, and it not being an extremely intimate process," says Tucker. "When creating, there's no way for it to be surface, there's no way for it to be simple and chill. It's just, I've never done this with anybody else, only alone or with Harmony… I guess that's not true, I do it every day, in relationships and in connections. To me that's a creation, that's the closest thing, to me, that feels like making music."
Tividad adds: "If I was making a record with someone I didn't have this respect for, it would be way harder I think. We have a lot of mutual respect and I think that is really important when you're making things with someone."
As Tucker and Tividad continue to flourish independently, personally and artistically, Girlpool remains a clearly defined collaborative and shared project. Vulnerable and honest, it will continue to expand and evolve and become more realised. That is not necessarily to the benefit or detriment of what Girlpool was before. It is simply that this is the band Girlpool were always meant to be.
---
What Chaos Is Imaginary is released on 1 Feb via ANTI-