Time Out For Fun: Jerry Casale on 50 years of Devo
As new wave pioneers Devo set off on their farewell tour, we catch up with guitarist Gerald Casale to reflect on their 50 boundary-pushing years
"Clearly, we didn't want to be right."
We're about 60 seconds into our Zoom chat with Gerald 'Jerry' Casale, and the Devo guitarist and lyricist is off and running. Our opening topic: the band have spent the last five decades worrying about the direction of society, the way that we view media and listen to music, and the systems we exist within. Turns out, they may have been onto something.
"We were taking a kind of smartass, satirical, ironic approach to things," Casale tells us, sitting in a living room in a red sweater and leather waistcoat combo in front of a newsreader-style backdrop bearing the group's central concept of 'de-evolution'. "You know, being subversive. It was like canaries in a coal mine; we were warning people about the worst parts of human nature and if you gave into them, here's what would happen, right?"
The origins of Devo sit not far from those worst parts. Casale was working as a student liaison at Kent State University in May 1970, when the Ohio National Guard opened fire on a group of students during a protest against the expansion of the Vietnam War and killed four people. Casale knew two of those killed by the National Guard that day – Jeffrey Miller and Allison Krause – and has described it as both the day he "stopped being a hippie", and the catalysing incident that would lead to the formation of Devo.
"I thought I lived through the worst part of my life," he tells us. "I thought that was over, and that it couldn't ever get worse than that. And I was wrong, because that was like kindergarten, compared to now."
Devo – founded by Casale with Bob Lewis and Mark Mothersbaugh, before later being joined by both Casale and Mothersbaugh's younger brothers (confusingly both also called Bob!) – were born from the creative community around Kent State, and powered by a sense of disdain for the politics, media and social graces of the United States. They were also adept from the off at melding high and low culture, or rather smashing the two together at top speed.
Their response to the America of the 70s and 80s was a multimedia whirlwind of DIY music videos, elaborate costuming, weird internal lore and some very very good riffs. Even though their first album hit shelves 45 years ago, the band's combination of jerky, freaky post-punk and deliberate, confrontational visuals feel strangely suited to the current moment, and not just because Rishi Sunak and Ron DeSantis' slick haircuts are dead ringers for the rubber pompadours on the cover of 1981's New Traditionalists album.
As Casale puts it: "All the elements that are in play now were evident then. You see it with the authoritarianism, the disinformation campaigns, the media participating in mass propaganda, the public being willing to conform and repeat mindless slogans, 'America, love it or leave it'… Everything that gets attributed to Trumpism, those forces, that proclivity and human nature was alive and well in 1970. Now, it's just a full on viral pandemic of the mind. We're living now in an upside down Black Mirror reality, an alternate reality wormhole that we went through."
Web 2.0 and Web3's accelerationist zeal and uncanny ability to amplify some of the worst elements in society feels rife for Devo's commentary. At the same time, the whole idea of 'reality' has arguably changed in the half-century since Devo formed – bear in mind, this satirical avant-garde art-rock band in strange matching hats would regularly get on the actual telly four decades ago. Tech has brought unimaginable choice in art and media, and allowed for so many new voices and stories to be given a platform. It has also created a world where there is very little we can agree on, and enormous buckets of content to choose from but often created in unfair conditions to serve corporate interests. Freedom of choice, to quote the lads, is what we've got.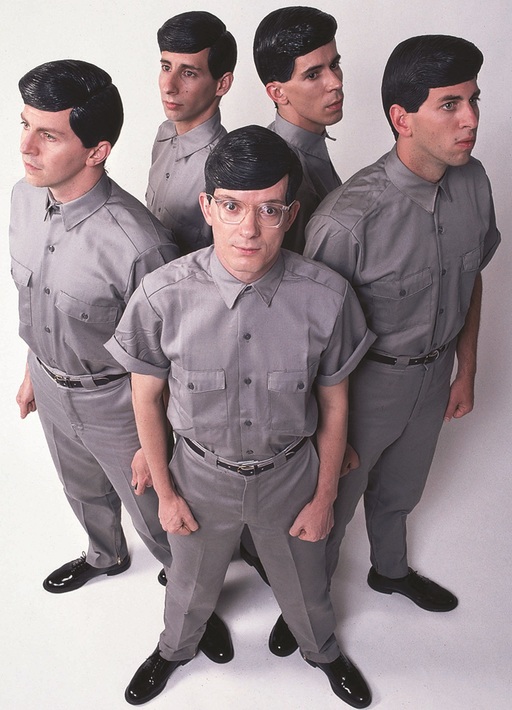 Devo.
Casale is punchy in his views on the modern political elite. He says: "They want to destabilise society. They want to kill the middle class, destroy public education. They want a vast pool of spuds who can't think, who are eating terrible food, who just will do whatever you tell them, and then you have a one-half-of-one-percent in control. And that's what they're doing because they didn't want to pay taxes. They didn't want to be accountable. They didn't want regulation. Now they've got this destabilised world they want, full of unstable, needy, radioactive people."
If changing the world has fallen just outside of the band's purview, the one thing Devo were constantly changing was… Devo. Their back catalogue is littered with hits – dropping Whip It remains one of the most surefire ways to get a room moving – but a few misses as well. Their embrace of technology saw them evolve from riff-heavy art-rockers in 1978 to what was essentially a synth-pop act (admittedly, an odd one) five years later. That same desire for progress also saw them try to present the world's first live 3D broadcast of a gig on pay-per-view in 1982, complete with visuals on 12-foot-high video screens. The operative word there, in case you missed it, was 'try'.
In many ways the story of Devo is a story of glory, failure, and glorious failure, of a band whose very first gig ended with Mark Mothersbaugh unable to get his synth to stop producing a high-pitched drone for several minutes. The band were billed as 'Sextet Devo' to convince the university that they were serious musicians; while trying to fix his keyboard, Mothersbaugh was wearing a large rubber chimpanzee mask.
When we ask Casale about any regrets or missteps he wishes the band had revisited, his answer is by turns unsurprisingly grand and refreshingly honest: "You'd have to be dishonest to say, 'No, there aren't'.
"There should have been a Devo feature film. There should have been a Devo video game. There should have been, you know, a musical. Devo should have started a communications ad agency – Devocom.
"There was a certain point where machines took over. We weren't using them; they were dictating to us. We gave in to machines, and that's exactly what we were warning people about. We had to include ourselves in the mix, because we did exactly what we told people not to do."
Coming from a band as experimental, oblique, and frankly cheeky as Devo, the industry-standard 50th anniversary farewell tour feels like bait, but that's not the case. This is a genuine, honest-to-goodness Farewell Tour from one of the pioneering bands from the US new wave, heading across Europe this August and taking in a headline slot at Green Man between shows in Edinburgh and London. In speaking to Casale, there's a sense that the band are taking the chance to grab their flowers while they can. As Casale says, with a lilt in his voice: "This may be the end of subversion. And I'll say this – it's not a strategy. It's not like Kiss, where it turns out that the farewell tour was about ten years long. If people are looking for, you know, some kind of subtext or secret whammy, maybe we're going to disappoint them."
So if this tour isn't some avant-garde wind-up, and it really is the end of Devo, what lies in store? "Just playing songs that span the breadth of our existence," Casale says, "and trying to present some of the visuals that we did, and remind people of the context of 'look what we did when we did it.'"
It's the final lap from a band who pushed boundaries and made us think, an oddity from a different time in music history, and true pioneers in mixing the high and low, sublime and ridiculous. That, says Casale, is the real call of this tour: "I think that's all we can really do, to help people frame us in terms of history. We can't be, you know, a South Korean boy band. We're Devo, and now we're senior citizens! But we can still go out there and do it. That's probably the whole point. It's like – Paul McCartney can still do it. Mick Jagger can still do it. And Devo can still do it."
---
Devo play O2 Academy, Edinburgh, 17 Aug