Fruit Tree Foundation: A New Branch
After the success of last year's <i>First Edition</i>, <b>Rod Jones</b> is branching out with his Fruit Tree Foundation to give some young saplings a fighting chance in the murky musical undergrowth
At a time of year when other trees are shutting down shop for the long winter ahead, The Fruit Tree Foundation, an independent project which aims to highlight mental health issues through music, is getting ready to "sprout another branch". These are the words of Idlewild guitarist Rod Jones, who set up the project with Chemikal Underground founder Emma Pollock last year. Their first project was the collaborative concept album First Edition, which saw a slew of local indie and folk favourites hole up in a Perthshire house to pen the record over five days.
This time however, the collaboration process is taking place at a more grassroots level. With a call through The Skinny's website in July, Jones invited singer-songwriters to submit demos of their music, with successful applicants being paired up to work with more established artists from the local scene. The first run will see three aspiring musicians paired up with Jones himself, Dan Willson AKA. Withered Hand and Fife folk singer James Yorkston. A six-track mini-album launched by a free performance late last month will cement the process and hopefully lead to it becoming a regular fixture, with one such collaboration per month for the next year being planned.
"We got 170 applicants within a week, which was amazing," says Jones as we meet up in the midst of orchestrating the whole endeavour. "I listened to them all but had to be very objective and think about the bigger picture, being very aware of my grumpy old man tastes." As we speak, Jones himself is overseeing Dan Willson's pairing with Marie Collins, one of the three successful candidates, at Great Junction Street Studios in Edinburgh. "I have to be here not just for moral purposes but also for legal reasons," he explains, giving a glimpse into the less glamorous side of running a project such as Fruit Tree.
It's a necessary evil it seems, especially if Jones is to see things evolve as he would like them to. "I don't want to limit the Fruit Tree Foundation project to being just another indie project," he says. "It's supposed to include everybody, so just because I don't listen to Shania Twain or whatever, there's no reason we shouldn't have people who sound like that in the project." Being inclusive is the key-word for Fruit Tree. Initially spawned by dint of Jones' work with the Scottish Mental Health and Arts Festival, Jones is keen to keep the ethos of the project close to its roots.
"This project is much more about benefitting the individual than raising awareness as a whole, which is what the first Fruit Tree record was about," he explains. "When I came up with the idea for this project, I was running these music sessions. Several of the people who came were quite open about the fact that they have mental health problems and quite often we'd talk about it. So I think this is something that can give people an outlet or give them some experience of working with other people and get a bit of extra help, even if it is only for their own enjoyment."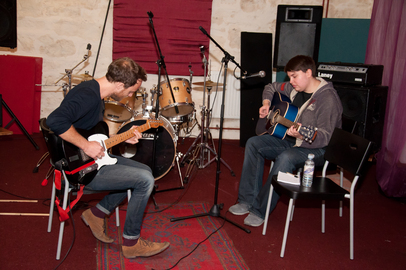 • Rod and Liz Cronin in rehearsal (Photograph: Hannah Killoh)
The original outline for Fruit Tree was for it to grow with each project, not just in terms of numbers, but in its reach and scope. There were perhaps some stifled guffaws when Jones was casually mentioning the likes of Bruce Springsteen as a future collaborator during the recording of First Edition, but it's not something he particularly regrets stating. "I know I get teased for this but my original plan was Scotland, national, Springsteen," he laughs. "I have a tendency to aim high, sometimes too high, but if you don't ask you don't get."
Does that mean he's actually asked The Boss himself? "Not yet," he sadly confirms, "but he's at the top of a list which I'll gradually work my way down. Seriously though, I think it's about getting that one first person signed up to have a knock-on effect. It'll also be easier this time in some respects because we have a record to show people. We can show them how well it's done, the press it got and so on." The plan for Jones is to repeat the process of First Edition on a larger scale. "The question of course, when you're working with people at that level, is do we need to pay them?" he reasons, adopting his logistical head once more. "I'm assuming they don't really need the money and further, can we afford to pay them anything that wouldn't be insulting?"
He continues: "I know straight away that trying to tie it to a deadline with the mental health festival isn't going to work - we're just going to have to be more flexible. If it has to be done over computers then it'll just have to be that way. It may not be everyone gathering in a house like First Edition was, but it's at the stage right now that I've written my list, made some enquiries to studios as well as to producers that may be heavyweight enough to attract some musicians as well." Other than Springsteen, Jones remains tight-lipped on who he may more reasonably approach, but it's clear that his ambition for Fruit Tree runs equally through its different guises. "In the meantime I want to focus on this part of the project," he states, returning us to the humbler but no-less nobler mentorship programme. "I don't want this to be seen as some sort of downtime project," he explains. "It's just a different branch."
With that, Jones takes The Skinny from the greasy spoon cafe that is our meet up, down into the bowels of Great Junction Street Studios where the aforementioned Dan 'Withered Hand' Willson and protégé Marie Collins are meeting up for the first time. Seventeen year-old Marie has also brought along friend and bass player Dan Drennan for moral support, though she isn't the only one showing some nerves today. "I was just telling Marie and Dan that when I was seventeen, I was still playing a guitar which had no strings," laughs Willson. "I was just prancing around my bedroom listening to Iron Maiden, and here she is writing these amazing songs. So I think I was as scared as she about this whole thing."
Whilst Marie's nerves are understandably evident, the importance of this opportunity is something she is all too aware of. "My past experience has just been with boring music teachers playing piano and talking to me about song-writing," she begins. "There's not much of a scene in Paisley, so it's been great to get this opportunity." That said, she's not been idly sitting on her hands, awaiting a musical partnership to land in her lap. "I'm in a band so I play in Paisley quite often and I host a couple of open mic nights there too," she reveals.
Willson picks up this thread of conversation. "Sometimes if there's not much of a local scene or not many opportunities around, you can make them happen yourself if you stick at it for long enough," he reasons. "With a lot of the demos that Rod passed onto me, I sometimes wondered why they were in the pile because they already sounded so good. But sometimes the opportunities don't present themselves to people or they don't know how to access them; so they're often just doing their thing, and it's really good, but they just don't know what to do with it."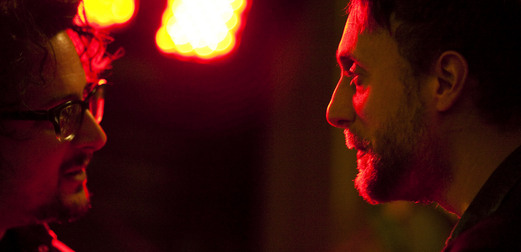 • Dan Willson and Rod Jones at the launch of New Branch, October 2011 (Photograph: Eoin Carey)
Whilst Marie has clearly been getting out there and improving her local scene, her current opportunity is still a considerable leg up for her. "It was amazing getting the call," she says of winning the coveted spot. "I really didn't think anything was going to come from it. It was really cool just having someone like my songs." Willson backs her up on this. "I almost instantly thought that Marie's songs were really strong," he confirms. "She had a natural melodic thing going on that I liked. Marie has such a quiet voice, and I don't mean just literally. For someone like myself, being naturally quite shy, I felt like I'd be able to identify with her as a person as well and I think that's true having met her now. Quite often it's the person who shouts loudest that gets heard but it's not always the voice to listen to."
After today's session, Dan and Marie will go on to enter a studio along with the other two winners and their respective mentors. Jones himself successfully rehearsed with his own pairing the previous week to our meet (with aspiring Edinburgh musician Liz Cronin) and James Yorkston has since completed the trilogy with Glasgow-based Lucy Cathcart Frödén, the final successful applicant. Six songs were ultimately recorded, two per partnership, debuted live at Noble's bar in Edinburgh last month, and released as a free downloadbale mini-album exclusively via The Skinny (at the bottom of this very article in fact).
The album artwork follows a somewhat similar style to the music itself, with three artists, also recruited from a public call-out, combining to form one cohesive piece of art. "It's a bit like that game you played as a kid where you drew a head then folded the piece of paper over and someone else drew the body," explains Jones. "Each artist knew how big each piece should be with some idea of where it will join the next piece." The resulting work is a vibrant piece comprised of a 'Top' designed by Francesca Busca, 'Middle' by Jesse Dean, and 'Bottom' by Rebbeca Kaye.
With all of this creativity surrounding new recruits like Marie, the finished article is understandably an exciting prospect. "I can't wait to hear what it comes out like," she confirms, with Willson nodding in agreement. "I'm looking forward to getting all the different instruments together for the recording process and of course playing it live will be really exciting."
With all three together, it feels like a good point to ask Jones how he feels the project has gone so far. "As Dan said, listening to some demos, it felt like musically this person or that person didn't need our help, but it's not just about that. It's also not about a teacher and a pupil relationship so much as it being about two equal people bouncing ideas off each other. It's a different thing to write with people for the first time and it's a good experience for everybody. But it's not just about the musical side. It's about showing people how to get their music out there, to give them that little lift off the ground and get some exposure. There are lots of fantastic musicians out there who just don't know how to get heard. Hopefully this will give some of them the help they need."
You can download the full New Branch EP by Fruit Tree Foundation now by clicking the artwork below, or by selecting individual tracks.