Dr. Martens Celebrate Edinburgh's Music Scene
We highlight four of the people who have managed to keep Edinburgh's music scene alive in spite of a global pandemic
There's no denying that the past 18 months have been hard for everyone, but the music industry was hit particularly hard, with everything seemingly shutting down overnight. Most thought the shutdown was a temporary measure, but almost a year and a half later things are only just starting to get back to normal. In Scotland that means if you're drinking, dancing or dining you don't have to wear a mask, but event capacities are still limited and it's going to take a while for the Scottish music scene to fully heal.
Through their Tough As You initiative, Dr. Martens are celebrating the people in their local communities who are creating access to creative opportunities at a grassroots level. They not only want to help shape the future of the music industry, but they want to challenge the industry itself.
Speaking to four Edinburgh and Edinburgh-based individuals who work tirelessly behind the scenes to create space and opportunities that will lead to positive change in the Scottish music industry on a whole, we're feeling hopeful for Scotland's musical future and optimistic that things are going in the right direction. 
Craig Gornall, Head of Music, Shout! Scottish Music Experience
Craig Gornall has been involved in the Edinburgh music scene since 2006 when he started working for community radio station Leith FM. During his time there he would get demos from local bands to pass onto the station's presenters, and it wasn't long before he found himself doing a regular on-air gig guide which led to him co-hosting a show. He has worked extensively with the team behind new talent showcase Wide Days over the years, runs his own music blog – Alive & Amplified – and during the pandemic set up The Music Now podcast, where he continues to celebrate local musical talent.
As well as launching his new podcast, last summer also saw Gornall help launch a brand new music venture in the heart of the capital, Shout! Scottish Music Experience, where he now works as the Head of Music. While one side of the business is primarily a tourist attraction with a focus on celebrating Scotland's rich musical history, the other embraces its exciting future. The main features include a cinema room devoted to screening music documentaries, a live performance space and a rooftop bar decked out like a music festival tent, flowery adornments, DJs and all.
It has by no means been smooth sailing at Shout! with the venue first opening its doors in the Waverley Mall last August only to be closed again by October, but Gornall is overall quite positive about the stop-start nature of the business: "In a weird way it kind of let us refocus on what we wanted to do."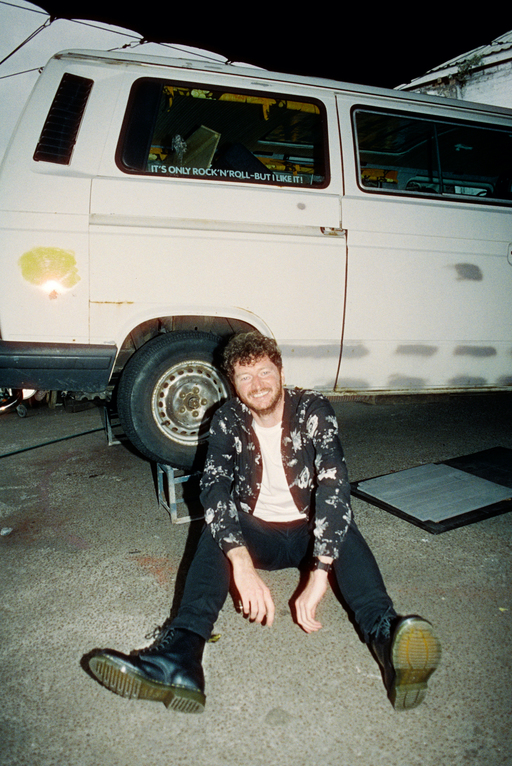 He continues: "We reopened in May this year with an added rooftop bar which has really been amazing, because it's got some of the best views in Edinburgh. It's working now, and now that restrictions are lifting, we had our first gig on Friday night – we had Dictator doing a single launch." He enthuses: "We had 60 people in here, which was amazing. I interviewed them for the podcast to start with and then they did a live stripped-back set. That sold out... so the hunger for live music is definitely there, people are eager to get out to new stuff."
Opening a brand new music venue is nerve-wracking at the best of times, but during a pandemic it's a whole other beast entirely. But Gornall doesn't see Shout! as competition to the other grassroots venues he loves in the city. Rather he sees Shout! as more of a community hang out, with events there feeling more akin to a record shop in-store than a regular gig. Shout!'s main focus is on fostering a community among both young music fans and artists who are near the beginning of their careers, offering a space where they'll be able to celebrate single releases, be interviewed for podcasts or be on bills with other young acts who are perhaps playing their first live shows. There are also plans on the cards for a regular open mic night.  
One of the key reasons Gornall got involved with Shout! is because he believes this kind of space has been missing from Edinburgh, and is passionate about supporting and nurturing local artists at the start of their career. "We want to [help foster] a community of musicians, and maybe people who make videos, people who do podcasts, to get [people] together and just create a scene," he says. "Glasgow's so good at it, but Edinburgh seems to suffer a bit… Edinburgh doesn't seem to really have that place where people go to hang out. And I'd love this to be where people come to meet before they go to Sneaky Pete's or The Mash House. I don't see us competing... I'd like it if people are going, 'let's meet at Shout!'"
Supporting new up-and-coming Scottish talent has always been a firm passion of Gornall's and with a new space like Shout! to oversee, be sure to head there to catch the next big thing.
Edinburgh artist recommendations: Post Coal Prom Queen, swim school, Misty Galactic, Dictator
---
Arusa Qureshi, Freelance Writer
"Last year was really difficult," multi-hyphenate Arusa Qureshi tells us over coffee on a drizzly Edinburgh afternoon, "and I'm now a full-time freelancer – that was never ever my plan. But, luckily, it has worked out really well." Qureshi's world was turned upside down last year as the pandemic forced her out of the job she loved as Editor of The List magazine. Through her work there, Qureshi always championed diversity, making sure that 60% of the publication's cover stars were women, from composer Anna Meredith to trans woman and record producer SOPHIE; she was also proud to lead the publication's first all-female end of year Hot 100 list in 2019.
During the pandemic, for many businesses and people like Qureshi, it was those able to adapt that managed to thrive in the face of adversity. Going freelance has afforded her the opportunity to learn new skills in radio and podcasting – she worked as a researcher on BBC Radio Scotland's Word Up! – and she's been able to write for other publications like The Guardian, GoldFlakePaint and Clash. She also had a brief stint as Commissioning Editor for Scottish news website Bella Caledonia with a focus on underrepresented voices in Scottish arts and culture.
"I feel like I'm able to focus on things I'm actually passionate about, and I genuinely feel excited about what's coming up next," she enthuses. "I've learned so much, and I'm still learning all the time. I'm not gonna say I'm grateful for the past year, and the pandemic, but I am grateful that it's made me force myself to believe in myself a bit more."
---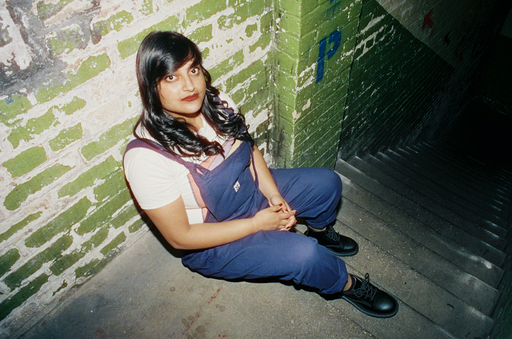 One of the things Qureshi has always strived for in her work as a writer is diversity and seeing a lack of representation for women in UK hip-hop she's spent a big chunk of the last year writing a book about it. Flip the Script is part of Inklings, the new series of non-fiction books from Edinburgh publisher 404 Ink, and is due on shelves before the end of the year. "It's my love letter to women who I think have done amazing things in this genre, who I think deserve attention," she tells us, "and hopefully, you know, hearing their stories will make people realise how amazing things are right now and how much better they could be for women in the genre, generally. That's the goal."
Knowing that Scotland is regularly overlooked when it comes to hip-hop, we ask if the book will include any Scottish artists and the answer is an emphatic yes! "I wanted to make sure that it's not just all about London – even though that's where it all kicked off and where grime was born," she says. "So there's a big chunk of the book that's about Wales, Northern Ireland and Scotland." In the book she speaks to women that are involved in their local scenes to discuss "what they think could be done to elevate" their scenes more, "so that people in London take everyone seriously. That's a common thing that everyone says, 'I don't feel like we're taken seriously here.' But it is changing."
The Scottish music industry is changing for the better, too, and it's thanks to people like Qureshi, whose presence on the board of the Scottish Music Centre and involvement in a new Advisory Group for the Scottish Music Industry Association (SMIA) will help open doors for underrepresented and marginalised voices. "Diversity and accessibility has always been really important to me, I guess even more so in the past year," she says, "but now being on my own, as a freelancer, I actually found that I'd maybe be able to do more."
She continues: "I think that the difficulty is sometimes you do feel it is a lot of work, it's a lot of labour and it shouldn't always be people of colour, for example, always doing that work. But at the same time, I'm personally very happy to do that work. Especially in the past year, I feel energised to do it even more, because I don't want all the things that have changed to be rolled back because of COVID.
"I'm so determined to make sure things keep going in a positive direction. Being on boards, and stuff like that, it's a small thing, but sometimes I think, 'well, if my being there means that that space becomes more normal for another person of colour to be on it in the future, cool, I'll do it!' That's what I'm really hoping for, that it just becomes a bit more normal, because I think the Scottish music industry is still a bit too white at the moment."
Qureshi's passion for positive change in Scotland's music industry is heard loud and clear throughout our chat – "People can't get away with their bullshit anymore!" – with plans afoot to launch a radio show about women in hip-hop on Edinburgh community radio station EH-FM as well as working for We Are Here Scotland, a Community Interest Company which aims to amplify the voices of black and indigenous people of colour in Scotland's creative industries. It seems we'll be hearing a lot more from her in future, which can only be a good thing.
Edinburgh artist recommendations: 4 Tune, Shears, Kohla, Proc Fiskal
---
Khaleda Noon, Founder, Intercultural Youth Scotland
Intercultural Youth Scotland founder Khaleda Noon has worked in youth work for over 20 years, launching the charity out of necessity. "Growing up as a person of colour in Scotland, at times was very traumatic. I faced multiple intersectional inequalities including racism [and] undiagnosed dyslexia," she tells us. "I grew up in an unstable environment which included poverty and intergenerational trauma." Talking to Noon on the phone and spending time with her in person, you'd never guess it had been that way as her confidence shines through: she's passionate, determined and inspiring, not to mention resilient.
Finding it a constant battle to build equity for young Black people and people of colour in Scotland, she invested all of her savings – "not a lot as a single mother" – in setting up IYS. "I had the chance to explore the narratives of my own different interlocking identities and create services to truly meet the needs of those whose reality mirrors my own childhood experiences," she says. Her aim was to bring people "together as a community, to express themselves through the arts, and feel good about themselves and each other. A place where they can just be."
For an organisation with a focus on bringing people together, IYS didn't let the pandemic stop them. They continued the majority of their services online via Zoom and Instagram, from their Block Beats programme to their youth club and Restless Natives: Diversity is More Than a Policy scheme. "The fight against racism is always going and the pandemic has brought some of the issues in our society into sharp relief," Noon says. "Our educators worked with schools to keep their vital anti-racism education programmes going. We adapted and kept going because we need to keep going."
While there's obviously a lot more to IYS than music, music is undoubtedly a huge part of what they do. "IYS has always been about expression, about establishing community through the arts, and supporting young people to express and lead themselves however they might want to. Music has always been a vital means of expression, and has been especially important to Black and POC communities across our histories. It brings people together, we can dance, we can vibe, good music can help everything else feel good."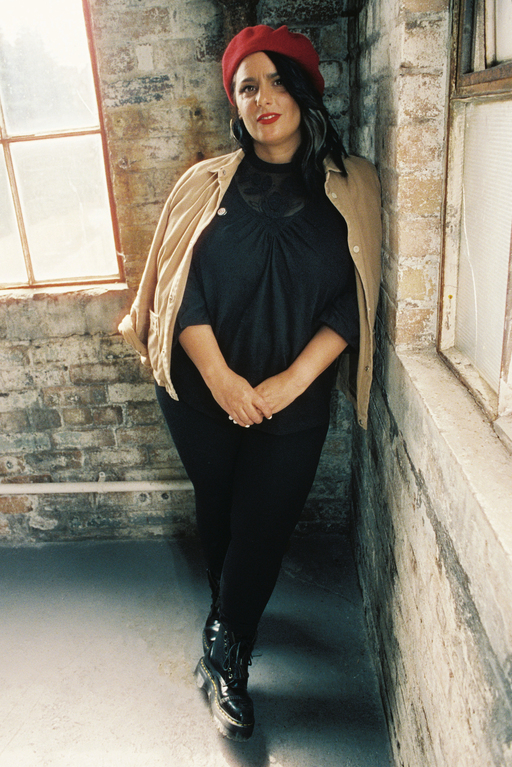 Noon also makes an important observation about the stigmas surrounding mental health, specifically in Black and POC communities, and explains how music can help. "By connecting targeted youth work engagement and hip-hop to culturally appropriate mental health professionals, we stand a better chance of sharing good practice, applying cultural proficiency and new approaches to managing potential negative health behaviours." She adds: "Many people with anxiety and depression have spoken out about how hip-hop has helped them – the lyrics of hip-hop greats are filled with imagery about mental illness, addiction and overcoming struggle, which they use in mental health awareness and anti-stigma programmes in prisons, schools and youth hostels. This work must be continued and embedded across sectors and society."
Block Beats is the main music programme offered by Intercultural Youth Scotland, where any young Black people and people of colour can use their studio to work with a producer to make music. "We've got a great team behind the programme, and whether it's young people looking for something fun to do or those who fancy themselves a future as a professional musician, we can help them put their expression on record!"
Noon enthuses: "We've got great partners too, a monthly radio show on EH-FM showcasing the best of Black and POC musical talent, opportunities to perform in our sixFive social series (most recently at Paradise Palms in Edinburgh), and perhaps most excitingly, we have our annual Scotland in Colour Festival coming up on 4 September!"
This year also saw Noon involved in HANG, Scotland's first ever hip-hop and grime-focused networking event, where she spoke on a panel about hip-hop's multifaceted role in communities. It seems some of Scotland's music industry professionals have listened to what's been happening in the world and have responded in a positive way, but what does Noon think the Scottish music industry needs to do to keep progressing in order to become more accessible and more diverse? "We need decision makers who represent the diversity of communities in Scotland; we need support and investment from the Scottish Government and the third sector, administered fairly and equitably to improve access to not just music, but the arts more generally for young Black people and people of colour; we need positive early experiences with music in schools and access to instruments, classes and resources; we also need to reframe the way we view growth and success: what does it mean to be a successful industry?
"At the most fundamental level we're talking about an art form that everybody, somehow, participates in, and it's about highlighting all this participation as success too." Noon continues: "It is hugely important that we are active in engaging, it is crucial that there is investment into grassroots organisations who reach and nurture youth talent in a positive way. The responsibility lies with us all to ensure that young artists and BPOC-led grassroots organisations are protected and stop exploitation and tokenism as it arises and that young people are protected, that it's not just the case of, 'Oh, come and perform'. It's support in the journey, before and after – we all have that responsibility and duty of care."
Having only launched two-and-a-half years ago, it's still early days for Intercultural Youth Scotland, but in that short time they've already expanded from one full-time employee to 30 Black and POC practitioners, and it seems there's no plan to slow down anytime soon.
Edinburgh-based artists from IYS to look out for: AD3, Raheel Zaki, El Richie
---
Nick Stewart, Director and Booker, Sneaky Pete's
Director and booker for much-loved Edinburgh venue Sneaky Pete's, Nick Stewart's start in the Scottish music industry was a bit of an unconventional one. In 2005 he started putting on the odd gig for fun and ended up getting a job in the Cabaret Voltaire nightclub, as a cleaner, where he also went on to do some bar work. An opportunity then arose for him to manage Red Vodka Club in the Cowgate, and not long after, with help from a bank loan via his dad, the club was transformed into the sweatbox we all know and love today – Sneaky Pete's.
Stewart is very humbled when we highlight just how much Sneaky's is adored by the residents of Edinburgh, as well as by visitors from far and wide. It's testament to both his nature and drive as a person and the fact he's always striving to make Sneaky's the best space it can be. "It's very much what I always wanted to do," he says. "I guess I was brought up really well in venue culture because there were some really strong women running all the venues when I started out," he explains. "When you're lucky enough to work at the start with women who take no fucking shit it makes you think that that could and should be the way that club culture should always go from there." 
Keeping a close eye on what's happening across the industry and beyond means he's been able to grow Sneaky's as a safe and inclusive space where everyone is welcome. "It's been said for years and it really matters – if you don't see it on stage you don't think you can get to be it as a musician, or if you don't see audiences that feature you in pictures, you're not going to think, 'Oh well maybe that's the place for me to go'." He continues: "I think we're coming to this really interesting time right now where we're getting so much more diversity and equality in terms of people who are making music, and who are coming up onto the stages."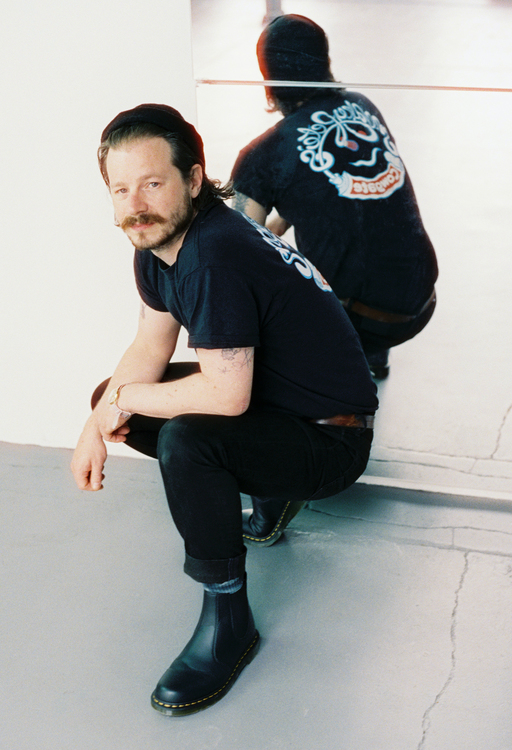 Such is Stewart's passion for diversity in the Scottish music scene, he was excited to see the arrival of a new BBC Introducing in Scotland radio show last October. "When you listen to that show, there's a lot more pop, there's a lot more hip-hop, there's a lot of really different stuff going on – on a show that historically could have been a lot more white Scottish 'guitar guy' indie – and by having much more representation, you automatically change the parameters of who wants to be making music in Scotland."
While it likely wasn't easy launching a brand new national radio show during a pandemic, it also wasn't easy to keep venues afloat, especially when a lot of the creative industries were being forgotten about by the government. A successful crowdfunding campaign for Sneaky's meant Stewart was able to pay staff wages. With restrictions in constant flux, and gigs and clubs shut for the foreseeable, he transformed Sneaky's into a late night bar and pizza joint – basically the dive bar of our dreams – with Sneaky's much-loved sticky dancefloor only returning this month. 
But it wasn't as easy for other venues to adapt and find ways to stay open, so Stewart ended up working with the Music Venue Trust to help coordinate funding for Scottish venues during a time of real uncertainty. The Music Venue Trust was originally set up in 2014 in response to the fact venues all over the UK were facing closure as government support has long been missing from the industry. "At the start of the pandemic there were maybe just over 300 members, which was great. There are now over 900 members, and it's really clear that, as everyone had to do in the pandemic in order to get their needs represented, everyone kind of unioned up."
After two rounds of funding via Creative Scotland, the Scottish Government paid out £6.2 million through the Grassroots Music Venues Stabilisation Fund. Stewart enthuses: "Out of 82 grassroots music venues in Scotland, none of them had a permanent closure due to COVID-19, and that's really amazing." He later adds: "It seems like Scottish venues will re-emerge from all this... none are in a more precarious financial position than they were when this started. That's outstanding."
So how does the future of Sneaky Pete's look? "I've got more shows on sale than we've ever had. I've got something like three times the typical advance sales that we normally have." He continues: "Everyone wants to go out to the place they absolutely love and, for us, we've been the first choice for a lot of people because the community is really supportive. I'm so surprised and delighted that we're number one on anyone's list," he gushes, concluding: "My inbox is basically just a bunch of love hearts. It really keeps you going, and it makes us know that as we reopen, people are going to come here and we're definitely gonna survive. That's really cool, I just love that so much."
Edinburgh artist recommendations: Katherine Aly, Super French, Magic Grass, Dahlia, Holy Loaf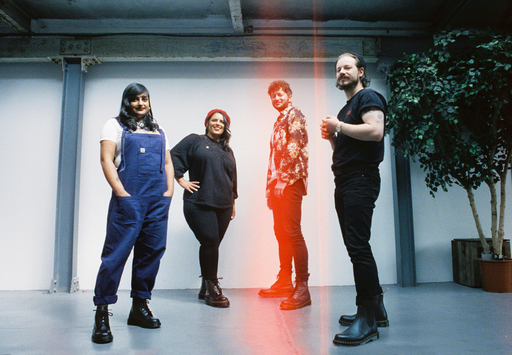 ---
Photos by Marilena Vlachopoulou; thanks to The Pitt, Quality Yard and The Biscuit Factory for providing their spaces for the shoot
Learn more about Dr. Martens' Tough As You initiative at drmartens.com/uk/en_gb/tough-as-you