Death Becomes Them: Frightened Rabbit talk Pedestrian Verse
Frightened Rabbit look poised to take their emotional and anthemic sound to a wider audience with the release of Pedestrian Verse. We caught up with Scott, Grant and Gordon ahead of the impending tumult to talk life, death and the wisdom of Stereophonics
Look back on almost any Frightened Rabbit interview over the past few years and the likelihood of the words 'upward' and 'trajectory' appearing are an odds-on favourite. Now, with the release of fourth album Pedestrian Verse this month, the continuing use of such terms to describe Scotland's worst-kept musical secret will be a dead cert.
Yet, for once, it's more than just well-meaning hyperbole designed to inflate an average bunch of indie hucksters. Frightened Rabbit really have been on an ascent like few others. Their steady, precision-like rise since self-releasing debut album Sing The Greys in 2006 has been a textbook example of progression that is sadly something of a rarity in these make-or-break times.
With an almost clinical efficiency, the expanded quintet signed to Atlantic at the end of 2010 after two lauded albums with Fat Cat Records and now, on the cusp of their major label debut, the resultant buzz surrounding the Selkirk boys is rightly stretching beyond alternative music circles. They saw in the New Year with the BBC's Hogmanay show, lead single The Woodpile is receiving steady mainstream radio play and Sara Cox has become something of an awestruck fan.
It feels like a moment to break out the cigars, yet frontman Scott Hutchison concedes that it took him some time to acknowledge their on-going, slow-burning, sustainable ascent. "We've envied quite a lot of bands who have shot to fame over the years," he explains, mentioning no names. "But I realise now that most of them don't exist anymore. So I'm glad, despite it being through no choice of our own, that it's happened this way."
'This way' has led three-fifths of the band to a fashionable bar just off Edinburgh's Leith Walk where The Skinny meets them amidst a press hoopla ahead of the new album. Joining Scott is brother and drummer Grant Hutchison along with guitar and keys man Gordon Skene. Remaining members Billy Kennedy and Andy Monaghan have taken the day off, we're told, simply because these are the guys who do the talking.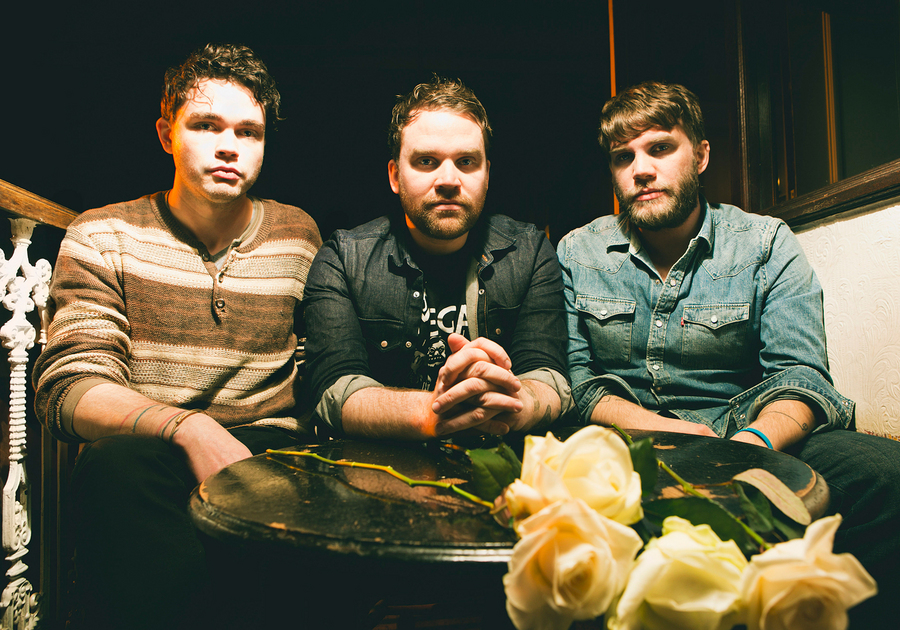 "It's bands like The National and Death Cab For Cutie that we admire," continues Scott on their step up to the big leagues. "Bands who have done the same thing, who have made that step quite naturally and seamlessly and in a way that gains them new fans whilst not alienating the audience they've already built up."
It's a tricky path to tread of course, and even before they recorded a note for Atlantic there was consternation among some of their followers. "I remember a guy on Twitter saying 'Oh well, that's the last time I'll listen to them then'," says Grant of their signing. "That's got nothing to do with how we sound though," reasons Gordon before shrugging it off. "Ahh, if you're going to be a prick about it then I don't want you as a fan!"
Whilst the anonymous Tweeter may indeed be acting in a snobbish manner (to bring some diplomacy to the matter), the major label mis-step is a known occupational hazard with plenty of history. However, in one sense, it's something the Rabbits have already overcome with 2009's The Winter of Mixed Drinks. Though released on independent label Fat Cat, the overall feel of the band's third album was that of a potential mainstream breakthrough, something it achieved as well as such a clipped endeavour could ever hope to.
"Yeah, we were aiming for a major label sound on an indie," agrees Scott. "I mean, is that ever going to work? Not really. I realise that now." However, there are no regrets from anyone involved. "For a lot of people, it was their first Frightened Rabbit record," acknowledges Grant. "Maybe they went to Midnight Organ Fight on the back of that. We're kinda hoping for the same again with Pedestrian Verse."
Scott puts a more amusing spin on their discography: "A friend said that Winter of Mixed Drinks was our Be Here Now," he laughs. "In a way, I can see that because I remember Noel Gallagher talking about putting ninety guitars on one track. We fucking almost went that far and we weren't even taking any cocaine! You could be forgiven for thinking that we were though because it was a wee bit overblown in places."
Well, perhaps, although we still count ourselves as fans of what some felt was a slightly disappointing follow up to 2008's The Midnight Organ Fight (our album of that year, no less). Gordon puts things into perspective though. "As the great Kelly Jones once said, 'you gotta go there to come back,'" he states magnanimously, before questioning himself. "Was that him?" Scott and Grant shrug with amusement. "I don't know either," he counters with mock embarrassment before protesting too much. "I know nothing about Kelly Jones."
The Stereophonics frontman is on the money with this one however. Pedestrian Verse will, whatever else is made of it, be seen as the band taking a well-judged U-turn from the big production values that underpinned their previous record. It's still imbued with the band's anthemic, stirring qualities, only this time they feel they've struck a much better balance between substance and grandeur.
"In the past, we thought the way to write a big record was to make it almost physically bigger," says Grant on Pedestrian Verse's lack of horns, orchestration and general chutzpah. "There are still big moments and choruses but it's more about the subtleties and how to create that within the realm of a big five-piece band." Scott takes up the baton. "It's distilled Frightened Rabbit, to the point that there's no excess," he offers. "It's very pure. It's very... boozy."
With tales of futile drunken arguments (Late March, Death March) and subsequent relationship breakdowns (December's Traditions), Pedestrian Verse certainly shares a common thread with previous albums. However, this time there's a noticeable widening of subject matter, such as opening song Acts of Man, where our narrator takes a cursory and dim view of his fellow brethren. Follow-up Backyard Skulls uses a similarly familiar theme of infidelity but turns its gaze towards the suburban ennui that can predate it.
With over-riding themes of religion and death threaded into broader tales of society, Pedestrian Verse is certainly a more thematically ambitious album than we've previously been presented with. "Death has certainly been in our material before, but maybe less explicitly than it is here," says Scott. "There have been some fairly morbid aspects to my life over the past couple of years, but I've dealt with them head on."
As such, it's still an intensely personal work, played out by the rattling ode to belligerence of Holy or the morbid stadia of Dead Now, a cousin of sorts to Floating in the Forth's suicide fantasy. Overall though, it's something of a fresh lick of paint to the yellowing melodrama that could have engulfed the album's narrative.
"It was just to challenge myself and see if I could actually do it," is Scott's straight answer on why he decided to give his writing style a nudge. "I'd spent so long writing about myself that it had started to feel very indulgent and lazy. I also made a conscious effort not to edit myself this time. I'd felt very exposed by Midnight Organ Fight, so I purposefully diluted and veiled a lot of the material (on Winter of Mixed Drinks) so as not to offend people. But I think one of the things fans really like about us is our honesty and forthrightness. So I made a decision not to edit myself. If I thought it, it went in."
The end result is a sometimes grand, sometimes intimate record that comes across as less self-conscious than previous work, a view that's put to Scott. "I think you're absolutely right," he agrees. "The other albums are a result of me, my ego and the variable sizes of said ego. Now that it's the five of us, it's more of a collective process. There's still a hierarchy, but it's a much more equal playing field. It's completely levelled everything and made nothing precious or sacred. It was basically me admitting that I can't do this on my own anymore."
Thankfully he doesn't have to, letting the capable hands of his four band mates take up any perceived slack. "It sums up what this record's all about," says Grant of the team approach. "We opened it up to the rest of the band and, for me, it sounds like everyone is really getting to do their thing. It was an important factor so that the first Frightened Rabbit record on Atlantic was as good as it could be." Scott is understandably quick to agree. "Making the best record you can is the goal. It's always got to be the goal."
With that being the case, Pedestrian Verse is Frightened Rabbit scoring a blinder.
Read Scott's track-by-track guide to Pedestrian Verse here.
Pedestrian Verse is released via Atlantic Records on 4 Feb. The band play in-stores at FOPP, Glasgow (Union Street) on 4 Feb and HMV Princes Street on 5 Feb before touring The Picturehouse, Edinburgh on 26 Feb; The Music Hall, Aberdeen on 27 Feb and Barrowland, Glasgow on 28 Feb.
http://www.frightenedrabbit.com