Timeless Melody: Blossoms on their debut album
Stockport's Blossoms are a guitar band in the classic British mould, with a hard-touring work ethic that's won them the adoration of millennials and Britpop survivors alike. Frontman Tom Ogden tells us more ahead of their debut album
Blossoms are moving, and fast. Three years of touring and dropping singles has built up to this point, the release of their self-titled debut album. Hometowns have always possessed a certain terroir for bands, from Springsteen's romanticised Asbury Park imagery to Black Sabbath's industrially Brummie brand of metal. It's an incredibly unscientific observation, but a valid one nonetheless. 
Comprising five working class mates from Stockport, Blossoms hail from one of the less trendy Greater Manchester towns, one not exactly known for its musical alumni. Despite this, they've been embraced by Manchester's old guard and have subsequently found favour amongst Mancunians and Britpop lovers alike.
But despite a heavy geographical association, Blossoms' self-titled first album is musically accomplished, nuanced and although a little blunt at times, the work of a mature and confident band. As frontman Tom Ogden tells us, they've got their eyes on a long, successful career, and have started as they mean to go on.
On making their debut…
We wanted it to be an album of relentless pop songs, which is what we're into. We used to rehearse in a scaffolding yard (in Stockport) and we'd try songs out there, whereas with the second half of the album we haven't had time to do that as we've been touring, so we just built it in the studio from scratch. Half of it is singles we've already released and then the second half is brand new songs that were crafted in the studio.
To me the album says, 'Here are five lads who've crated something that will stand up there with great albums that have gone before it.' We're an all-out guitar/synth pop band and we want to be around for a long time, we think it's a timeless album.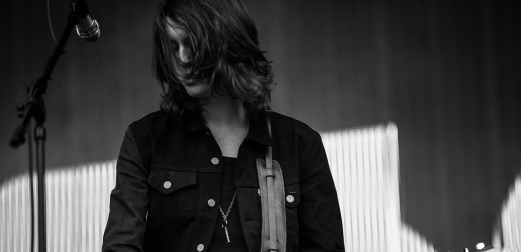 Blossoms' Tom Ogden, photo: Amy Muir
On their audience…
We always wanted our music to be catchy but it's not just designed for young people. We have a vast audience, which is reflected at our live gigs, and that's how you become a big band – by appealing to all ages. Towards the end of the album there's a bit more extended jamming which we improvised in the studio.
We have released a lot of singles in the build up to the album but I think a lot of bands do that now. Everything is so accessible online and so people are thirsty for more and more – I don't think it'll affect them actually getting the record and enjoying it. There's some tracks we've held back from the record; we think Honey Sweet could be a big single, it's a real euphoric pop tune.
On the last great Manchester band…
Probably The Courteeners. Just look at the crowd they have in Manchester – it's like a football team. Ten years before, that would have been Oasis. There's something about the bands Manchester produces that you can't put into words. It's like there's a romanticism that gives rise to uplifting but melancholic music, which ultimately brings people together. I can't put it into words but there must be something to produce such a roster of bands.
Oasis came from a working class background like us, but I think it's harder these days to get your break. We didn't start the band as a career choice, we just did it because there was nothing else to do. That's we why connect with fans, because our story and songs are real. 
(Continues below)
---
---
On returning to Stockport for their album launch… 
We've always been proud of coming from Stockport, it's a proper homecoming and no one we know has done a big gig at the Plaza Theatre. We love where we're from and, as we know that not much is happening on the music scene, I hope we can inspire the younger bands and bring something back to the area.
On 90s nostalgia…
I don't think we have a problem with nostalgia. We've seen bands like Oasis in huge arenas because they mean that much to you, they're more than just a band. It sets them apart from the many other bands who don't resonate in the same way. You can't fault someone for becoming that popular, that's what we aspire to – to mean that much to people.
On writing songs for people's first break-ups…
A lot of people who have heard the singles have tweeted us that our songs have helped them through rough times, and that's exactly what we wanted the songs to do. It's coming from an honest place, a lot of the stuff I sing about happened to me. When someone puts their feelings on the line you can't deny it. It makes you feel better to write a song about a break-up and know that people are relating to it; not every band gets that. To me it proves we're already appealing to people on a different level. 
On wearing your heart on your sleeve…
[Previous single] Charlemagne was one of the early ones, perhaps before I was being so open and honest. I used to try and disguise themes more using metaphor, but Charlemagne is still from that background of longing for something you can't have – in that case, putting someone on a pedestal and worshipping them.
And then you've got songs like Honey Sweet and Getaway which are word-for-word experiences. Charlemagne is trying to be a little more clever, I was channeling a feeling rather than retelling a story. I look to Alex Turner and the way he writes songs; mixing the blunt with the metaphorical.
On not just writing pop songs…
The best bands evolve. We don't want to put out the same album – we don't want to go heavy metal on the next one, but we just want to progress like the Arctic Monkeys did. For us it could be a breakthrough in a keyboard sound or something completely new; that freedom is what makes being in a band exciting.
You have to hone your craft, I don't think you can just decide you're going to write songs one day. I've been writing since I was 15 (now 23), I've only just become really good at it in the last few years. I see myself as a songwriter, I'm good at that. I used to work behind a bar at a hotel and I was shit at that, really shit. I'm much better doing this.
On guitar music and its critics…
It never goes away, it just takes a while for great bands to come around. There are so many average ones; it's so easy to say you're in a band on the internet these days, it's polluted – you need to listen for the great ones and hope they get their break. 
On being named after a Stockport pub…
Blossoms stuck out as a great name, I don't think it would be the same if we were called The Magnet [a craft beer pub in Stockport]. We're just lager boys; we're not into trying all the ales! Who knows, we might indulge with age. There's some talks about a Blossoms beer but it isn't confirmed – obviously it'd be from Stockport's own Robinsons brewery.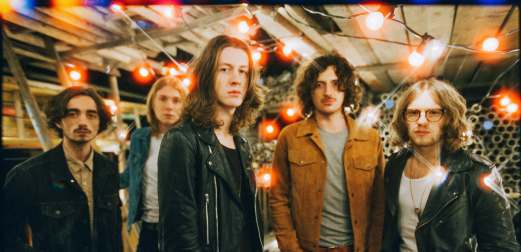 Blossoms
On older influences…
That 1970/80s disco thing is a big influence, especially on Charlie, our bass player. The rhythym section is very groove-focused in that respect. We're massive on the GTA: Vice City soundtrack – that's where we got a lot of our 80s influences from. 
On growing up with illegal downloading…
You've got to accept it. If people torrent [the album], they'll probably buy a ticket to your gig and that costs more; you have to see the bigger picture. We'd rather you buy it, of course, but we've all done the same thing.
---
Blossoms is released via EMI on 5 Aug. Blossoms play Stockport Theatre on 5 Aug; Manchester Gorilla on 7 Aug; Glasgow O2 ABC on 1 Oct, Leeds Beckett Students' Union on 5 Aug and Manchester Academy on 30 Sep.