Bigger than Hip-hop: BadBadNotGood meet Ghostface Killah on Sour Soul
The eclectic Toronto trio on confronting genre and collaborating with The Wallabee Champ
Over a crackly Skype call to Toronto, it doesn't take long in conversation with Canadian trio BADBADNOTGOOD to establish that their unreal genre-bending is supremely difficult to put into words. The band consists of three academically trained jazz musicians: Matt Tavares, Chester Hansen and Alex Sowinski on keys, bass and drums respectively – so far, so straightforward? You'd think so, but their line of trade is hip-hop. They're probably the only band ever to play both the Edinburgh Jazz Festival and buzz-band showcase SXSW in the same year, and this contrast goes a small way to mark out the musical boundaries they take a swing at. 

Matt explains, "It's when you're touring and you tell a random person, 'Oh, I play music,' and they ask what it sounds like. I feel that we never know what to say." Chester agrees, "A lot of times you say, 'Oh, jazz-hip hop, or jazz-fusion,' but the thing is that the imagination could assume something totally different."
"Exactly," says Matt. "Because our ideas go through phases of what we're listening to, or what's inspiring us. Like, currently right now we're on some kind of more... jazzy... feelings, I don't know?" Chester finishes, "But we're hoping that people don't assume things or put stipulation on what our music sounds like. We're just hoping that we can give good light to the ideas we're trying to create, you know?"
---
"Ghostface is a pretty extensive character" – Alex Sowinski
---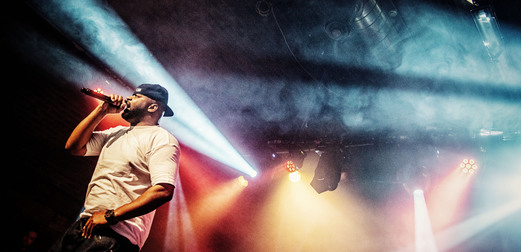 The three met on the Humber College jazz programme, and – now, infamously – played a reinvention of tracks by controversial hip-hop collective Odd Future for their final assessment. It didn't go down at all well with the academic examiners, perhaps unsurprisingly. However, in a kind of rags-to-riches, 0 to 100 style tale, Odd Future's Tyler, the Creator found their session on YouTube and freaked out.
After the heavy endorsement from OF that followed, the trio garnered an impossible string of namechecks: a booking as Coachella's 'house band' culminated in their stepping up to back Frank Ocean on the main stage, and last year's SXSW saw them perform a live showcase with Tyler himself. Off stage, their production credits include tracks on Earl Sweatshirt's Doris and Danny Brown's Old, as well as some sickeningly brilliant remixes of artists as diverse as Soulja Boy and Future Islands. Subsequent studio albums saw the band reinvent classic tracks from the likes of Kanye, James Blake and Feist amongst a whole pick'n'mix of others, and last year's III was their first full-length release containing all-original material.

But now, in the biggest coup of their career to date, they've pinned down Wu-Tang legend Ghostface Killah for a full-album collaboration. The astonishing result is their fourth LP, Sour Soul. It's a mammoth project that's taken three years to see fruition, one that sparked from a meeting with mythic producer Frank Dukes. "It just happened so early on in our evolution that it seems like… yeah, crazy. We'd barely played any shows when we first started working on it," reflects Chester. After spending years reimagining seminal rap tracks, the adrenaline involved in writing for and with a figure like Ghost was monumental: "Surreal. I remember the first time we got the emails, with some rough ideas he'd brought back, and some first verses on some stuff. I was like, 'Holy shit.' We've got Ghostface rapping. It's insane. The feeling was real, like… fuzzy," says Alex, bashful.

Sour Soul is vast; brooding, cinematic, urgent, and arresting. BADBADNOTGOOD have crafted an impossibly detailed backdrop that's one minute pin-point-precise and the other loose, vulgar and threatening. Ghost sparks off the vibe they establish, drawing material from his life ("he's a pretty extensive character," says Alex) to build a near-symbiotic relationship between music and lyric, jazz and rap. It's dangerous to present these two genres as binary, though; the band talk about how, during the album's conception, they weren't sure if it would turn out as a "rap album" or something other. On reflection, it definitely falls into the latter camp: while their unique jazz-informed but hip-hop biased beats lay the foundations, they far from fade into the background.
It's extra impressive because, while Ghost features on near every track, he's not the only heavyweight name BADBADNOTGOOD are dropping here: Danny Brown takes a verse on the acerbic Six Degrees and cult artist DOOM weighs in on Ray Gun's film-noir underworld, alongside cameos from Chicago rapper Tree and Elzhi of Slum Village. BBNG carve a unique space for themselves within the album.
For reference, try the last one minute of Ray Gun: out of left field shoots 60 seconds of swaggering bass and leering horn that adds a whole new context to the track you've just heard. The three describe these unexpected extras as last minute additions, but vital to the coherence of the album's concept of fusion: it creates a flow in which tracks like the fully instrumental mid-album gem Stark's Reality feel right at home. Sour Soul is a complex beast, but far from a difficult listen. Six Degrees and closer Experience could come from albums worlds apart, but the talent's in the storytelling and, in BBNG's context, they make total sense. 
The whole project took three years, start to finish, and saw the band embark on a sharp learning curve. Matt explains, "We were learning so much while we were doing it that we'd write a track, go back and forth, send it to Ghost or something, and then come back three or four months later and be like, 'Woah, we can do that so much better now.' And then do that times ten, you know? I mean, we were even working on it a month ago. The record had to be re-cut super last minute because we just wanted to add some last sprinkles." 
The band used two studios, starting out in Brooklyn's Dunham Records Studio alongside the Menahan Street Band, and then they took what they'd learned back to Toronto, to work in the brand new studio they've built with Dukes. They laugh when they talk of first day nerves, as Alex describes: "We'd go from just chilling and working, no pressure, and then to actually have to record it and do a proper take – that's when the pressure gets you, you're like... man, I'm doing the same thing that these incredible musicians you look up to do all the time, and they kill it. So, we'd better kill it."
Dunham Studios had an incredibly formative influence on the album's conception, too: "It's all analogue, it's all this crazy old vintage shit. The whole vibe of the studio is insane. Even being there is almost a time warp," enthuses Matt. Alex leaps in to agree, "Yeah, using that studio had a certain sound, and that really really works in trying to create a unique, and fresh kind of sounding template for Ghost to write and record to, but still keeping it within the kind of soul realm. And finding, you know, cool ways to psych it out... or maybe go in a jazzier direction, or a synth-y kind of thing, freak it out, whatever."
Really, the easiest way to describe BADBADNOTGOOD is as straight-up imagination. To some, they're breaking boundaries that shouldn't be broached, and to others, they're sparking ideas for how these projects can be pushed further still.  As Chester puts it, "It's like, anything can be jazz, you know. To quote Matt, 'Jazz is more like an approach to music.'" Matt interrupts, "Er, that'll be a hundred bucks for the quote…"
"But it's just about the spirit of improvisation," insists Chester. "And going with the music, and like, I... I dunno. It's actually pretty hard to explain. Sometimes people don't enjoy how we play music, in the jazz realm. They think that it's not jazz? But we try not to focus on that stuff too much, because at the end of the day we're just trying to do our thing and enjoy what we can do. Sometimes what you're trying to do doesn't really translate to somebody else, and if that's the case then... it's all good."