20 Years of Sleaze
Raising a glass to the health of a Scottish institution, this month we join a few famous patrons in celebrating two colourful decades of Nice'n'Sleazy
When Nice'n'Sleazy first opened its doors, Sauchiehall Street looked rather different: The Garage was yet to set up shop across the road, the CCA was a year away, while ABC was still a cinema (fancy that). Twenty years later, and the shabby-chic saloon has come to inhabit a significant role in Glasgow's alt-music scene.
Paul Thomson (The Yummy Fur/Franz Ferdinand) is one of several regulars happy to dispense memories of the bar's formative years: "I've been coming to Sleazys since I was seventeen, which is about eighteen years ago. I went to see AC Acoustics, and John Peel was there too. I'd only recently started listening to Peel as he played a lot of hardcore, like Napalm Death and Extreme Noise Terror, and through his shows discovered The Fall, the Wedding Present, Captain Beefheart, King Tubby and hunners of other artists that never really fit into what was fashionable at the time. In a way Sleazys has always been that way – venues and bars come and go, but Sleazys continues, and hopefully will for another twenty years."
Aidan Moffat shares Thomson's appreciation of the Sauchiehall mainstay. "I've been going the full twenty years!  I used to come through from Falkirk and we'd go there and get drunk before we went to the Art School and got drunker." Any particular nights that stand out? "I remember being woken up on a downstairs couch by the cleaner one morning, and being very surprised she knew my name. Couldn't tell you what happened the night before though…" Foggy memories are a recurring theme ("and now it's open till 3am, things are even hazier," rues Mogwai's Stuart Braithwaite), but some nights are evidently too eventful to slip the mind. "Our first gig was in there," recalls Andy Wake of The Phantom Band. "We had bits of exercise equipment on stage with us for audience members to work out on, plus the smoke-breathing bat-wolf thing we used to take everywhere. We didn't really have songs to speak of, so we were mostly improvising and having a hoot. It was rammed and stupid, and it's been all downhill from there."
Now that it's reached the venerable age of twenty, the venue is taking stock via the age-old method of A Massive Party, with a month-long shindig boasting a pretty fly line-up of gigs. Talking it over with programmer Fielding Hope, the roster seems deliberately designed to cover all bases. Firmly un-run-of-the-mill touring acts? Acid Mothers Temple will be over from Japan (9 Nov). Secret shows from big names? Yep, but don't expect to learn their identities here ("I'm not allowed to tell a single soul, or the world might turn on its head…" Hope protests when pushed for clues). A who's who of current Scottish talent? Take your pick from Meursault (10 Nov), United Fruit (12 Nov), The Twilight Sad (18 Nov), John Knox Sex Club (19 Nov), Django Django (26 Nov), FOUND (30 Nov), and dozens of others. "Yeah, there's a real variety of stuff – we've tried to get a lot of Scottish representation, both fresh acts and some of the bands that have been associated with Sleazys in the past. I think the result reflects the bar's open-minded programming over the years."
It's that open-mindedness that presumably led to twenty-three year old Hope's appointment in the first place; twenty years in, Nice'n'Sleazy can hardly be accused of fossilising when its gigs are booked by a guy who'd likely have been more interested in Teenage Mutant Ninja Turtles than Teenage Fanclub when the first pints were pulled. "I've been doing Sleazys for about a year," he explains. "I'd put on Cry Parrot shows here, and I was just asked to take it on really. I think they wanted to get that feeling back that Sleazys is an important venue. There's a sense that, with the Captain's Rest, PCL have a big stronghold over bookings, King Tut's have a stronghold over bookings, plus there're new venues opening all the time. I think some people forgot that there is a venue downstairs because it's always so busy upstairs – which is fantastic, don't get me wrong – but we wanted to make sure that when people come in for a drink, they're checking the gig listings as well."
Not that the bar's basement stage is the only place to spot bands and artists; over the years, Sleazys has developed a reputation for attracting famous punters. "I think the obvious regulars are Aidan Moffat and Mogwai," Hope suggests, but locals are only part of the picture. "Touring bands playing the Barrowlands or ABC tend to drop in after – when Sonic Youth played Daydream Nation, they came by." Any others that have made a particularly strong impression? "Loads: Pavement, Elliot Smith, Animal Collective… more recently, John Maus, but he got chucked out. Elliot Smith got chucked out as well actually." The Skinny suggests Brett and Jemaine from Flight of the Conchords as a personal favourite. "Yeah, it's a never-ending list. Lou Barlow as well – he did a residency here a while ago. He spent three days doing sold-out gigs, so Lou's got his place in Sleazy history as well."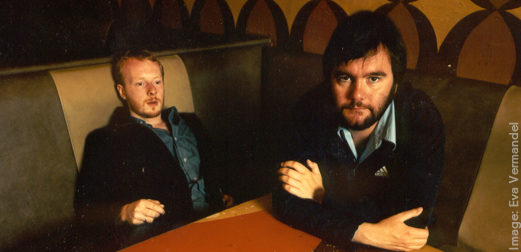 • Arab Strap pictured at Nice'n'Sleazy in 1999
Ask around, and the bar's appeal seems obvious. "It just has a good atmosphere, every night of the week," offers Malcolm Middleton. "A lot of this is probably down to [long-term music programmer] Mig's choice of bands over the years; the whole aura of the pub has soaked them up." Then there's its diverse roster of club nights, encompassing tastes from rockabilly to post-dubstep (full disclosure: this writer runs another of its clubs – Bottle Rocket, since you asked). "The DJs know they can get away with anything," Hope laughs, "and they generally do. Some people expect it to be exclusively indie music I guess, but we don't want to rest comfortably within that bracket. It's got to be, well, challenging isn't quite the right word, because you don't want it to be pretentious, you want it to be fun, but it's got to be slightly alternative." For Wake, who DJs the Hot Club as Nobodaddy, it's a long-term commitment. "If I'm lucky enough to be there for the fortieth anniversary, I'll probably be behind the decks playing the same shite records as I do now," he ponders."Otherwise, I'll be above the bar in an urn, sat next to that cuddly rat thing."
In light of recent events, talk of cremation is perhaps a sore subject. Earlier this year, a fire broke out in neighbouring restaurant Steak and Cherry; surrounding businesses were evacuated, and many (including Sleazys) stayed closed for days as safety inspectors gauged the structural damage. For an agonising moment, a twentieth anniversary seemed far from guaranteed, never mind a fortieth. "We were very concerned at first, but I think it was only one week we were actually closed," Hope notes. "It was obviously a big concern at the time, but we were very lucky."
Indeed. So, barring any acts of God, Nice'n'Sleazy have November all sewn up. Of course, just because it's your birthday doesn't mean everyone has to be nice to you, though when asked what changes they'd welcome in the bar's twenty-first year, the proposals are mild (Malcolm would like Munich Red or Bitburger on tap; Sierra Nevada for Stuart – oh and, James requests Abba in the jukebox, cheers). So we'll leave the final words to the infinitely-wise Aidan Moffat, when asked what he'd scribble in their suggestions box: 'You don't need advice from me'. True, that.
---
Sleazy Does It: A few notable regulars explain the venue's timeless appeal
Malcolm Middleton
We're toastin the occasion – what's your beverage?
A White Russian please. I usually move onto these when I've had too much beer. Which probably isn't a good thing.
Here's a quid – what's going on the jukebox?
Sonic Youth – Shadow of a Doubt, and maybe some Twilight Sad.
Best gig (as either performer or punter?
Viva Stereo, 15th Feb 2002. I nearly met my wife.
Describe Sleazys in five words…
Safe. Friendly. Aidan. Comfortable. Hangover.
Paul Thomson (Franz Ferdinand)

What are you drinking?
Maker's Mark and Coke please. If it's after 1am and I'm still drinking, I'll have a Jaeger with that.
What's going on the jukebox?
I'd probably stick on Mogwai Fear Satan – that loud bit always catches me off-guard.
Best gig?
Recently, Thee Oh Sees tore the place apart. Franz Ferdinand played there the weekend we got signed, at one of the 16 band bills where you got to play for 15 minutes for a case of beer. They were always pretty messy with just the right amount of band rivalry, all good fun.
Sleazys in five-words?
Does it does it everytime. Sorry, that was terrible.
Andy Wake (The Phantom Band)

What are you drinking?
Wouldn't normally be my tipple, but I'll have a tumbler of tonic (Buckfast).
 What's going on the jukebox?
Sometimes I am the fucking jukebox, so can I just keep the pound and stick on The Stooges? If it has to be in the jukebox then maybe Take a Worm for a Walk Week, but only since it's your quid – mine's going in the arcade machine. The jukebox is brilliant, but I'm scared to check what's there in case anyone thinks I'm just checking that The Phantom Band albums are still in there. They better be…
Best gig?
One that sticks in my mind is when Triple School played at the Hot Club birthday party a few years back. I'd never seen the place so packed – the door staff said it was the biggest number of turn-aways they'd had to do since the pub started staying open late, so that was a nice accolade.
Sleazys in five words?
It has ruined my life.
Aidan Moffat
What are you drinking?
I usually have a pint of Heineken, but if you're paying then I'll have one of those expensive cherry beers.
What's going on the jukebox?
How much does a pound get you? I haven't looked at the jukebox for years – I never have to, there's always something good on without my input. Although when one of my own tunes pops up, I still get a bit embarrassed. That's if I even recognise it, mind you.
Best gig?
Seeing Mogwai there was good, but my favourite would have to be the Arab Strap Acoustic Request Show we did. We enjoyed it so much we put it out as an album! I hosted a karaoke night downstairs once too, which was good fun but I ended up singing most of the songs myself.
Sleazys in five words?
Very, very difficult to leave.
Stuart Braithwaite (Mogwai)

What are you drinking?
Now, Brooklyn lager. Twenty years ago, whatever was cheapest and least likely to draw attention to the fact I was under age.
 What's going on the jukebox?
Mudhoney, if I think.
Best gig?
I recall a show with Bis, Yummy Fur, The Delgados and Spare Snare. Amazing!
Sleazys in five words?
Ned free pub Sauchiehall Street.
James Graham (The Twilight Sad)

What are you drinking?
I'll have a buckaroo and a pint of cider. Since you're buying I'll also have one of those £2 White Russians. Cheers and that. 
What's going on the jukebox?
Probably put us on as I would get some PRS money. In all seriousness I'd choose the usual suspects: Mogwai, Arab Strap, Errors, Phantom Band, Frightened Rabbit, Pixies, Remember Remember, Desalvo, Pixies, The Smiths, Take a Worm for a Walk Week and Rihanna.
Best gig?
I've been to loads but cannae remember any.
Sleazys in five words…
Biggest fun in a million years! That's six words though…
Arab Strap will reunite as 'William Harness' to play a special one-off set to celebrate the venue's 20th anniversary on 17 November. Check our listings for a full guide to the gig and club nights planned at Nice'n'Sleazy throughout the month.
http://www.nicensleazy.com