Queer histories & futures: SQIFF's Trans-Generational Tour
Filmmaker Maili Fraser and programmer Indigo Korres discuss Scottish Queer International Film Festival's new touring programme, the Trans-generational Tour
The Skinny Zap is levelling up! Every month, as well as the usual weekly events round-ups, we're sending out a subscriber-exclusive essay or interview. Expect shenanigans, musings, and the usual best of local arts and culture straight to your inbox – sign up to the Zap! here to get them all straight to your inbox. 
This month, film critic and The Skinny writer Xuanlin Tham chats to SQIFF programmer Indigo Korres and filmmaker Maili Fraser about SQIFF's ongoing Trans-Generational Tour.
---
We need a world where trans people not only survive, but thrive: we need to see our trans siblings laughing, arguing, having children, getting old, basking in long and beautiful lives. To do that, we have to be able to visualise what that's looked like for our elders, and imagine the softer, stronger futures we can collectively build for generations to come.
I feel very lucky to chat with two beloved people, Indigo Korres and Maili Fraser, about the Scottish Queer International Film Festival and its Trans-Generational Tour, a programme of trans films traveling to six cities in Scotland from April to June: Glasgow, Inverness, Stirling, Hawick, Dundee, and Stornoway. In the spirit of the tour's loving creation of space for trans dialogue, here is Indigo, SQIFF's programmer, and filmmaker and artist Maili Fraser, a panelist at the Trans-Generational Tour's stop in Inverness, in conversation about the programme – and in imagined conversation with some of the people in the films.

Xuanlin Tham: I feel like I'm just getting to chat to my friends, which is so nice. If you could ask each other a question about the tour, what would it be?
Maili Fraser: Would you like me to start, Indigo? I have questions for you!
Indigo Korres: Go on!
Fraser: What did you decide to do first – tour SQIFF's program across Scotland, or were you thinking "we want to do a trans programme", and then thought, "we could take it everywhere"?
Korres: I was talking to a friend about The Tartan Skirt, a magazine that we used to have in Scotland in the nineties: that was the way that transfeminine people mostly used to communicate at that time. I think the magazine was based in Inverness. Then, when I watched Framing Agnes, I was like, "this makes total sense": looking at archival materials at UCLA about trans people in the sixties, and then in the nineties, all over Scotland. We were just gonna tour Framing Agnes, but then we got a bit more funding and we decided to do three [things in the] programme instead, focusing on trans intergenerational stories. How did you find watching Framing Agnes and hosting the panel?
Fraser: I really, really liked the film, both from a trans history point of view, but also how it's not really a documentary film – recreating archive is a specific thing that's hard to box into one genre. I was delighted to have been asked to do that panel. It felt really special – there's never been a whole weekend of trans cinema before at Eden Court. When I was growing up in Inverness, there was nothing I knew of, or anywhere to go, or any people to talk to. To have a whole weekend like this – it's really important, especially for the young people there, to know that community is there for them.
What do you think the importance of intergenerational storytelling is for trans people?
Korres: We've literally learned everything that we know from our elders. I have loads of people that I look up to from the community. We can create a conversation through the tour between younger and older trans people, to discuss what is happening in their own towns, and how they can get to know each other better.
All the films on the tour were made by trans people, or in collaboration with the trans community. Most mainstream media we watch – which has representation, but lacks understanding of trans people – is made by cis people, and those are the projects that are usually funded. Bringing smaller projects, with smaller budgets, made by trans people, to different settings around Scotland was really important.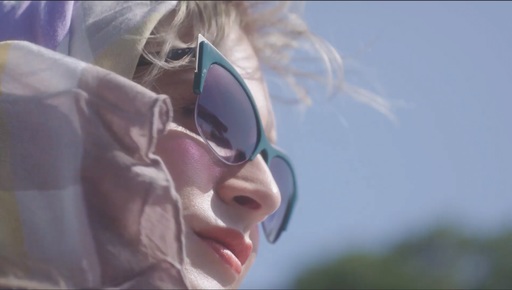 I'd love to hear about Framing Agnes, the first film in the programme.
Korres: The filmmaker, Chase Joynt, made a short film in 2019 of Framing Agnes that we screened at SQIFF at that time. He found these papers from the gender health research in the sixties at UCLA and he thought it was important to tell the story of Agnes: kind of a cult figure for the trans community. And he found other participants of the research that he could give voice to.
In Framing Agnes, he gets trans actors to recreate talk show interviews, which is where most trans people found out about trans people in the eighties and seventies. It gives voice to many people that we wouldn't have heard about before.
If you could talk to Agnes, what would you say to her or what would you imagine that conversation might be like?
Korres: Agnes is this big figure for the trans community because she went to the UCLA Gender Clinic and said that she'd started developing breasts, and said that she was intersex. That's how she was able to get bottom surgery. She came back years later to tell them that actually she was taking hormones – her mom's pills – and she is trans, and that they wouldn't have given her bottom surgery if she hadn't lied. She kind of disappeared after that, and that's why she became like this big figure for the trans community. Like, "fuck the system, I'm gonna do it my way." I'd like to know how her life was afterwards. I'd love to have met her, if I lived at that time.
Sometimes I feel like stories about trans people tend to focus on the moment of transition, but we don't really have lots of stories about trans people getting old. When you said you'd like to have spent more time with her, that's really moving – I think it's about trying to remember her in a way that isn't just what she's been canonised for. She's a full person even after that. What intergenerational knowledge do you feel Agnes has shared with you?
Fraser: For me, it's not specifically Agnes, but like all of the women in the film, sharing the importance of being documented as part of history. Like you said, Indigo, we wouldn't know about them if they weren't part of this film. The line that really stuck out for me – they basically ask, "whose stories are not being told, and who's missing?" There will be so many that we don't know. That was the thing that stuck out for me most. Safeguarding that knowledge for the future.
In that vein, tell me about Sediments, the second film in the programme!
Fraser: Sediments is a documentary about six trans women in the north of Spain. It's an observational documentary following them throughout a period of time they have, staying together in a house, and the conversations they have. Some are very profound, and some of them are just arguing over tiny things. It's about their relationships to each other, their transitions, and their lives.
Why is it called Sediments?
Korres: There's one part where they're looking at the mountains in Spain, and there's various sediments to the rocks. Different layers of being. I think that's why.
That's beautiful. Trans mountains.
Korres: Exactly!
All mountains are trans! One event that Sediments is centered around is the birthday of one of the women, Magdalena. If you were at that party, what would you want to say to Magdalena?
Korres: At the end of the film, Magdalena tells everyone that she's moving back to her rural community. I think I would say to her that I hope she has a lovely time there – and that I would love to visit and be part of that. I feel like we see lots of trans people in big cities, so it's really nice seeing trans people in rural communities.
Fraser: That was a big moment for her: to make that decision and tell the others, "I will miss you so much, but I'm doing this for me. I want to be back with my family and the place that I grew up in."
Korres: It ties in so well with the tour: coming to rural areas and showing that there are trans people in rural areas. We're not just in the big cities. I hope one day I'll move to a rural area: maybe the Highlands! Or I don't know, in Brazil. We'll see.
I see that for you!
Korres: A little cottagecore!
I'd love to hear about the three short films in the Trans Parenting programme.
Korres: I watched M(other)hood last year, directed by Bea Goddard, who studied in Edinburgh, and made this film with Jack [the subject of the film]. This is not in the film, but they would go on walks together during the pandemic and talk about trans stuff. And then Bea decided to make their film for uni about Jack having top surgery. I love this film. It's experimental in some ways: they give the camera to the kids to film how they see Jack. I was like, I need this in the program because it's something we don't see very often – trans people being parents.
Then I found this film [Trans Parenting] by Rémy [Huberdeau], and what I liked about it is that it showed loads of trans people being parents in the early 2010s in Canada – and then we have that comparison to M(other)hood showing a trans parent in the UK. Flash Flood is an animation, and it focused on three trans people finding each other after a big flood and creating a found family. I wanted this program to be 12+, so younger people would be able to come with their parents.
If you could have a conversation with someone from these short films, what would you say to them?
Korres: I would love to talk to this Black transmasc couple that have a baby in Trans Parenting. I would love to know what has changed since then for them: and if they had another baby! I would love to talk to trans parents, because one day I would love to be one.
That's beautiful. We've got your life planned out. You're gonna move to the mountains, you're gonna be a cottagecore parent. Love that.
---
SQIFF's Trans-Generational Tour, DCA, Dundee on 26-27 May; An Lanntair, Stornaway on 16 Jun