A fairer Edinburgh Fringe is still possible
As the Edinburgh Festival Fringe returns to in-person venues for the first time in two years, we assess the festival's past problems, whether anything has changed, and what a fairer Fringe could look like in the future
The fact that Edinburgh – a tiny, old, beautiful, ramshackle and cobblestoned city – hosts the world's largest arts festival is incredible to me. Every August the streets hum with the opportunity to experience something brilliant at the Edinburgh Festival Fringe with an estimated five million attendees taking in shows across the city. The economic boom to Edinburgh businesses, as well as Scotland as a whole, is huge. But this festival was not without its problems, long before COVID-19 forced the Fringe and Edinburgh's other August arts festivals to screech to a halt.
In 2017 an organisation called Fair Fringe was founded, which sought to tackle exploitative and illegal working practices at the Edinburgh Festival Fringe. For three years running they unearthed major Fringe venues hiring unpaid staff and housing them in unsafe buildings, crammed into tiny rooms. These unpaid workers were expected to put in gruelling hours of work all in the name of 'gaining experience'. If venues did pay staff, it was often below the minimum living wage despite Edinburgh being one of the most expensive cities in the UK to live in.
Workers talked about feeling unsafe, exhausted and about how their experiences of the festival damaged both their mental and physical health. Of course, these jobs perpetuate inequalities within the arts as only those who are financially stable enough to take up unpaid work can comfortably take these positions. Those from low-income households – particularly women, disabled people and BIPOC+ people – are left behind, unless of course they are just so desperate that they take up any work they can get. 
It's not just workers' rights that have been continuously ignored at the festival. BIPOC+ representation has remained a largely ignored subject. Travis Alabanza wrote about their time at Edinburgh Festival Fringe in 2019 saying: "Spending a month in Edinburgh with the trials of doing daily shows, press, reviews, late nights, it wasn't my work that exhausted me, rather the elongated feeling of not seeing others that look like you occupy public space." Alabanza isn't alone in recognising the paucity of BIPOC+ representation at the festival. In 2018 Fringe of Colour was founded in response to the lack of shows by Black people and people of colour programmed at the Fringe.
During the last "normal" Fringe in 2019, accounts emerged from women claiming they had experienced sexual harassment during the festival. From flyering for their shows, working front of house for a temporary venue, or even on stage, women were experiencing rampant sexual harassment. Most worrying of all perhaps were accounts of women living in temporary accommodation housed by their "employers" with tens of other people, feeling unsafe to even climb into bed at the end of an exhausting shift.
What happens at the Edinburgh Festival Fringe is a concentrated version of the performing arts; the opportunities to see and experience incredible things are more intense, but so too are the racism and sexism which thrive within the performing arts sector. Take ten years' worth of shows and cram them all into one tiny city over just four weeks and of course these extreme circumstances will breed extreme inequalities.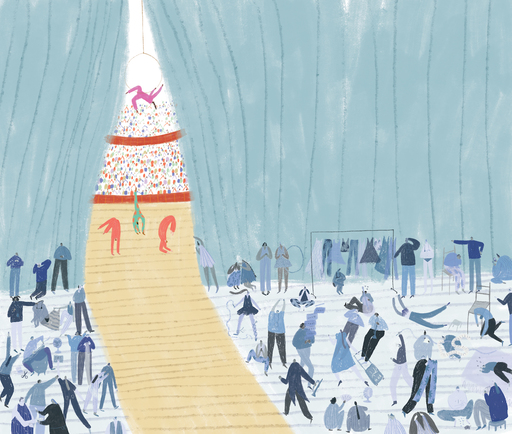 Sustainability, too, is something that the August festivals have largely failed to account for. Due to the sheer number of people attending the Fringe, Edinburgh International Festival, Edinburgh International Book Festival and Edinburgh Art Festival, Edinburgh's carbon footprint in August is immeasurably large. If you've ever wandered the streets of Edinburgh in August you'll have experienced just how overwhelming the sheer volume of abandoned, littered stuff is. Performers are often encouraged to print around 4,000 paper flyers for a month-long show at the festival. If all 3,800 shows registered with the Edinburgh Festival Fringe in 2019 took that advice, over 15 million flyers would have been produced, distributed and tossed away. Waste from food trucks, posters, all of those plastic cups, the energy needed for temporary streetlights, bar fridges and sound systems as well as an increased number of cars and taxis – the list is endless and it all adds up.
The strain the city feels, not just from the pollution, but from having to house literally millions of temporary visitors every year, is felt by everyone in the city. One in six homes in the centre of Edinburgh is an Airbnb, with thousands of empty flats in the city only used for short term holiday lets. The city has almost 3,000 families (and 12,000 individuals) waiting for appropriate council houses which are simply not available despite almost twice that number of homes sitting empty most of the year. Rent has increased by a breathtaking 42% in just eight years, almost double that of the UK average. Affordable housing in the capital has been described by the Edinburgh Poverty Commission as "the single most important factor in reducing poverty." It's desperately needed.
In their manifesto Edinburgh Reimagined: The Future Will Be Localised, inspired by conversations with Edinburgh's cultural sector and published in April 2021, Morvern Cunningham notes how the mantra "build back better" prevailed during lockdown. Over the last year, cultural leaders have been forced to examine their own privilege as Black Lives Matter publicly exposed the institutional racism looming within organisations, stories of gender-based violence unfolded as the trial of Scottish actor Kevin Guthrie reignited discussions around women's safety within the performing arts, and the brunt of a global pandemic was felt most by BIPOC+ people, women, people with disabilities and those from low-income households. Inequalities were growing and much of the dialogue around the arts, including the Edinburgh Festival Fringe, was to "build back better." 
But, two years on from the last "normal" Fringe, and as the August festivals return to in-person venues for 2021, has anything changed? Has it built back better? In short: no. 
Fringe of Colour's concern for better representation of BIPOC+ work at the Edinburgh Festival Fringe has not been addressed. Despite the "build back better" mantra ringing in organisations' ears when adapted versions of the August festivals took place online last year, Fringe of Colour "noticed that many organisations gladly fell back on the "safe"; read: white, straight, cis, able-bodied, neurotypical, wealthy or middle class, for online content." At the time of writing, 2021's Fringe programme has a similar percentage of work by BIPOC+ artists as 2018 and big, temporary venues are currently hiring for staff, with several advertising positions listed as unpaid. 
It feels like the "build back better" mantra has been long forgotten and the festival seems determined to forge forward into 2021 blindly. The work being done to encourage a fairer Fringe by large organisations is, at best, tokenistic: a recent promotion for a gin, the profits of which would be used to bring new and emerging artists to the Edinburgh Festival Fringe, suggests it is an attempt to level the uneven playing field at the festival. Of course, this does nothing to tackle the issues facing the festival's workers, sustainability, BIPOC+ representation and women and people of marginalised genders' safety. In fact, bringing more and more acts to the festival will only continue to add strain on the city. There is no strategy here, other than "onwards and upwards". 
But fear not, all need not be lost.
One of the overriding themes among all of these exhausting and upsetting issues is a lack of accountability. The Edinburgh Festival Fringe itself is just a collection of venues, promoters, artists and workers. It is often confused with the Edinburgh Festival Fringe Society, which cannot and do not regulate venues operating during August. There is no one who can actually ensure representation is considered, that workers' rights aren't exploited, that women and people of marginalised genders are safe and that the city isn't lost to a pile of flyers and Airbnb-ers. Those campaigning for a fairer Fringe are campaigning to organisations who pass the buck back and forth, from the Fringe Society to Edinburgh City Council to landlords to venues. There is no one organisation ensuring accountability for any of this. We need a captain for the Edinburgh Festival Fringe ship.
In order to genuinely "build back better", a steering group of artists, venues, members of the Fringe Society, MSPs and Edinburgh City Council should develop a clear and sustainable plan for the city's Fringe, ensuring ethical practices are centred and not sidelined. A Fringe Festival Council, to whom venues, programmers and employers are accountable; a group that could steer the festival into a more equitable and ethical place.
This may be a pie in the sky dream of mine, but, until the Edinburgh Festival Fringe changes dramatically to put workers' rights, women and people of marginalised genders' safety, BIPOC+ representation and sustainability on the agenda, then I would urge us all to demand better. If the Fringe won't improve itself, then we need to cut it off from the only thing that feeds it: us, the audience, the artists and workers. We have the power to demand better and boycott those unwilling to adhere to ethical, sustainable, responsible practices. 
Until the Edinburgh Festival Fringe improves, we can also support the incredible creative work that is being promoted and programmed ethically by some organisations. By taking action and demanding better we are paving the way for a fairer Edinburgh Festival Fringe in the future.